Ballet 5:8--Teen and Adult Ballet Class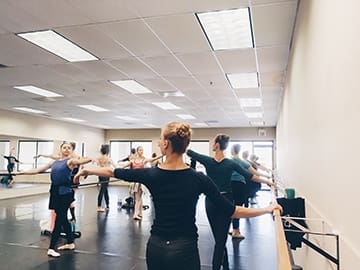 Teen/adult ballet is designed for those with some prior experience in ballet, but open to all levels of ability. This class moves at a moderate pace. Wear traditional ballet attire, casual workout attire, or a combination of both; ballet shoes are strongly recommended.
Fall Semester Classes Run: Tuesday, August 28 – Tuesday, December 11, at the Classroom Building on Trinity's campus, Room CL215.
Attendees can register for the entire semester, or drop in for individual classes. Trinity students with a valid ID receive a special rate.
To Register: Stop by room CL215 between 4-8pm on Tuesdays during the class run.
The class is part of Ballet 5:8 and Ballet 5:8 School of the Arts new Palos Heights Satellite Campus in residence at Trinity Christian College.
Ballet 5:8 is a national touring company based in Frankfort, IL. Ballet 5:8's mission is to engage audiences in conversation of life and faith through innovative storytelling and breathtaking dance. Ballet 5:8 School of the Arts is the dance education center of Ballet 5:8, with a goal is to make high-quality dance training accessible to students of all ages and levels of ability in a uniquely nurturing environment where students thrive.
For more information about Ballet 5:8 and Ballet 5:8 School for the Arts, visit their website.