Fall Mainstage Play: Seeds by Annabel Soutar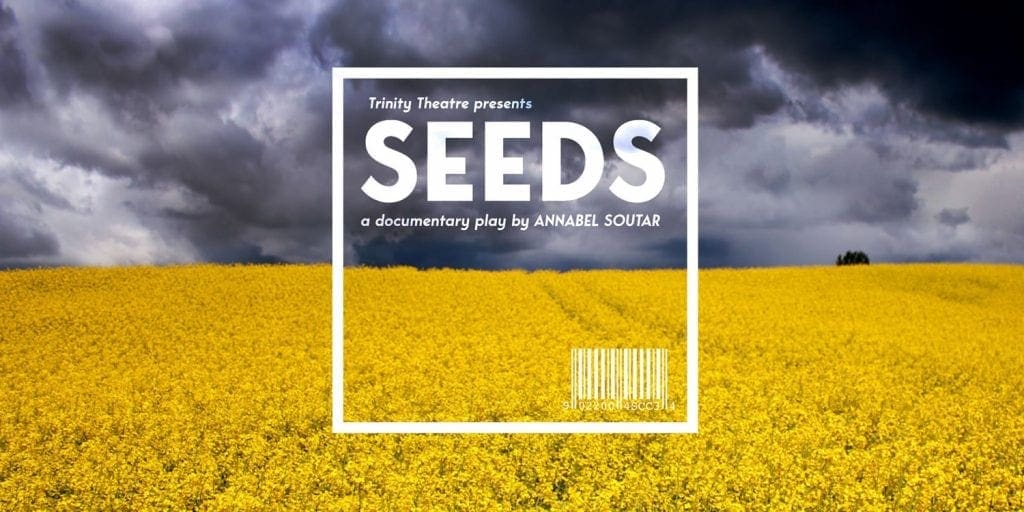 The following synopsis is from the play's publisher, Porte Parole:
"Seeds is a dramatic re-enactment of the 7-year legal battle between Saskatchewan farmer Percy Schmeiser and one of the biggest biotech corporations, Monsanto Inc. While debates about genetically modified organisms (GMOs) are multiplying everywhere, life-changing experiments are being conducted in the food we eat."
"Based on court trial transcripts, interviews with Percy Schmeiser, Monsanto representatives, and with farmers, academics, lawyers and scientists from all across Canada, Seeds leads us through a suspenseful labyrinth of legal conflicts around patent rights, scientific showdowns about GM food, and property clashes between farmers and the biotechnology industry. The answer to Schmeiser's 'Who owns Life?' question will determine the future of our food system."
Seeds is a docu-drama, because it is documentary in style and scope. All of the language in the play comes verbatim from interviews or court documents.
Seeds is directed by Trinity alumna Rosalia Portillo ('09), who received her MFA in Directing from Lindenwood University in Missouri. Rosie was one of the first students to direct a one-act in the ARCC, and was the first student to stage manage in the ARCC. She also directed the very first Trinity Alumni Theatre show in the summer of 2009.
Director: Rosalia Portillo (Trinity Class of 2009)
Assistant Director: Morgan Limback
Stage Manager: Hannah Rodgers
Cast:
Emma Darcy
Flabio Doci
Alexis DeVries
Nathan Dykstra
Breanna Eissens
Jonathan Fossell
Morgan Limback
Jonah Vander Naald