Changemaker Week: TBN Luncheon and Discussion Panel: Corporate Social Responsibility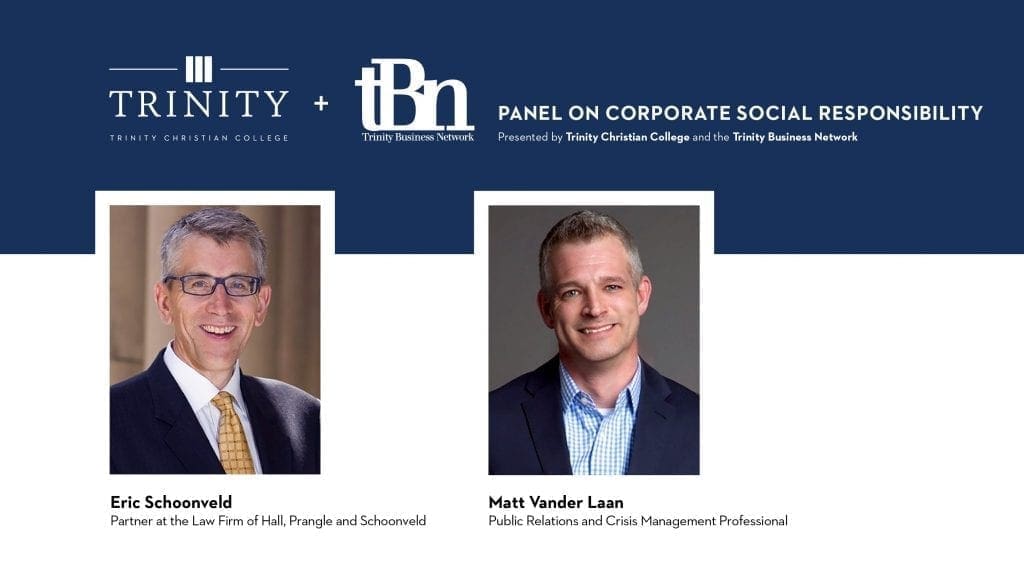 For corporate America, the ultimate goal used to be creating profits. However, more companies are now beginning to understand that they also owe a duty to others beyond their own shareholders. Corporate Social Responsibility, where companies voluntarily commit to high compliance and ethical standards, has become a new benchmark. TBN is pleased to present a FREE luncheon and  panel discussion focusing on these complex, emerging issues.
Panelists will include:
Matt Vander Laan '97, public relations and crisis management professional, formerly Vice President of Edelman whose clients include Equifax, United Airlines and others.
Eric Schoonveld '88, partner at the law firm of Hall, Prangle and Schoonveld.  Schoonveld's corporate clients are constantly looking for ways to improve their social responsibility. His law firm has also implemented a program for its employees to "pay it forward."
Trinity President Kurt D. Dykstra will serve as moderator.
Special thanks to our Trinity Business Network sponsors who make events like this one possible.