Trinity Theatre's 15th Annual One-Acts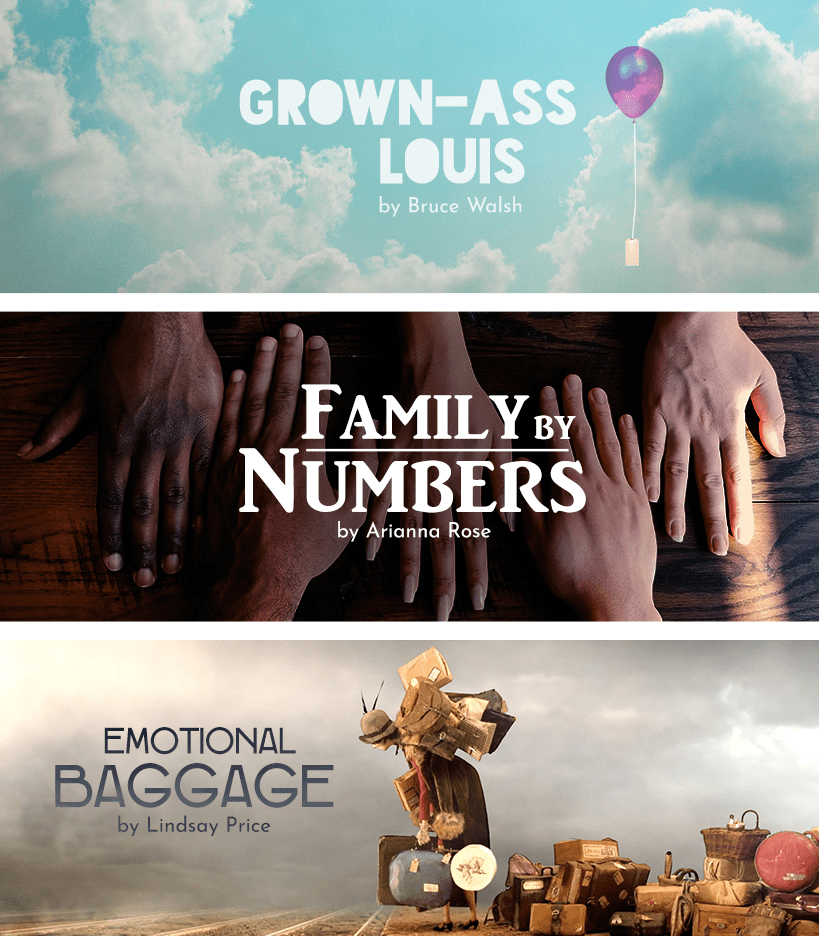 Trinity Theatre presents
The 15th annual one-act plays
featuring
Grown-Ass Louis by Bruce Walsh
Family by Numbers by Arianna Rose
Emotional Baggage by Lindsay Price
These one-act plays will be presented outdoors on-campus for one performance only:
Thursday, October 22, 2020 |  4pm  |  The Quad
(in case of inclement weather, the production will move to the Ozinga Chapel Auditorium)
Tickets are free, but please contact the Box Office to express your intention of attending.
Due to social distancing concerns, space is limited, and we need to best prepare for the number of audience members who would like to come.  The e-mail is: box.office@trnty.edu
We are sorry to say that this production is not available for non-Trinity students, faculty, or staff.
If you are living or working on Trinity's campus this semester, or are a student who lives locally and can commute to campus, then you are welcome to attend.
Additionally, due to copyright concerns, this production will not be able to be recorded or livestreamed.
Audience members will be asked to wear a mask upon arrival and to show their "Campus Clear" green screen for attendance and potential contact tracing purposes.
Audience members will be asked to bring their own lawn chair or blanket and to sit in pre-marked locations to ensure social distancing throughout the event.
The actors will also be socially distanced from each other – either standing more than six feet apart from their fellow performers or wearing full-face, Greek-theatre-style masks.
Below are brief descriptions of the plays.
For more information, please contact john.sebestyen@trnty.edu or emma.darcy@trnty.edu
Grown-Ass Louis by Bruce Walsh, directed by Trinity faculty member Dr. John Sebestyen
Synopsis:
When Louis was eleven-years-old, he wrote a note to his recently deceased father, tied it to a balloon, and released it to the heavens. But now, even though he's a grown-ass man, he can't stop wondering if his dad ever received the message.
Cast:
James Beyer, Joshua Caceres, Kyle Donnelly, Allison Raddatz, Jake VanDyke
Award:
Winner, The Gary Garrison National Ten-Minute Play Award, John F. Kennedy Center for the Performing Arts
Winner, Heideman Award, Actors Theatre of Louisville
---
Family by Numbers by Arianna Rose, directed by Trinity staff member & alumna Emma Darcy ('19)
Synopsis:
Two people fall in love.  They begin a family that expands to five.  But what happens when the numbers change?
Cast:
MJ Huizenga, A.J. King, Amy Meyrick, Jonah VanderNaald, Ryan VanGilst
Award:
1st Prize Winner, Best Play, Theatre Odyssey 10-minute play Festival
---
Emotional Baggage by Lindsay Price, directed by Trinity Theatre Intern Kim Darling
Synopsis:
This play without words focuses on non-verbal storytelling through mask and movement.  Several strangers meet in a train station.  Instead of luggage, they all carry their "emotional baggage." They must confront themselves and one another.
Cast:
Dani Daujatas, Nathan Dykstra, Ben Friesen, Ryan Howey, Mariel Martin, Elyssa Peters, Tony Reppmann, Abby Tillema
Award:
Best Play, Gander Collegiate