Young Authors Reception Featuring Victoria Jamieson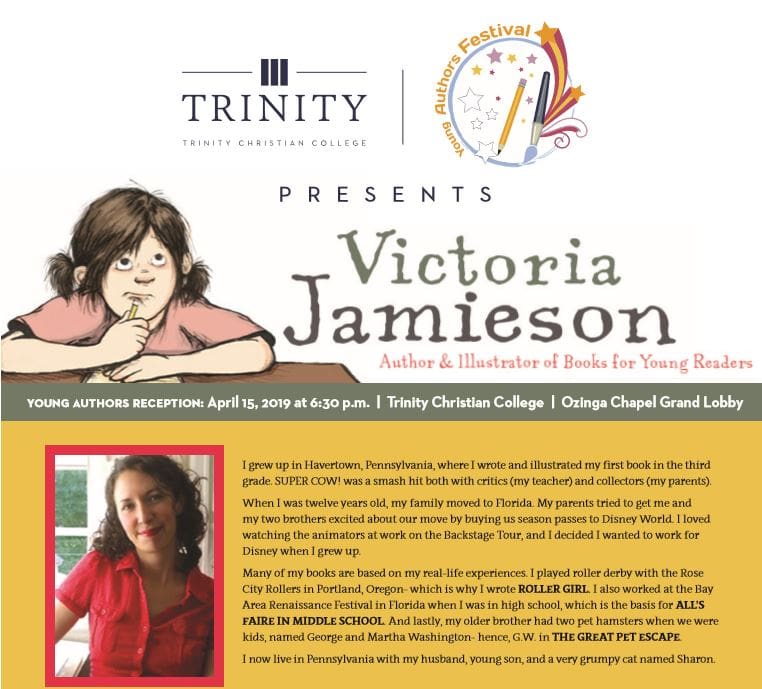 Trinity is pleased to invite the community to a reception featuring Victoria Jamieson, as part of the College's Annual Young Authors Festival.
Jamieson is author and illustrator of such books as Roller Girl, All's Faire in Middle School, and The Great Pet Escape.
According to Jamieson:
I grew up in Havertown, Pennsylvania, where I wrote and illustrated my first book in the third grade. SUPER COW! was a smash hit both with critics (my teacher) and collectors (my parents).
When I was twelve years old, my family moved to Florida. My parents tried to get me and my two brothers excited about our move by buying us season passes to Disney World. I loved watching the animators at work on the Backstage Tour, and I decided I wanted to work for Disney when I grew up.
Many of my books are based on my real-life experiences. I played roller derby with the Rose City Rollers in Portland, Oregon- which is why I wrote ROLLER GIRL. I also worked at the Bay Area Renaissance Festival in Florida when I was in high school, which is the basis for ALL'S FAIRE IN MIDDLE SCHOOL. And lastly, my older brother had two pet hamsters when we were kids, named George and Martha Washington- hence, G.W. in THE GREAT PET ESCAPE.
I now live in Pennsylvania with my husband, young son, and a very grumpy cat named Sharon.