Update from the Registrar, Jaynn Tobias-Johnson, March 20, 2020
As you know, the world continues to change, so here is an update of registrar-ish things for the week.
Old information: Don't forget that course withdrawal deadlines have been pushed back one week. Details in the message below.
New information: The physical registrar's office is now closed, but it remains open via email. Please continue to send messages to registrar@trnty.edu whenever you have questions. Alas, you will have to snag your own Starbursts and Snicker minis, as Kathy's bowls aren't available.
• • •
New information: Paper copies of official transcripts can't be ordered. However, electronic copies can! The link is still available on the Trinity Registrar's Office webpage, but for your convenience, Donna has also added a direct link to it from the Student Portal homepage (see screenshot below). If you need an unofficial copy, you can print one from the Portal.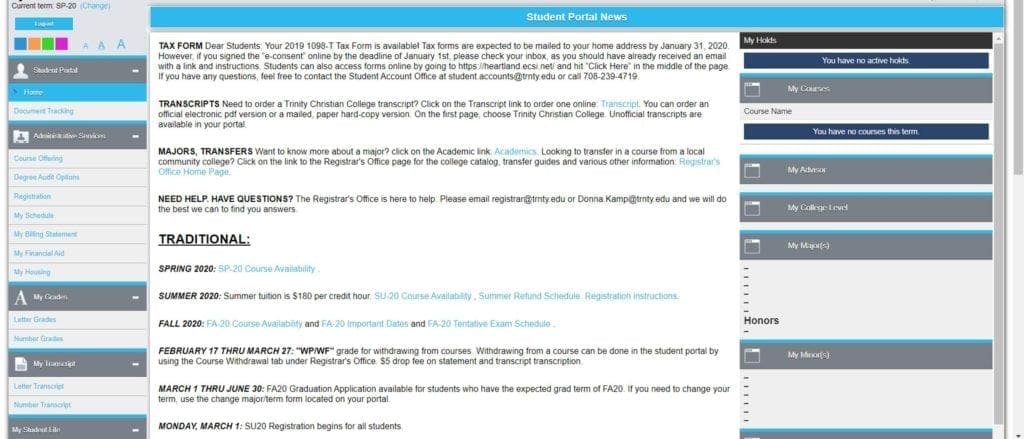 Registration for SU-20 is still open.
• • •
IMPORTANT INFORMATION:
Monday, March 30 is the start of FA-20 registration for the traditional undergraduate program! In order to be ready to go, Donna recommends that you:
Check your FA-20 registration link in the Portal to see when you are scheduled to register.
And while you are there, make sure your advisor hold is off. If it isn't, connect with your advisor by email.
Check for holds

Graduation application—fill out the application (along the left column) or contact donna.kamp@trnty.edu
Financial hold—review your statement (along the left column) or contact student.accounts@trnty.edu
Immunization holds—check your emails or contact mabia.shadel@trnty.edu
As always, remember to allow for pop-ups.    And if you have any questions or issues, email registrar@trnty.edu
From the proper physical social distance but also the closeness of our hearts—
All of us in the Registrar's Office