Trinity Welcomes First Students to Five-Year BA-MDiv Program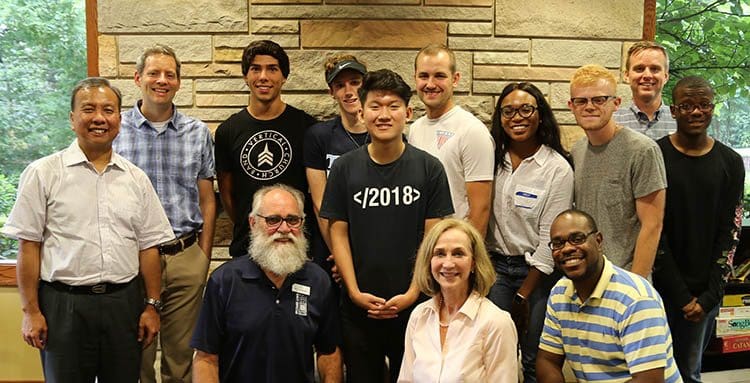 Photo Caption: Students in the 5 year B.A./M.Div. Program are featured with Trinity theology professors Dr. Ben Ribbens, Dr. Yudha Thianto and Dr. Keith Starkenburg; Dr. Bill VanGroningen, Trinity Chaplain and Dean of Spiritual Formation; Dr. Aaron Kuecker, Trinity Provost; Dr. Ingrid Faro, Dean of Academic Affairs and Associate Professor of Old Testament for Northern Seminary; and Mentor and Recruiter for the B.A.-M.Div. program Rev. Jonathan (Pastah J) Brooks. 
Trinity is excited to welcome the first cohort of students, faculty, and staff for the newly launched B.A.-M.Di.v Program, in partnership with Northern Seminary and funded in part by the Kern Family Foundation.
Seven students represent the first cohort. Along with their diversity around gender, culture, age, and experience, they are also interested in various aspects of ministry such as senior pastoral leadership, chaplaincy, youth, and sports ministry.
"We are excited about the academic potential of these students, as well as the opportunity to connect them with local churches and ministries in order to increase their practical experience," said Rev. Jonathan Brooks, mentor and recruiter for the program. "By connecting with institutions with a heart for transformational leadership, a passion for the church, and a connection to the city, these students will be better prepared as the next generation of church leaders."
This partnership between Northern Seminary and Trinity allows students to earn a Bachelor of Arts in Theology or Biblical Studies and a Master of Divinity in just five years. The program was created in order to achieve four major outcomes: equip younger leaders for pastoral leadership, eliminate course redundancy, minimize student debt; and collaborate on a deeper level with other institutions and churches.
Click here for more information about the program.
---