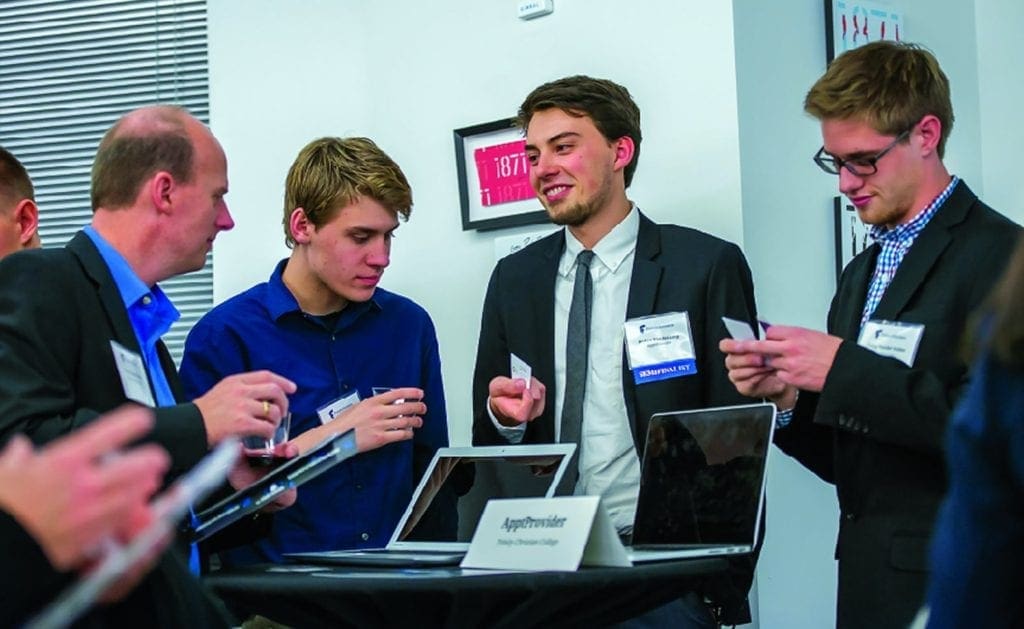 Trinity congratulates Jordan Vande Kamp '19 and Craig Vander Galien '17 on winning the Venture Award at the Future Founders recent U.Pitch event.
The pair–along with Brandan Vande Kamp, who is a senior at Pella Christian High School in Iowa and Seth Franz, the owner of Urban Brain and Body Mental Health Clinic in Chicago–took part in the business competition for startups.
"We were very fortunate to receive the Venture Award," said Vande Kamp. "The Venture Award was selected by 'secret shoppers' who spoke to every group during the expo session of the U.Pitch event. We won $250 to put towards our business, as well as being featured in a number of news publications."
According to Future Founders, "U.Pitch brings together the best students from a cross-section of universities in this ultimate national elevator pitch competition. In just 90 seconds, students can pitch their way toward a prize pool of $10,000! They also get the opportunity to showcase their idea or startup in front of hundreds of entrepreneurs, investors, business leaders, and other students from the entrepreneurial community." Seventeen semifinalists competed at the event on Nov. 10.
The team pitched their product, ApptProvider. ApptProvider is a web-based application designed to connect independent clinics, allowing a patient to book referral appointments before leaving the referring doctor's office.
Vande Kamp said the Trinity community provided invaluable advice and support. "We acquired a ton of advice and guidance from our professors. Prof. Omar Sweiss went above and beyond to ensure that we felt 100% prepared for any questions the judges might ask us. He even formed a panel from the business faculty to listen to our pitch and grill us with difficult questions. Prof. Sweiss also joined a late night phone call with the ApptProvider team the night before the competition to ensure we were ready to go!"
Around 30 people from Trinity also showed up at the U.Pitch event, which was held in Chicago. "Many of the individuals who we were competing against commented on how awesome Trinity students, staff, and faculty must be for such a large support team to show up," he said.
Vande Kamp first became involved with U.Pitch last year as an audience member with Trinity's Entrepreneurship Club. "It was an awesome experience! This year, Future Founders asked a handful of Trinity students with startup businesses to apply to be a part of the U.Pitch competition. We applied and were very fortunate to be accepted."
To prepare for this year's competition, the team crafted a 90-second pitch that allowed the judges to understand what the company does and its benefits, as well as to demonstrate the traction it has gained. After the pitch, the judges were allowed to ask questions for four minutes.
"Before the competition, we created a list of all the possible questions that the judges could ask us and crafted answers that answered the question in full, but also showed our industry experience," Vande Kamp said. "We put hours of practice in before the event to ensure that our pitch and Q&A would run smoothly!"
Vande Kamp recommends the experience to others. "It can be kind of intimidating. However, there are so many people on Trinity's campus that desire to support you. Don't be afraid to ask for help! Also, you 'win' no matter what. In our case, our experiences and the connections we made were much more valuable than the $250 check."
---