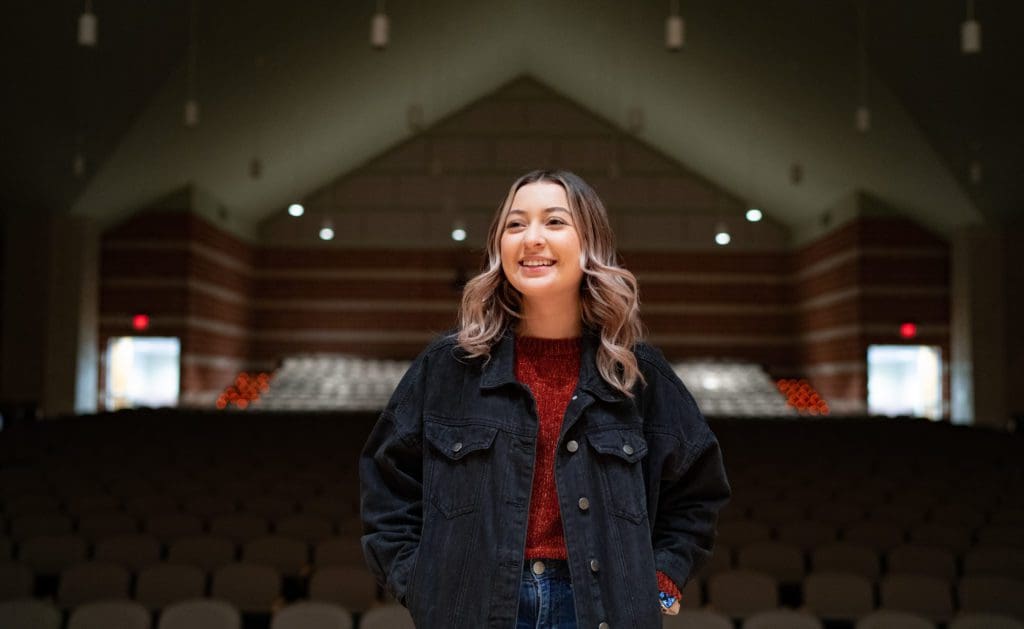 Angie Castro '22 was so sure Trinity was the right place for her to pursue a degree in music that she showed up to her transfer admissions orientation without having visited first.
A native of Chicago and a graduate of Jordan Baptist School in Burbank, Ill., Castro began her college career at Richard J. Daley College in Chicago. But she was always interested in attending Trinity.
"The youth pastor and worship leader at my church graduated from Trinity and is a music educator as well," she said. "That grew into my introduction to Trinity."
Castro studied for several semesters at Daley College before her family moved to Oak Lawn, Ill., "So then, it was possible to come to Trinity as a commuter."
Being at Trinity has helped Castro fulfill her calling to music. Along with her music education major, she is minoring in music and worship, and creates and writes music in her free time. Her plan is to become an elementary school music teacher after graduation. "I'm also interested working as a worship leader and branching out more in composing," she said. "I will do whatever God calls me to do."
At Trinity, she is part of Gospel Choir, Outcry and also works in the Admissions Office. A piano and guitar player as well as a singer, Castro has also participated in Chapel.
Her favorite classes have included a psychology life span development course, with Assistant Professor of Psychology Mario Guzmán, Ph.D.  "That class opened my eyes, and I'm grateful I took it." She said she was also able to develop a bond with Guzmán over their shared Hispanic heritage.
As a commuter, Castro said it can be a challenge to stay involved and find ways to participate on campus. But she is excited by the opportunities that have emerged on campus this year, particularly following COVID-19. And one of her most memorable times on campus was the Food Truck Formal last spring. "That was so much fun!" she said.
Castro said her faith has grown stronger during her time at the College. "The community helps me to grow in my faith," she said. Unlike some other Christian colleges, attending worship services isn't required. "Here, it's something that people want to do from their heart and relationship with God."
---