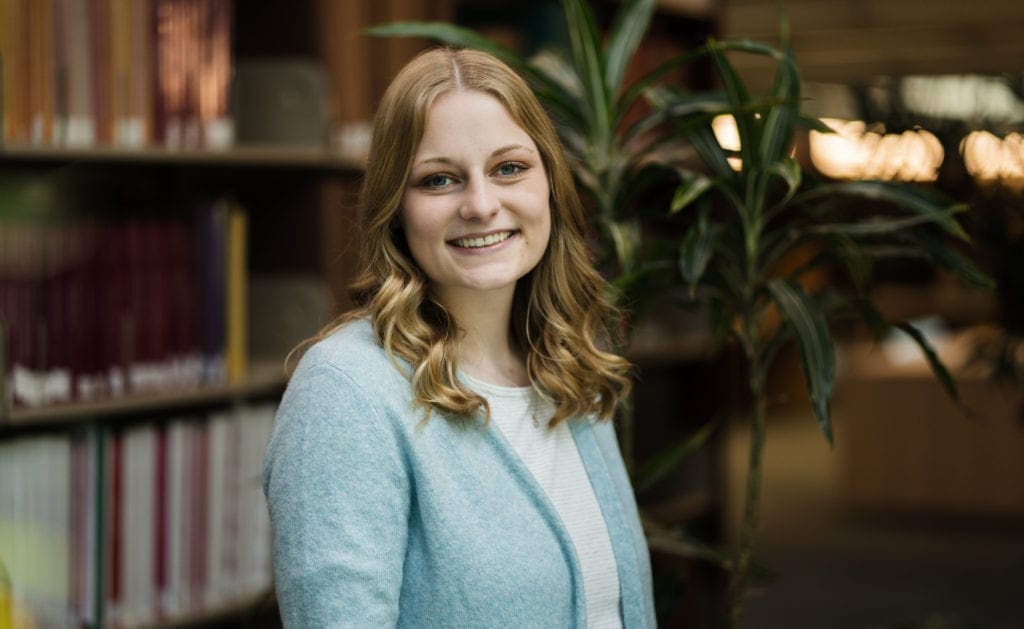 Lily Ruckman '22 didn't initially plan to come to Trinity. A native of Peotone, Ill., and a graduate of Peotone High School, she thought she didn't want to attend a college so close to home. And she wasn't sure about following in the footsteps of her older sister, Hannah (Ruckman) Ullrich, who graduated from Trinity in 2013. 
However, Ruckman's mother thought otherwise and set up a college tour for her. "After my tour, I loved it," she said. "I love that Trinity is a smaller campus where I could walk to class within minutes. I also love the sense of community where I know so many people I walk past or see around campus and that everyone is super kind and friendly. I love that Trinity gives the opportunity to make connections between your peers but also faculty and staff. It truly did give me a sense of home away from home. After my tour, I knew I was going to go to Trinity." 
When she came to Trinity, Ruckman planned to double major in special education and secondary math education. But she began to rethink that. "My sister, who is an alumna of the Trinity Social Work Department, helped me believe that being a social work major would be a great fit. One thing that attracted me to the field was that social work has so many opportunities and can allow me to work in a variety of places. I thought it would be so cool to get to do it in my career and help people find the resources and help they need," she said. 
Along with her studies, Ruckman is involved in multiple activities on campus, including serving as a Thrive mentor last fall. "I really liked being one of the first people freshmen meet to show them the way into their college career," she said. 
She is also one of the student leaders on the Serve Leadership Team. "This leadership position is so awesome because I get to plan service events with my fellow leaders for students to get involved and help serve the Trinity community and the community around us as well."  
Ruckman is also an officer with the Social Work Student Organization (SWSO), where advocacy is a major activity. "For example, for the month of April, we hung up posters around campus to bring awareness for the common things we use or do that affect the earth. We also ran a Future is Female panel during Women's History Month & Social Work Month where the panelists discussed what it is like to be a female social worker and the challenges they have seen female clients face." She is also a student worker in the Office of Learning Services, which offers peer tutoring, supplemental instruction, academic coaching and mentoring and disability services to Trinity students.  
"Being a student leader has allowed me to grow in many ways. I would definitely recommend applying for different positions to everyone else!" she said. 
After graduating next year, Ruckman hopes to work in a geriatric–focused rehabilitation center with the goal of helping older individuals into an environment they enjoy. Eventually, she plans to get her master's degree in social work as well. And she feels Trinity's Social Work program is preparing her to achieve those goals. "I truly love the discussions around what to do in certain situations and the discussion around how to be culturally competent. I always feel like I am learning something new and also challenged to think critically," she said. "The professors are also so awesome. I like that we have an opportunity to get to know the professors and that they get to know us as students." 
---