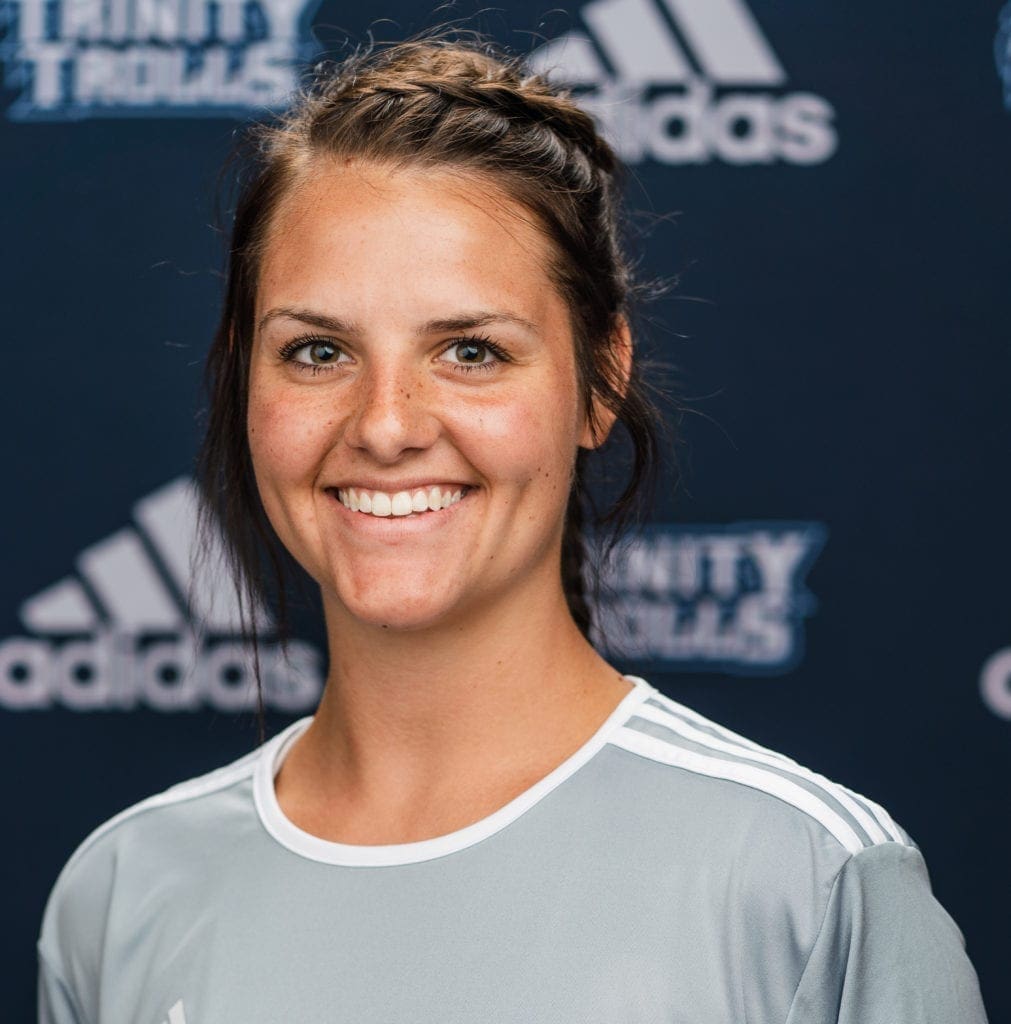 Women's soccer player Lindsey Dykema made her college decision not only on playing soccer, but on the camaraderie that she felt when walking on campus. Here at Trinity, she knew she was more than just a number. From the moment she stepped on campus, she felt welcomed.
Now a senior, Dykema looks back on the years of being a member of the team, and how this group of women became more than just her teammates.
"Every family goes through hardships and joys with each other, and our team was not exempt from that," Dykema said. "This helped me realized that while my faith needs to be my own, my faith journey does not need to be lonely."
Throughout her four years on the team, she grew with her teammates not only in the sport of soccer, but in her faith as well.
This past year, Dykema was chosen by head women's soccer coach Josh Lenarz to lead the team's spiritual group. With her new role, she had to figure out how to keep their faith within soccer, which she did through small group Bible studies, a devotion schedule, and by helping Coach Lenarz pick out a team verse for the year. As she worked to create this balance, she grew in her faith even more and even learned a little bit along the way.
"Coach Josh does an amazing job of balancing soccer and competitiveness with our family and faith aspect, which has helped me grow in my faith as well," Dykema said. "I learned that trials help build a person and team to where they need to be and that leaning on others is the best way to work through some of these trials."
Dykema relies on her faith everyday of her life in all aspects of her life, including her future career. As a nursing major, she takes what she was taught growing up in a Christian home, school and church and applies it to her work.
One of the main ways she does this is through viewing herself as a child of God, and viewing everyone she interacts with in the same light.
"When I am on the field or in the hospital with nursing, I am able to use this viewpoint when I look at opponents or patients," Dykema said. "As I get closer and closer to graduation in the spring, I hope to grow even more in this mindset and that I can continue to grow after I graduate."
With one semester left to go at Trinity, Dykema reflected on the experiences she had both in her personal, academic and athletic life. The support of her teammates and coaches through her academic career as they celebrated a good exam grade even though they just won a national championship, along with other scenarios, helped her become the person that she is.
"Throughout the last few years, the girls that I have met and played with have become some of my best friends and are girls that I wouldn't trade for the world," Dykema said. "[Also,] Coach Josh pushes each of us in different ways and he has helped form me into becoming the person that I am today."
---