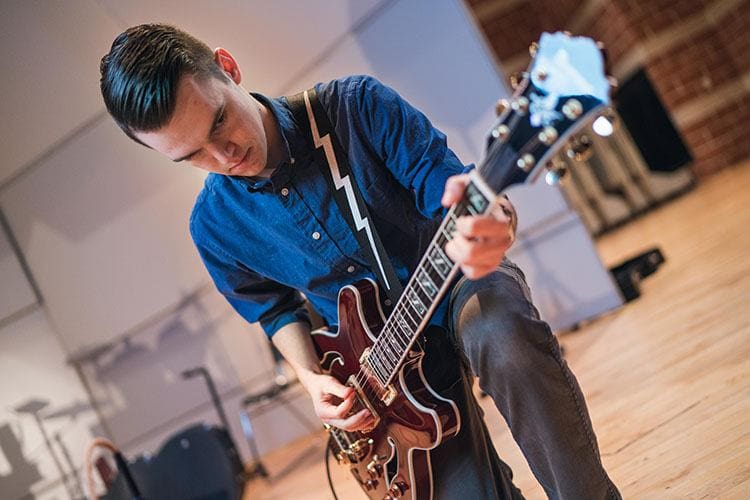 Matt Meyrick '19 doesn't need to wait for graduation to start serving God. The senior who is double majoring in music production and communication arts, is a team leader for student-led worship, Outcry, and part of the Chapel music team.
"What people mistake about leaders is that they lead under their own power," said Meyrick. "For me, I can only do God's work through His strength and the support of the people He has called me to lead. The students who make up the Outcry team are all so gifted and passionate about worship ministry. It's through their insight and guidance that we craft a service of scripture, prayer, and song."
Along with Chapel and Outcry, Meyrick participates in several music ensembles, including Concert Choir, Honors Ensemble, Wind Ensemble, and Jazz Ensemble, as well as a number of Trinity Theatre projects in both the performance and production areas. He also serves as a Junior Class Representative for the Student Association.
Meyrick has also completed several internships off campus, including as Worship and Arts Intern at Calvary Church of Orland Park, Ill., and as Communications Intern for the Illinois Philharmonic Orchestra, which is in residence at Trinity. "And in May, 2018, I will participate in Trinity's Chicago Semester program, where I hope to land an internship in music or audio production."
Meyrick grew up in Oak Forest, Ill., where he was home schooled. He was drawn to Trinity because of the strong community aspect. "When I visited Trinity, I was able to witness the wonderful community that is cultivated by the professors, staff, and student leaders," he said. "The professors seemed to truly know and care about their students. The staff members were gifted and passionate in their individual roles. I also pictured myself perhaps serving the community in the same ways as the student leaders."
Among his most impactful professors, he points to Dr. Mark Peters, professor of music, and Dr. Craig Mattson, professor of communication arts. "They consistently push me to be a better student and a better person. Both of these professors have strong claims to make about reality. Dr. Mattson proposes that to be human is to communicate, and thus we should do it with excellence and care. Dr. Peters further claims that to be human is to be musical, and therefore we should create, experience, and talk about music in a way that we can show the connections that music makes between all humans," he said. "It is these truths that continue to frame my educational journey at Trinity."
---