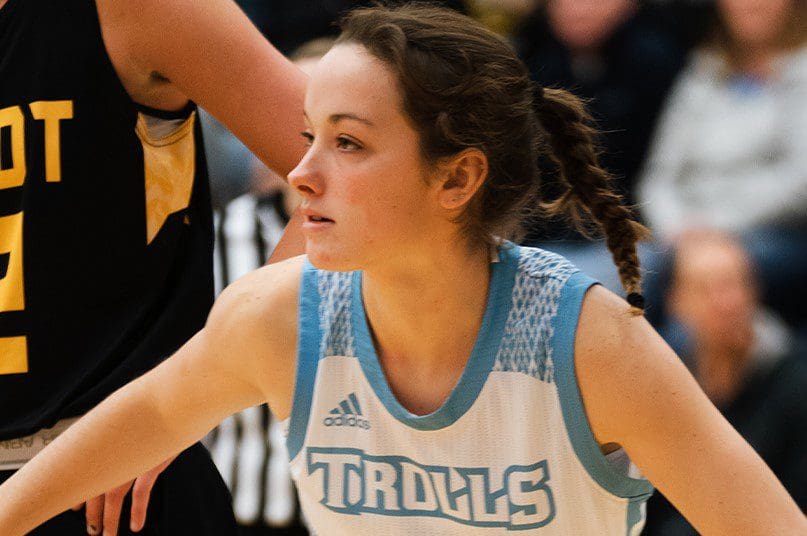 Women's basketball player Paige Hacker '21 transferred to Trinity her junior year, and after one short year, she's made an impact on the court and on campus. Her decision to come here wasn't just based on continuing her basketball career, but benefiting her professional development.
From her first visit on campus, she knew the College was a good fit. The small campus community along the various growth opportunities in clubs and organizations were just a few of the factors that influenced her decision.
Hacker is currently working towards becoming a certified physician's assistant. Upon graduation from Trinity in 2021 with a degree in biology, she wants to enroll in an accredited PA program. After this program, she wants to sit for the Physician's Assistant National Certifying Exam. With the help of her professors from her previous school and at Trinity, she continues to learn more about this field and how to prepare for her future.
She had many experiences in the classroom as she looks at life beyond Trinity, but her experiences as a student-athlete also contribute to her success. To her, what she experienced during her basketball career are attributes that she only learned through sports.
"Being on a sports team can teach you skills like being able to come back stronger after a defeat or working with a team to reach a common goal, and the best way to reach those goals is by working together," Hacker said. "Working on a medical staff will require those skills when working with patients and other staff members. On a basketball team, you face adversity, but being successful in those situations is by working together with your teammates to reach your common goals."
As she prepares for her senior year, Hacker hopes do more than just be prepared for her future career. She hopes to grow in her faith during her remaining time on Trinity's campus.
"Trinity has helped me grow in the idea that God has a plan for us all so everything happens for a reason," Hacker said. "I would like to grow in my faith to know that everything I do is for God. On the basketball court, it is important to remember that we play for the name on the front of our jerseys, Trinity, and not the name on the back."
Hacker strives to accomplish her goals every day, and in order to do that, she sets small goals for herself that will help get to where she wants to be in life. With this piece of advice, she hopes that others can take steps towards accomplishing their own goals.
"While your long-term goals should be hopeful and challenging, the short term should be simpler so you cannot fail," Hacker said. "These small wins make you feel more positive about the process of achieving your goals. They are a series of small milestones that help you achieve your dreams."
---