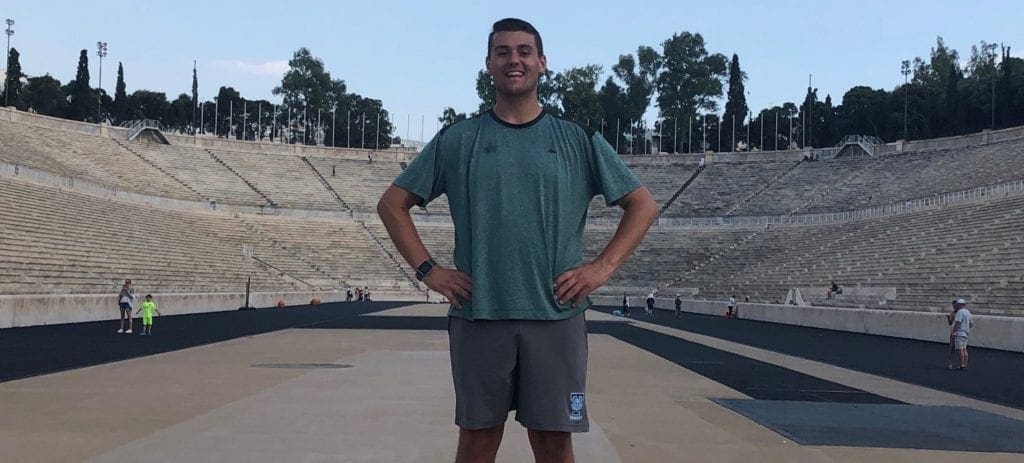 After finishing his first year at Trinity, there was one thing that track and field thrower Ross Barz '21 knew he wanted to do: work in the medical field. With his adventures this past summer, he is one step closer to accomplishing his goal.
Barz took part in a pre-medical fellowship at a hospital in Athens, Greece, learning about international healthcare over the summer of 2019.
This was a new experience for him, but he knew he wanted to be in healthcare since he was young. His mom works in the medical field, so he was around it for most of his life. When the opportunity came for him to travel and gain more experience, he knew it was the right choice for him.
"To be considered a good student for medical school, you need to have experiences, and this felt like a good experience to have," Barz said. "Going overseas, I got to see so much of the patient-doctor dynamic in a different language and still understand that body language is a universal language everyone uses. I got to see it from both perspectives of being an outsider and a physician."
Through an organization known as Atlantis, Barz spent three weeks at a public hospital in Athens, shadowing doctors and seeing medical procedures up close for six to seven hours a day over the five-day work week. He walked through an ER and saw various types of surgeries, including a leg amputation.
He was the only representative from a small school like Trinity, working next to students from Boston University, University of Georgia and Michigan State University. But when the language barrier got in the way of some students understanding what was happening, Barz understood thanks to his classes at Trinity as a biochemistry major that prepared him to work in medicine.
"There were a lot of times that doctors were explaining about why they chose to do something," Barz said. "Although there was a language barrier, the certain words that the Greek physicians used [in English] was enough for me to understand what they were doing during surgery."
Now, Barz is looking ahead at the future and how this experience will help him in the next stage of his life. The junior plans to take the MCAT, or the Medical College Admission Test, in the upcoming months while also taking various biology classes to help him stand out in an applicant pool of over 50,000 potential medical students according to the Association of American Medical Colleges. He wants to become an oncologist in the future.
And as he prepares to finish his junior year of college this spring, Barz continues to learn and use the knowledge during his time overseas in his classwork here at Trinity.
"My experience in Greece continues to affect me to this day," Barz said. "I've learned to not only consider the doctor's perspective, but also the patient's [perspective]. It really matters what kind of healthcare people are receiving."
---