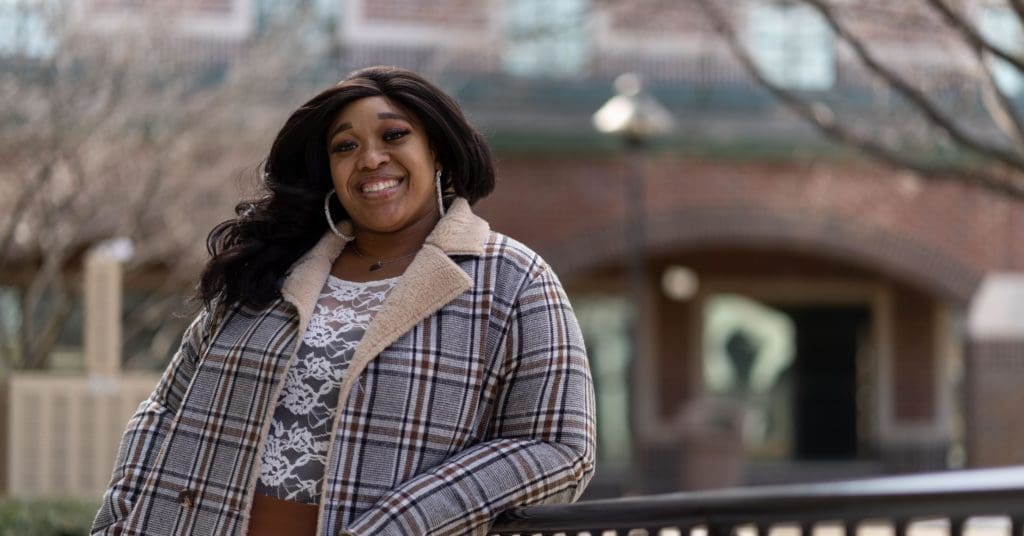 Counseling and Psychology
Jaquiya Dorsey '22 grew up in an environment where mental health was considered a problem, not a solution. But she is determined to break that cycle and bring mental health services to her community. That dedication and vision led her to Trinity, where she will complete her degree in psychology this fall through Trinity's Adult Undergraduate Program.
"In my personal journey of healing, I realized how important it is for you to be able to express the things that you experience in life and develop a cognitive introspective understanding," said the 34-year-old resident of Harvey, Ill. "This made me want to be an advocate for my community when it comes to mental wellness and be a voice for those that feel as if they don't have one. To be an ear for them to feel heard and understood. I want to be a part of the change that I wish existed at the time that I needed it. What better way to do that than to be a psychologist for my community and a counselor for the people."
Once she decided to return to college to complete a psychology degree, her research led her to consider Trinity. "I was looking for an institute that understood that even though I was continuing my education, I still had responsibilities as an adult." She was also drawn to the importance that diversity and inclusion has in the College's mission, which reads in part:  At Trinity Christian College, our very name celebrates the triune nature of God. Diversity is ultimately ground in Him—one being, three persons, submitting to one another in love. Because our mission in Christian higher education is not limited by ethnic or cultural differences, we consciously seek to develop a multiethnic, multinational, and multi-denominational student body."
Said Dorsey, "I needed to see this for myself in an institution. Trinity is a Christian college that recognizes that people come from different cultures, different walks of life, different experiences, and all need to be heard without judgment, respected, and still loved by God. Their push on worldviews is amazing! It was exactly what I needed to learn how my profession related to the Word and how they both related to the world."
During her time at Trinity, Dorsey said her general education courses have been some of the most meaningful. "First, the Worldviews class pushes your perspective so much further than yourself. Then, my course on Theology: Christian Scriptures was such a refreshing breakdown and walk through of the Bible." Her favorite has been Self Management with Dr. Rakisha Vinegar, associate dean of adult undergraduate programs. "It makes you realize how much time and energy you are putting into everything else but yourself. Also, the class talks were amazing. Her class felt like a real community. We made so many connections there," Dorsey said.
Her biggest challenges include the difficult experiences that she has personally been through. "I've dealt with PTSD, anxiety, and depression from a few traumatic events I've experienced," Dorsey shared. "My biggest challenges have been trying to get out of my own mind. Sometimes we don't realize that we are our own worst enemies. At times, we can defeat ourselves before we even start something."
Once she graduates from Trinity, Dorsey plans to pursue a doctorate in community psychology. "Being from Harvey, I want to help put together many programs and resources that are much needed there, especially for the youth and low-income families. I want to open up after-school programs, summer programs, counseling centers, life coaching, and housing and job placement centers."
Dorsey is already thinking about ways to create the programs and make connections now. "By the time I graduate, I want to hit the ground running!" She has reached out to political leaders, who are excited about her plans to bring these services to the community. "Direct quotes are, 'We are just waiting on you,' and 'It's needed.'" Dorsey also started a transportation company several years ago called TWF Transportation, to help financially back these programs and help provide transportation for the children and work for the people that need it. "Now we are working on a prison reform program to get ex-cons into driving trucks for deliveries so they can make money for their families. I believe in creating the opportunities rather than waiting for government funding or donations."
For those considering returning to college to finish their degrees, Dorsey advises them to enjoy the experience. "Take in every experience that you can. Make connections and take the opportunity to grow while learning about others. Appreciate the differences that everyone brings to the table," she said.
Dorsey also encourages everyone to remember to have faith in God and themselves. "It doesn't matter what you go through in life, rather it be bullying, abuse, rape, discrimination, false accusations, etc., God made you resilient! You are strong!" she said. "Every mistake or low point is a lesson that you can take with you for the rest of your life. No one can take those experiences away from you. Your mistakes and low points will be your greatest testimonies!"
---