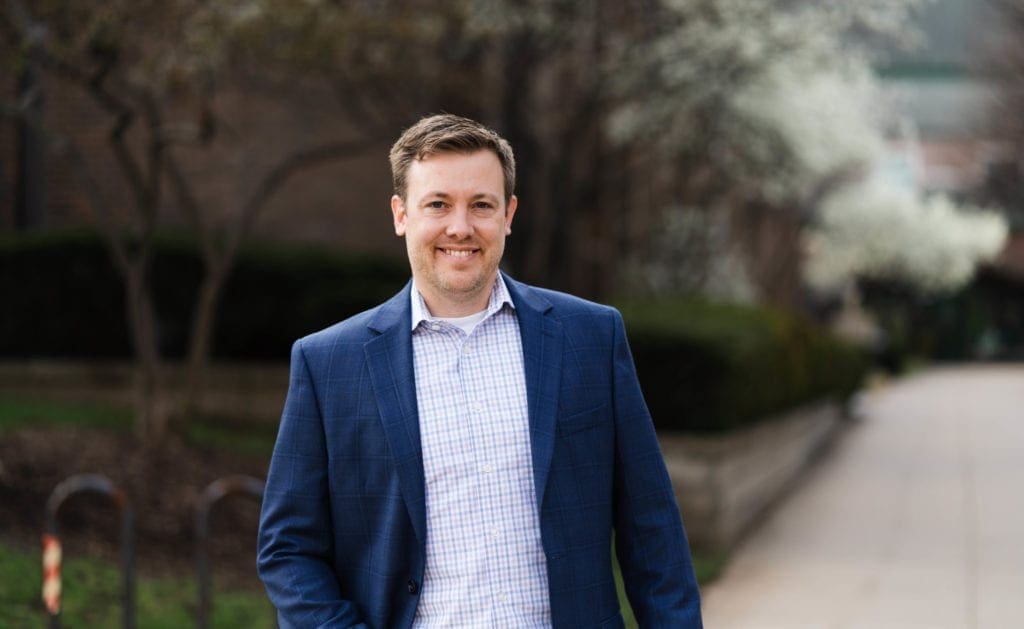 Michael Parr '21 has always planned to finish his undergraduate degree. "I'm constantly learning," he said. "One of my internal values is that when you stop learning, you get passed up. But I have a lot to juggle outside of school."
So, despite a full schedule with a busy family life and a job as senior project manager for facilities planning design and construction at University of Chicago Medicine, Parr began to explore options for finishing up his Bachelor's degree. While doing research, he discovered Trinity's Adult Undergraduate Program–and in just a couple of months, he will be walking across the commencement stage with a degree in business management.
Parr said several aspects of Trinity's program attracted him. Convenience was one, since he lives in nearby Palos Park, Ill. He said that he was also impressed with Trinity's 8-week class program and the clear course sequence for completing his degree.
His favorite classes include those taught by  Assistant Professor of Business Omar Sweiss. "Prof. Sweiss is just a stimulating teacher," Parr said. "His classes have actively challenged me to think differently."
Parr was also surprised by how impactful his biblical studies class turned out to be. "I hadn't opened a Bible in a long time, and it was eye-opening," he said. "I saw things with an adult's mind, instead of a child's."
The support of his family has made it possible to finish his degree. "As an adult who went back to school, it's so important to develop a network at home that supports you completing that degree," he said. "My wife Stacey and I had many conversations about that." His support network also includes son Lucas, a freshman in high school who is involved in Boy Scouts, basketball, football, and track; and a daughter Brooklyn, who is in fifth grade and participates in dance and other creative activities. The family also includes two dogs. And with two school-age children, Parr has found he can encourage them to complete their homework as he does his own.
"If you can develop that support group that wants to see you succeed, that takes so much pressure off," he said.
---