Tabitha Jirsa '18, MA '20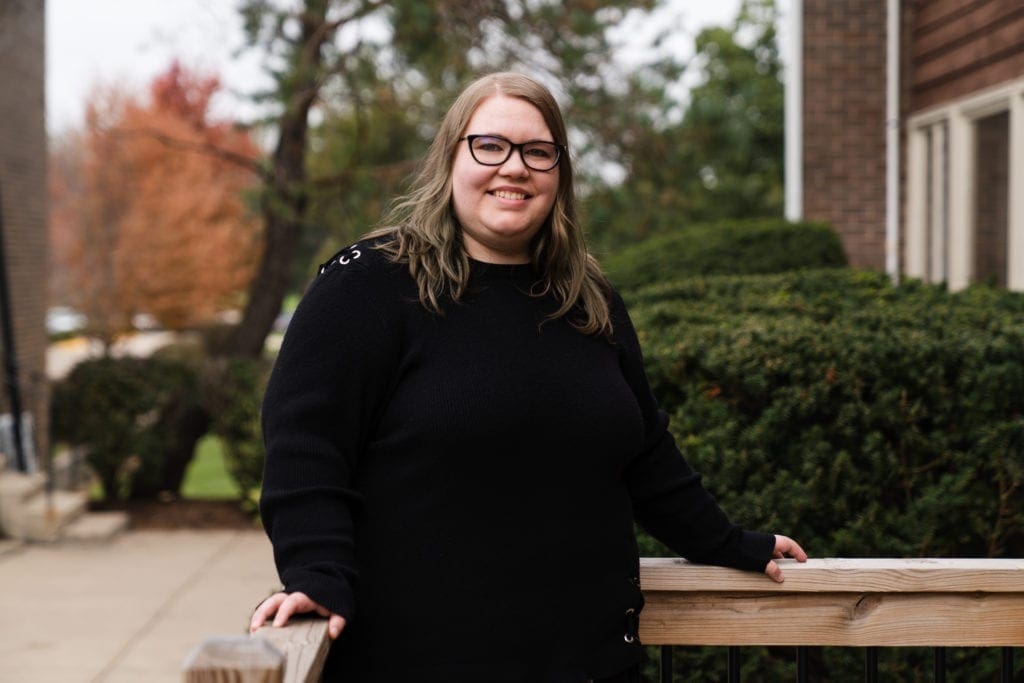 M.A. Clinical Mental Health Counseling Program
For Tabitha Jirsa, a providential radio commercial and an unusual mascot helped bring her to Trinity, first to finish her four-year degree through the Adult Undergraduate Program in Counseling & Psychology and then to continue her graduate studies.
At 26, Jirsa was about to complete her associate's degree and was desperately trying to figure out the next steps in her educational career. "I was in my car, having a heated conversation with God, begging for direction, when I was interrupted by a commercial on K-Love for Trinity's Adult Studies bachelor's in counseling and psychology program. In that moment, it was loud and clear." Jirsa also grew up just south of the Mackinaw Bridge in Northern Michigan, whose residents are sometimes referred to as Trolls. "It seemed like a sign," said Jirsa, of sharing a nickname with Trinity's mascot.
When Jirsa reached out to the Adult Undergraduate Program at Trinity, she found a supportive, intellectually exciting environment. "I was in love with my teachers," she said. After graduating with a B.S. in psychology in 2018, Jirsa decided to continue pursuing her education in the field. She looked at other graduate programs. "But Trinity just felt like home, and the other programs would take so long. So, I applied to Trinity's Master's in Clinical Mental Health Counseling program and was accepted. And I'm really happy I stayed. I've experienced so much personal and professional growth here."
Among her favorite professors, she points to Professor of Psychology Derrick Hassert, Ph.D., "He brings a level of humor, passion and thought-provoking depth to class that, as a graduate student, is engaging and inspiring." For example, Hassert has worked with graduate students to develop competence and confidence in their diagnosing and treatment planning skills. "While undergrad seemed more about learning information, graduate school has been more about practically applying evidence-based concepts."
Jirsa is currently interning at Balance Counseling & Wellness, which has several offices on the Southwest Side of Chicago and south suburbs. She is seeing a variety of clients, including individuals, families and adolescents.
The center is owned by Trinity's Associate Professor of Counseling Debra Majewski, Ed.D. Majewski has been a mentor, Jirsa said. "Dr. Deb is brilliant, authentic, inspirational, and kind. She wants to be a light that helps others shine, and that's exactly what I want to do too. I'm grateful for the opportunity to work with and learn from her."
---