McKnight Presents WorldView Lecture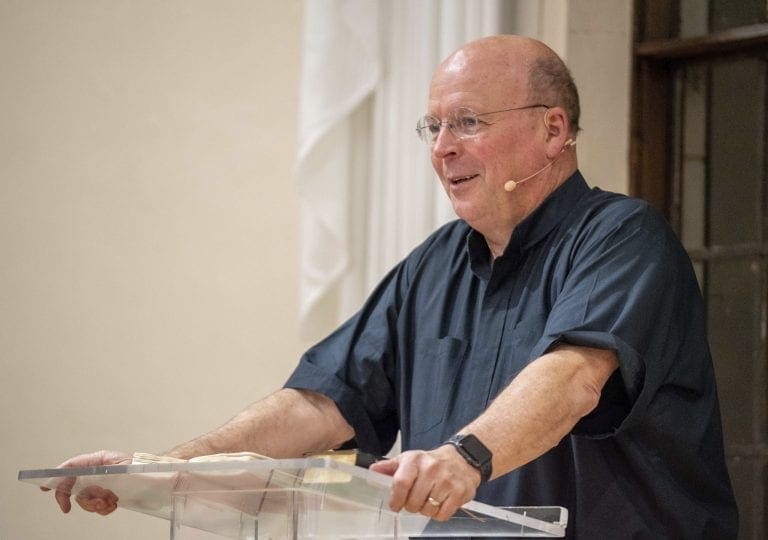 Trinity was blessed to welcome Dr. Scot McKnight, Julius R. Mantey Chair of New Testament at our partner institution Northern Seminary, to campus for a WorldView lecture and other events on Nov. 7.
For his WorldView lecture in the Vermeer Fireside Room, McKnight spoke on the topic of subversion, particularly the Apostle Paul's response to the church at Corinth. "Paul was a suberverter of values that were contrary to the way of Jesus," he said. "He believed that the ways of Rome were not the ways of Jesus. He wanted the Corinthians to understand the resurrection life."
Since the Romans valued qualities such as eloquence and image, while despising those who did manual labor, Paul deliberately worked to upend those expectations. And as Paul did with the Romans, McKnight called on attendees to recognize the worldliness of America now.
McKnight also spoke at a meeting presented by the Cooperativity Club, tackling a different subject—human evolution. McKnight, who describes himself as a theistic evolutionist, discussed the book he co-authored with Dennis Venema, "Adam and the Genome: Reading Scripture after Genetic Science." In view of scientific discoveries, McKnight urged attendees to consider several approaches when reading the Bible: reading contextually, reading historically, reading the narrative theologically, and reading it with an eye towards science. "We need to help people in the church not be afraid of scientists," he said.
McKnight also spoke at Chapel, focusing on a theme of "A Good Time for Goodness." He addressed different examples and ideas of goodness, from the Apostle Peter to Dietrich Bonhoeffer. "We are called to goodness, because God is good," he said. "I want to challenge you, in a world that needs goodness, to become agents of goodness."
A recognized authority on the historical Jesus, early Christianity, and the New Testament, McKnight is a member of the Society of Biblical Literature and the Society for New Testament Studies. His books have been translated into Chinese, Korean, Russian, and Portuguese.
Trinity and Northern Seminary in Lisle, Ill., where McKnight teaches, offer a combined 5-year B.A. to M.Div. program. Through this program, students earn a B.A. degree in Biblical Studies from Trinity and a M.Div. from Northern in five years, instead of the usual seven.
---