WELCOME BACK TO AN EXCITING SEASON OF SALT!
SALT (Seasoned Adults Learning at Trinity) is a membership-based program for community members 50+ who are interested in ongoing education and lifelong learning. Our mission is to provide personal enrichment and education by offering interesting content and meaningful discussions through shared experiences.
For additional information, please view our catalog.  To get on our mailing list, please fill out the Request Information form.
I am interested in:
We are pleased to offer a variety of classes on numerous academic topics; as well as, tours, book discussions, and other special events. Please select a session to learn more about the class and click 'Register for Classes' to reserve your spot. Note: classes and activities have different registration deadlines.

Fall Session Classes:

Fellowship & Learn

Senior Break is an activity specifically designed for older adults seeking a fulfilling and engaging academic experience. This activity offers a diverse range of topics that cater to the unique needs and interests of senior adults. From wellness classes to social events, educational and recreational workshops, Senior Break is a vibrant occasion that fosters a sense of belonging and purpose for its members. With a focus on promoting health, mental well-being, and social connections, Senior Break is another means to empower older adults to live their lives to the fullest and enjoy a well-deserved break when necessary. Come fellowship with other members and bring a guest. Registration required $10 per member; bring a friend $5 per person. Light refreshments are provided.

October 27
11a.m.-12 p.m.
Vermeer Fireside Room, Administration Building
Topic: Prevention/Safety
Palos Heights Fire & Police Departments
REGISTRATION DEADLINE: Oct 20

October is Fire Safety and Prevention Month. In this presentation, we will discuss fire safety in the home. This will include proper selection and installation of smoke detectors. Carbon monoxide dangers; prevention and detection, escape plans, fire extinguishers, electrical fire safety and ways you can assist your fire department. During the session, the Palos Heights Police Department will present on the topic of individual safety in and outside the home and your vehicle.

Oct 27
1-2:30 p.m.
7402 Lake Katherine Drive, Palos Heights, IL 60463
Transportation not provided.

Topic:  Book Review: Wild Woods Guide by Doug Bennet & Tim Tiner
Sophia Shukin, Naturalist

REGISTRATION DEADLINE:  Oct 20

This book is an original, insightful, and easy read for those interested in learning about the flora, fauna, and natural phenomena of the Great North Woods (the regions of New England and Eastern Canada). Many of the subjects covered pertain to the wildland of Illinois as well, as we share much of the same ecology. In this 'learning discussion,' you will discover helpful and often little-known information about the plants, animals, rocks, and other natural phenomena located in Illinois. This guidebook is almost as fun and interesting as actually going out into the woods yourself.

No book purchase necessary. Light refreshments will be served. Click here for directions to Lake Katherine.

FREE ACTIVITY FOR MEMBERS ONLY

Oct 19
1-2:30 p.m. Huizenga Memorial Library, Fusion 59 Room

Topic:  Book Discussion: Say Nothing: A True Story of Murder and Memory in Northern Ireland

Beth Stevens, Public Services Librarian, Palos Heights Library

REGISTRATION DEADLINE:  Oct 12

In December 1972, Jean McConville, a thirty-eight-year-old mother of ten, was dragged from her Belfast home by masked intruders, her children clinging to her legs. They never saw her again. Her abduction was one of the most notorious episodes of the vicious conflict known as The Troubles. Everyone in the neighborhood knew the I.R.A. was responsible. But in a climate of fear and paranoia, no one would speak of it. In 2003, five years after an accord brought an uneasy peace to Northern Ireland, a set of human bones was discovered on a beach. McConville's children knew it was their mother when they were told a blue safety pin was attached to the dress–with so many kids, she had always kept it handy for diapers or ripped clothes. This discussion will review the notorious event in Northern Ireland and its devastating repercussions to a family and a country.

The book is available at the Palos Heights Library and on Amazon.com for $13.48 on paperback; free for the audible version, and $14.99 on Kindle. For more information about the book, click here.

Illinois Holocaust Museum & Education Center
9603 Woods Drive, Skokie, IL 60077

Monday, October 23, 2023
9 am – 3 pm

$45 per person. Lunch included.
Transportation provided departing from Trinity's campus
Level of activity: Moderate

REGISTRATION DEADLINE:  Oct 16

This year marks the 90th anniversary of the Holocaust. During this fieldtrip, we will view The Zev & Shifra Karkomi Holocaust Exhibition which explores pre-war European life, the rise of Nazism, the Holocaust, and the post-war experiences of survivors as they resettled in Skokie, Illinois. More than 500 artifacts, documents, photographs, and a German rail car of the type used in Nazi deportations are on display. Survivor stories woven throughout the exhibition make the experience both powerful and personal. The exhibition concludes with a summary film that connects the lessons of the Holocaust with other genocides around the world. Have you ever wanted to speak with a Holocaust survivor? We will complete the visit with the Abe & Ida Cooper Survivor Stories Experience, a 3D High-definition holographic interview recording paired with voice recognition technology that enables survivors to tell their deeply moving personal stories and respond to questions from the audience, inviting visitors to have a personalized, one-on-one 'conversation.' For more information about the museum and exhibit, visit, www.ilholocaustmuseum.org.

Open House

Wednesday, September 13
1 – 3 pm Ozinga Chapel Grand Lobby
Doors open @ 12:30 pm
Register by September 6

Special performance IPO Amber Oboe Trio

Meet SALT Advisory Board Members & Instructors
Learn about the SALT Program
Register on-site for fall classes and activities
Campus tours available (optional)
Light refreshments served.
TRACY H.
"Auditing classes has been such a positive experience in my religious life. I have learned/gained so much and I could never thank Trinity enough for the opportunities."
CHARLIE F.
"Preachers don't get into the details of what happens when you die like a college theology course."
KATHLEEN F.
"SALT is a valuable asset to the community."
LYNN T.
"SALT is a great program!"
Memberships Perks
Special discounts on Illinois Philharmonic
Orchestra and Southwest Symphony
Orchestra performances
Invitation to campus lectures and special discussions following lectures
Invitation to music department recitals and contests
Invitation to campus chapel services
Listener's passes to traditional classes
Free on-campus parking sticker
Access to Library Services
20% discount at Bookstore
Quarterly Newsletter
Discount in Trinity Dining Hall
Discount at Bootsma Café
Certificate of Completion for 3-session Classes
Memberships Fees & Costs
Membership Fee: $25*
Membership Costs
1-session Class: $20
2-session Class: $25
3-session Class:$30
Bring a friend to one class during each semester:  $10 per person/semester
Senior Break Days: $10 (Bring a friend:  $5)
Listener's Pass (value $330):  FREE
*Member must be registered for at least one course per semester for membership to remain active. Annual membership is from April 1, 2023 – March 31, 2024.
SALT Coordinator
Dewoun Hayes is the Advancement & SALT (Seasoned Adults Learning at Trinity) Coordinator. She assists in the development of courses for adult learners 50 and older. Lifelong learning has always been her passion and she is grateful to be able to provide an enriching program to this community.
For almost 25 years, she has worked in higher education in the advancement division. Her experience includes event/meeting planning, fundraising, scholarship management, alumni engagement, and research. Dewoun remarks, "I feel that my journey of learning has led me to Trinity and am pleased that I can use the skills I have obtained from various institutions in one place."
Feel free to contact Dewoun to provide feedback or ask questions about the upcoming SALT season, 708-293-4570 or email, dewoun.hayes@trnty.edu. Be sure to visit wpweb-pub.trnty.edu/SALT for news and upcoming events.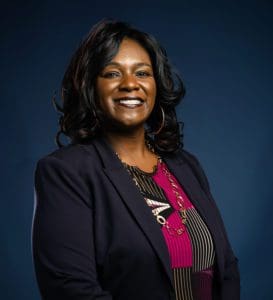 Advisory Board
Bob Rice
Marjorie Perkins
Merrill Riddering
Lynn Tenkate
Dan Lynch
Partners
Trinity Christian College: Bootsma Bookstore Cafe, Library Services, Faculty & Staff, Creative Dining Services, Illinois Philharmonic Orchestra, Southwest Symphony Orchestra, and Lake Katherine Nature Center & Botanic Gardens.