College Board of Trustees
MEET THE TRUSTEES
Trinity is led by a strong team of Christian leaders, each caring deeply about the school, students, faculty, and the difference Trinity is making in the world. You'll see in the list several alumni, field and thought leaders, and an overall impressive team that is guiding and making decisions for the good of all.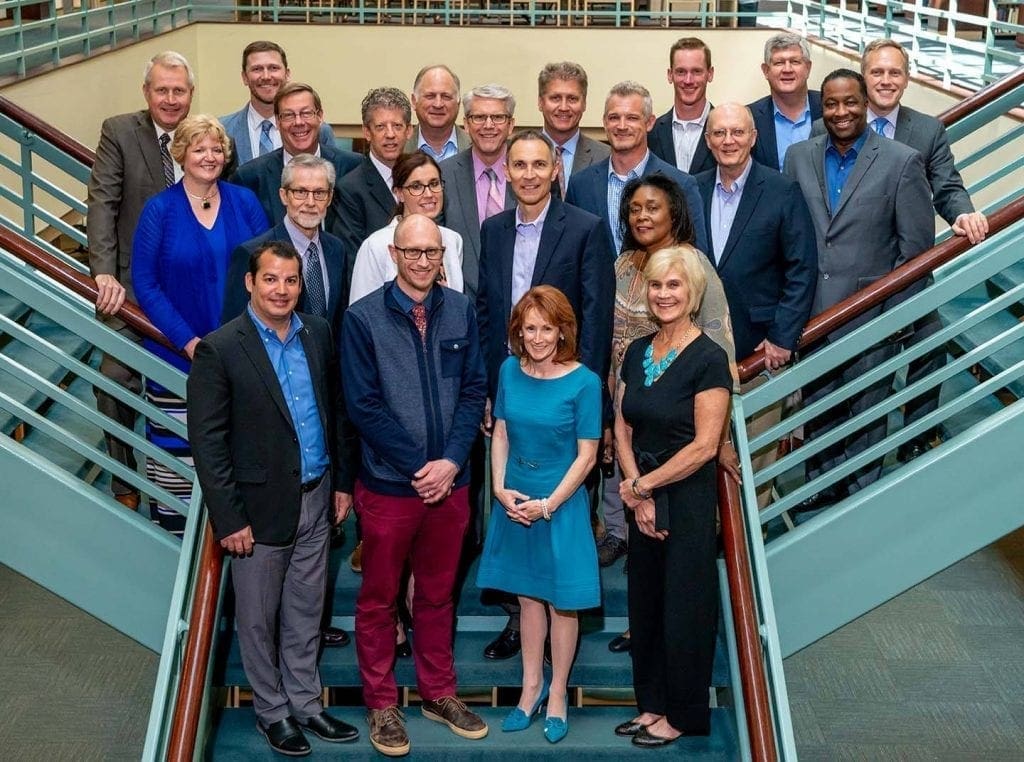 Bryan Bandstra, B.A.
Human Resource & Risk Manager
Key Cooperative
Sully, IA

Paul Boice, B.A., Vice Chair
Chief Operating Officer
Reformed Church in America
Grand Rapids, MI

Mary Lynn Colosimo, Ph.D.
Professor Emerita, Adjunct Professor and Yoga/Meditation Teacher
Trinity Christian College and
The Center for Body and Soul
Palos Heights, IL
John M. DeBoer, O.D. '85
Optometrist
DeBoer Family Eyecare
Lansing, IL

Cindy Klinger, B.S.N. '92
Registered Nurse, Clinical Coordinator
Riverview Health & Noblesville Schools
Noblesville, IN
Scott E. Kostelyk, B.A. '97
Vice President
HUB International
Visalia, CA
Aaron Ozinga, B.S., '03
President
Ozinga Materials, Inc.
Alsip, IL

Jamie A. Stephenson, B.A.,'00
Former Elementary & Special Education Teacher
Trustee Cancer Treatment Centers of America
Zion, IL
Felecia Thompson, D.Min., Secretary
Director of Domestic Missions/
Pastoral Staff
Christ Church of Oak Brook
Oak Brook, IL

Kevin G. Toren, M.B.A
Chief Information Officer and
EVP Business Transformation
Gordon Food Service
Grand Rapids, MI

George J. Vande Werken, M.Div.
Retired Regional President
Providence Bank & Trust
Pflugerville, TX
Kevin Walker, B.S., '05
Owner
EL Famous Burrito
Lombard, IL
Marjorie Boerman, CPA, J.D. '83
CPA and Attorney
Boerman CPAs
Lansing, IL
Robert Buikema, J.D., Chair
Attorney and Board Member
Buelow Vetter Buikema Olson Vliet
Waukesha, WI
Justin D. Cooper, Ph.D. '72
Executive Director
Christian Higher Education Canada
and President Emeritus,
Redeemer University College
Ontario, Canada
Henry Doorn, Jr., B.S. '81
Interim Superintendent
SW Chicago Christian Schools
Palos Heights, IL

Kevin L. Koeman, B.A. '02
English Teacher
Holland Christian High School
Holland, MI

Jonathan Marcus
President
Marcus Automotive, LLC
Holland, MI

H. Brian Page, M.B.A.
Vice President of Advancement
Shepherds College
Union Grove, WI

Cal Tameling, B.A., '72
Owner/Chair
SET Environmental Inc.
Elmhurst, IL

Zachary J. Thomson, CPA., '01
Chief Financial Officer
Homewood Disposal Service, Inc.
Homewood, IL

Matthew Vander Laan, B.A, '97
Executive Vice President, General Manager/Corporate Advisory
Edelman
Chicago, IL
Steven G. Van Drunen, B.A. '86, Treasurer
Banker/President and CEO
Providence Bank & Trust
South Holland, IL
Laura E. Zumdahl, Ph.D., '02
President & CEO
New Moms
Chicago, IL