Thank you for visiting the online theatre box office at Trinity Christian College.  We are happy to offer multiple methods of purchasing tickets to our performances.  To pay by cash or check, please contact the Trinity box office by phone or visit the box office in the first floor lobby of the Art and Communications Center.   For special arrangements or questions, please contact the box office at (708) 293-4537 or box.office@trnty.edu.
BY PHONE:
708.293.4537
IN PERSON:
1st Floor Lobby of Art & Communications Center
October 5 and 6, 2018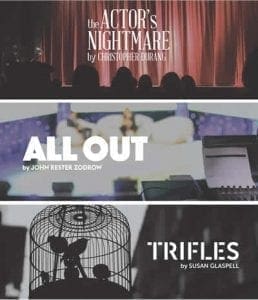 Trinity's 13th Annual Student-Directed One-Act plays – Part One
Performances take place on Friday, October 5 and Saturday, October 6 at 7:30 p.m. in the Kallemeyn Theater in the Art and Communications Center.
Doors open at 7:00 p.m. and seating is unassigned.
To purchase tickets:
Tickets for non-Trinity events: