Thank you for visiting the online theatre box office at Trinity Christian College.  We are happy to offer multiple methods of purchasing tickets to our performances.  To pay by cash or check, please contact the Trinity box office by phone or visit the box office in the first floor lobby of the Art and Communications Center.   For special arrangements or questions, please contact the box office at (708) 293-4537 or box.office@trnty.edu.
BY PHONE:
708.293.4537
IN PERSON:
1st Floor Lobby of Art & Communications Center
April 13, 14, 20 and 21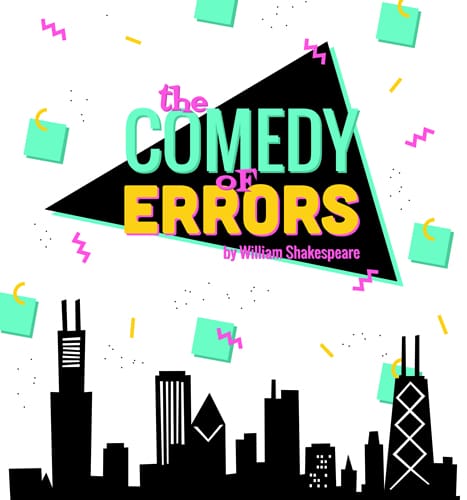 The Comedy of Errors, by William Shakespeare, is a comic farce that tells the story of two sets of identical twins who were accidentally separated at birth.
Twenty-five years later, Antipholus of Syracuse and his servant, Dromio of Syracuse, arrive in the city of Ephesus, which happens to be the home of their long-lost twins: Antipholus of Ephesus and his servant, Dromio of Ephesus. When the two from Syracuse encounter the Ephesian friends and families of their twins, it sets off a series of wild mishaps – including mistaken identities, wrongful beatings, attempted seduction, the arrest of Antipholus of Ephesus, and false accusations of infidelity, theft, insanity, and even demonic possession.  In addition to slapstick and mistaken identity, the play also features puns and word play, as you might expect from Shakespeare.
For our production, the setting of "Ephesus" will be Chicago in the 1990s. The Comedy of Errors is William Shakespeare's earliest comedy and his shortest play. Come join us for this crowd-pleasing comedy!
Tickets:
Doors open at 7pm.  Performances start promptly at 7:30pm.  To purchase tickets, please select show date:
April 19,      April 20,      April 21
April 27 - May 20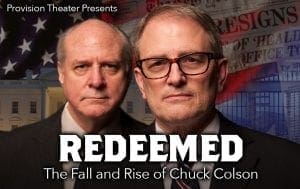 Provision Theater presents Redeemed: The Fall and Rise of Chuck Colson, performed at Trinity Christian College in Palos Heights, IL from April 27, 2018 until May 20, 2018.
Dates and Times:
– Fridays at 8 pm
– Saturdays at 4 pm and 8 pm
– Sundays at 3 pm
Synopsis:
In the 1970's, against the backdrop of the explosive Watergate scandal, Chuck Colson grasped for meaning during the tumultuous investigations that led to the collapse of the Nixon administration. A convicted former special counsel to the president, Colson paradoxically found new life – not with success and power, but while in national disgrace and imprisonment.
Tickets are NOT available at the door or the box office.  Tickets are purchased through:  www.provisiontheater.org
Tickets for non-Trinity events: