Thank you for visiting the online theatre box office at Trinity Christian College.  We are happy to offer multiple methods of purchasing tickets to our performances.  To pay by cash or check, please contact the Trinity box office by phone or visit the box office in the first floor lobby of the Art and Communications Center.   For special arrangements or questions, please contact the box office at (708) 293-4537 or box.office@trnty.edu.
BY PHONE:
708.293.4537
IN PERSON:
1st Floor Lobby of Art & Communications Center
March 14 at 10am, 1pm, and 3pm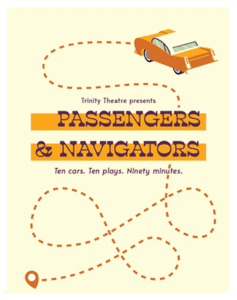 10 vehicles, parked in a circle in a parking lot on campus.
In each car, two actors performing a brand-new, 7-minute play written just for this occasion.
Audience members will enter vehicles by twos. Over the course of the next 80 to 90 minutes, audience members will rotate into each vehicle, to experience each of the ten plays up close by sitting in each vehicle with the actors as they perform.
Due to extremely limited seating, reservations are highly suggested. Please contact the Box Office by phone at (708) 293-4537 or by e-mail at Box.Office@trnty.edu .
In your communication with the Box Office, please answer the following things:
1.) Which performance you would like to attend (10am, 1pm, or 3pm)
2.) How many tickets you are requesting
3.) The names of each audience member in your group
Payment is $1 in cash at the door
Some of the short plays contain material best suited for audience members age 14 and above.
Tickets for non-Trinity events: