Mels Named 2019 Illinois Nurse Educator Fellow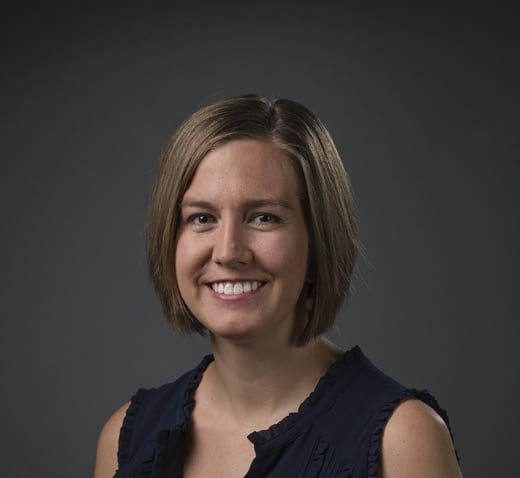 Congratulations to Assistant Professor of Nursing Autumn Mels '12, who has been named a 2019 Illinois Nurse Educator Fellow. The fellowship, a program of the Illinois Board of Higher Education and the Illinois Nursing Workforce Center Advisory Board, is designed to promote excellence in nursing education.
"I feel completely honored to have been granted this opportunity to be a 2019 Illinois Nurse Educator Fellow," said Mels. "I am looking forward to the variety of different learning opportunities that lie ahead and the impact it will make on myself, our faculty, students, and future patients."
Mels said that Associate Professor of Nursing and Department Chair Tina Decker, D.N.P., encouraged her to apply for the fellowship and wrote a recommendation letter for the yearlong program.
"Over the next year, I will be spending time partaking in a variety of different opportunities that will improve my bedside nursing, my role as a professional nurse educator, and, in turn, our students," said Mels. That could include attending several conferences, participating in continuing education courses, and work towards receiving her certification as a nurse educator.
"The conferences are geared towards two things that I have a passion for–nursing education and obstetric nursing," she said. The first conference is the National Nurse Educators Summit, which will be held in Savannah, Ga., March 31-April 3. "This conference is put together by ATI, which is a program we utilize to a great extent in our nursing program here at Trinity," said Mels. "At this conference, I will learn how to develop as a professional and explore different teaching strategies and evaluation methods, which will help to improve course/program outcomes at Trinity."
The second conference is sponsored by the Association of Women's Health & Neonatal Nursing and will take place in June in Atlanta. "As a member of this professional organization, an obstetric bedside nurse, and women's health educator, this convention will help to inspire and improve education related to care of women and neonates," she said.
As part of the fellowship, Mels will report back to the State of Illinois, as well as sharing her knowledge with colleagues in Trinity's Nursing Department. "This fellowship truly has a domino effect, in that the knowledge I gain from these experiences will have an impact on the care I provide to my patients, the educational strategies I may then share with the nursing department, the educational and clinical experiences I provide my students with, and then the effects the students have on their future patients," said Mels. "I firmly believe this opportunity will help me advance my knowledge and skills as a professional nurse educator, which will improve my abilities in educating our future nurses."
Trinity's Bachelor of Science in Nursing degree program, which has had a 100 percent first-time pass rate on the NCLEX-RN exam for three of the last four years, prepares graduates in all areas of clinical nursing with a Christian perspective.
---