Dave Jousma Retires From A/V Department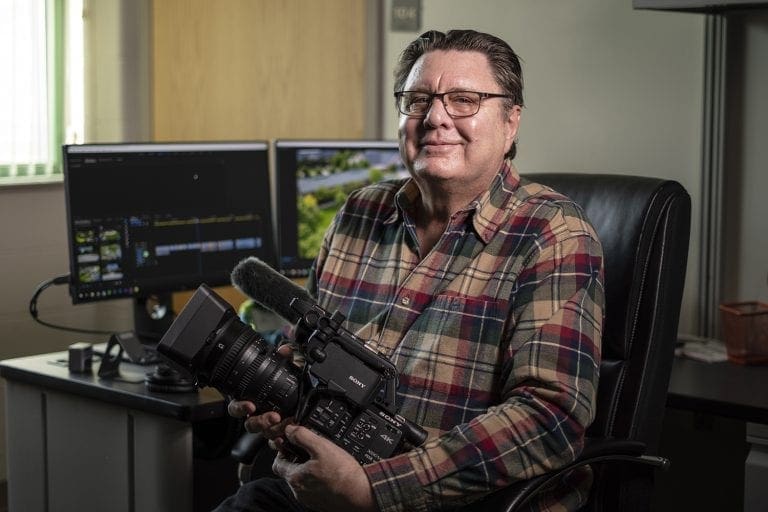 Earlier this month, the Trinity community said goodbye to Dave Jousma, Coordinator of Audio Visual Services, who is retiring after 15 years of working for the College.
"I will certainly miss you all on a daily basis," said Jousma in a note to the Trinity community.
Jousma offered his thanks and  gratitude to the  College's audio visual technicians throughout the years, including Ben Bridgewater, Dirk Aardsma, Ian Adema, Levi Wondeyee, Jayson Veenstra, Aaron Visser, Josh Arnold, Sam Mahtani, Brian Boucek, Bobby Herrera,  Leif Anderson, Kaleb Furmanek, Adam Perez,  Brian Kuiper, Lyle Breems, Jason Korthuis, Ryan Brouwer, Daniel De Young, Daniel VandeBunte, Justin VanderWaal, Justin James, Selah Jabeen, Katie Oomkes, Eden Foreman, Annaliese Mrazek, Jonathan Hibma, Deborah Fry, Jonathan Reitveld, Eros Perez, and Larissa Brumlow,  just to name a few. "Justin Vander Waal, Trinity's A/V Lead Technician, is the Trinity  A/V department of the future!" he said. "Best wishes to him and all the above mentioned in the New Year!"
Jousma also offered a quote from Satchel Paige, "Work like you don't need the money, love like you have never been hurt, and dance like nobody's watching."
Along with working for Trinity, Jousma is the father of two alumni, Jett '08, '13 and Jordan '17.
We congratulate him on his retirement and thank him for his service.
---