Trinity Names Senti and Lang Founders' Scholars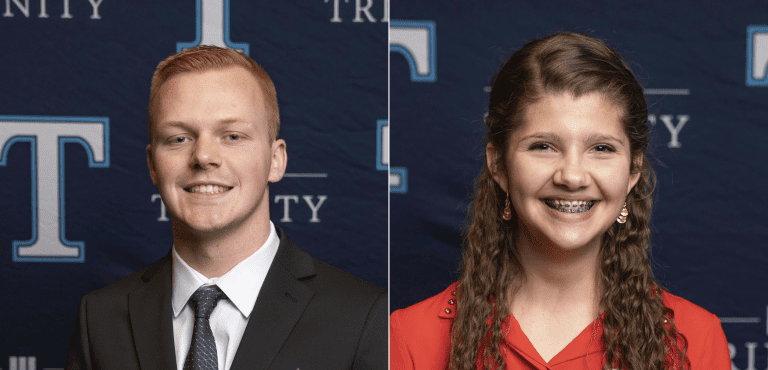 The College is pleased to announce that Evan Senti of Escondido, Calif., and Sophia Lang of Palmyra, Neb., have been named the 2019 Founders' Scholars.
The Founders' Scholarship is a renewable, full-tuition award available annually to two incoming freshmen.
Senti attends Calvin Christian High School and Escondido United Reformed Church. He has played football for four years as running back and linebacker and helped launched the school's golf team. Senti also sings with the school choir, participates in musicals, and serves as senior class president.
Senti said he knows students from his church and school who have gone to Trinity, but he became more familiar with the College when his older brother Michael '20 began attending.
"My first impression was how well-knit the community is, and how students take classes seriously but also enjoy themselves," he said. A second visit reinforced his first impressions. "I applied to a few state schools in California and a few other Christian colleges, but Trinity seemed the most like a community," he said.
Senti plans to major in biology.
Lang is homeschooled and has taken classes from a local co-op, as well as dual-credit courses from several colleges. She and her family attend Cornerstone Baptist Church, where she has served in different capacities, including helping with music, Vacation Bible School, nursery, kitchen, and cleaning. She has also helped her father coach a track team for six year olds since she was 10. Over the summer, Lang spent a week serving at Royal Family Kids Camp, a camp for abused and neglected foster youth, and completed a mission trip to Mexico.
Lang learned about Trinity while she was researching Christian colleges that offer her intended majors of speech-language pathology and Spanish. "When I visited campus for the first time in the summer of 2018, I fell in love and began imagining myself there," she said. She visited again during Founders' Weekend. "I was able to watch and interact with the students on campus, which only increased my desire to attend Trinity. I had been praying that God would show me exactly where He wanted me to be for the next several years of my life; a place where I could use all the gifts He's given me, both to grow myself and to encourage others, and I believe God has shown me that Trinity is the answer."
Trinity is excited to welcome our Founders' Scholars for the class of 2023!
---