Trinity Celebrates Fall 2019 Graduates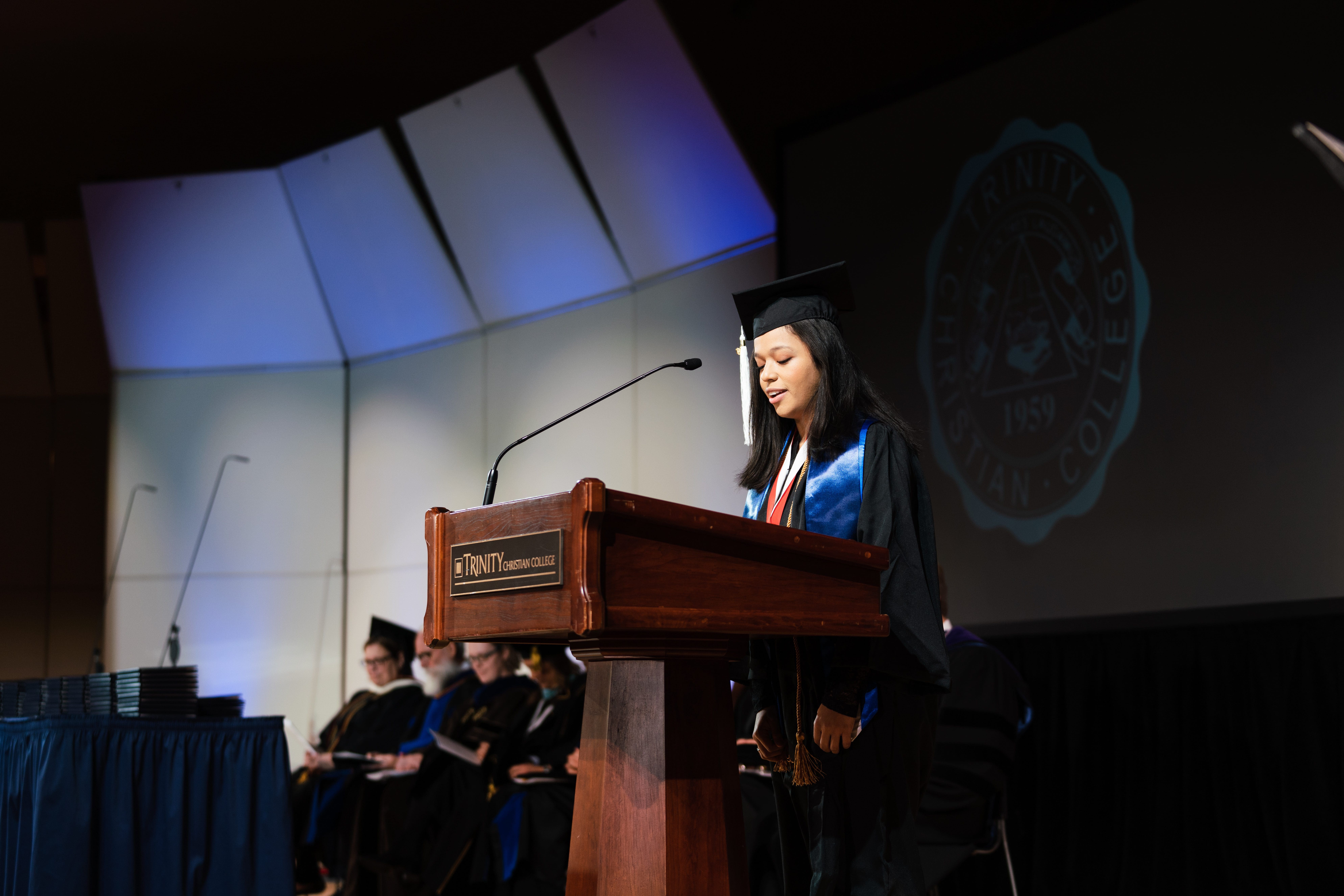 The Trinity community celebrated with the Fall 2019 graduates today, as students received master of arts, bachelor of arts, bachelor of science, and bachelor of social work degrees.
At the ceremony in Ozinga Chapel Auditorium, President Kurt D. Dykstra provided the welcome, and Laura E. Zumdahl '02, chair of Trinity's Board of Trustees, gave the greeting. Indira Yazmin Escalante Bustillo '19, 2019 Student Laureate of the Lincoln Academy and a graduate, offered the invocation.
Aaron J. Kuecker, Ph.D., introduced the three professors who gave commencement reflections on the theme of "What I know now that I wished I knew when I graduated from college":  John J. Fry, Ph.D., Professor of History; Department Chair; Academic Dean; Director of Foundations Program; Mario Guzmán, Ph.D., Assistant Professor of Psychology; and Kelly Lenarz, Ed.D., Assistant Professor of Education; Director of Education Assessment, Innovation & Traditional Undergraduate Programs.
Kuecker also recognized Escalante and Gabriel Soler '19 for their leadership in Trinity's Diversity Scholars Program at Trinity. He praised them for their academic excellence and participation in campus wide inclusion and advocacy efforts.
After degrees were conferred, master's candidates were hooded, and diplomas were presented, Dykstra provided remarks to the graduates. Rev. Willis Van Groningen, Ph.D., Chaplain and Dean of Spiritual Formation, gave the benediction.
Music Professor Minkyoo Shin, D.M., and Professor of Music Mark Peters, Ph.D., provided music throughout the ceremony. Trinity's Honors Ensemble led the singing of "Joy to the World."
You can view the Commencement 2019 Livestream here.
---