Trinity Hosts First-Ever Innovation Olympics for High School Students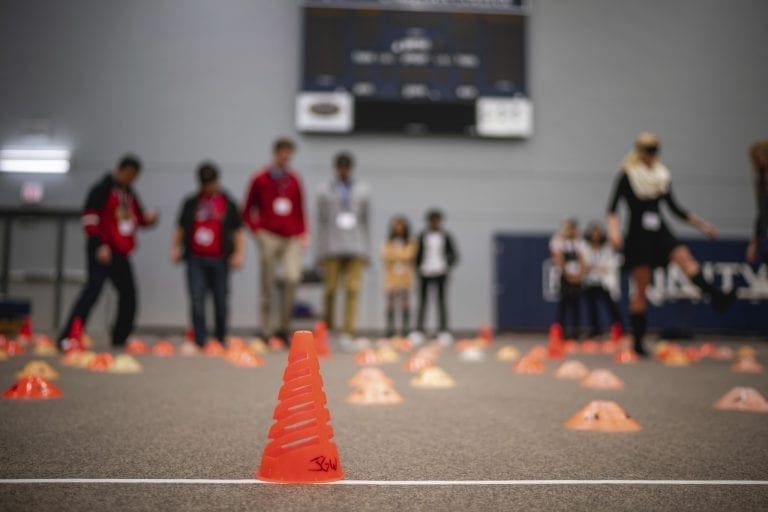 Trinity was excited to welcome nearly 100 high school students from four regional high schools to the inaugural Innovation Olympics on Oct. 18. Students from Chicago Christian, Timothy Christian, Naperville North, and Naperville Central competed in five events that were centered around innovation, creativity, and teamwork.
"This was a great experience for all of our students," Bryan Peckhart, Instructional Coordinator of the CTE Department at Naperville North High School. "They were able to apply a variety of important life skills in a competition style setting at the collegiate level. The students problem solved, communicated, innovated, collaborated, and presented to business professionals in a team environment. These are all essential skills students must learn and be able to apply in order to be successful in any job in the future."
Nearly two dozen Trinity students, faculty, and staff volunteered their morning to coach the high school students through the different events, which included an obstacle course, developing and pitching an idea for an app, building a structure made of paper, safely guiding a blindfolded partner, and creating a hypothetical product for a specific audience.
The students enjoyed the events and provided positive feedback, said John Wightkin, Assistant Professor of Business and Department Chair. "This also represented an opportunity to demonstrate how Trinity is inspiring innovation, creativity, and teamwork across our campus and through Fusion59, Trinity's own newly opened innovation hub, and in Chicago through our University Partnership with 1871, the nation's largest center for technology and entrepreneurship in downtown Chicago," he said.
Following the event, the high school students toured different spaces on campus, including Fusion59, before heading back to their schools.
Wightkin was inspired to launch the High School Innovation Olympics after running similar events for several grade school entrepreneurial camps in Chicago and Aurora, Ill. He identified the four high schools from relationships he has developed in helping the high school's entrepreneurial programs over the last year. Wightkin and the Business Department plan to host another Innovation Olympics next year.
---