Volleyball and Soccer Teams Appearing in National Tournaments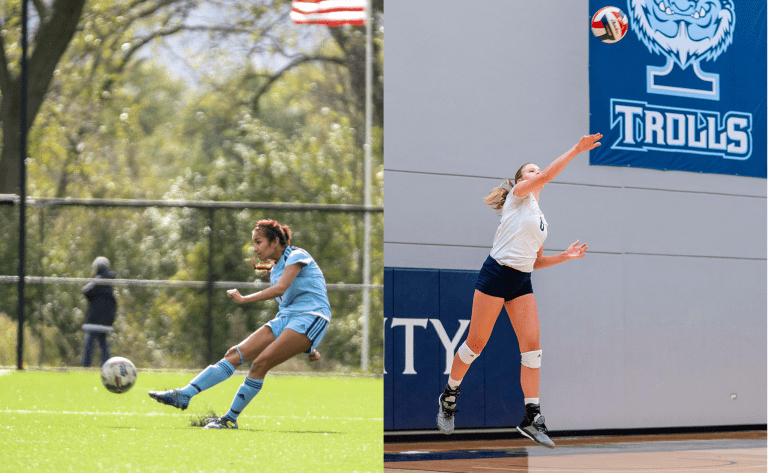 Football isn't the only sport to follow this time of year! Both the women's volleyball and soccer teams are competing in national tournaments the week after Thanksgiving.
The women's volleyball team will compete in the 39th Annual NAIA National Volleyball Championship in Sioux City, Iowa. The Lady Trolls will be competing in pool play against Missouri Baptist University; Hastings College; and Ottawa University. This marks the second final site national tournament appearance for the Trolls, who also qualified in 2013.
Trinity's pool play schedule is:
–Nov. 27 (Tuesday) – vs Missouri Baptist at 9 am (CST)
–Nov. 28 (Wednesday) – vs Hastings at 12 pm (CST)
–Nov. 29 (Thursday) – vs Ottawa at 10 am (CST)
The Trolls advanced to the NAIA National Championship Final with a win over Bellevue University (Nebraska) in the Opening Round on Nov. 17.
The top two teams from each pool will advance to the single-elimination bracket starting on Nov. 30. The championship match will take place on Dec. 1 at 7 pm. For a complete list of the pool play teams and schedule, click here.
The women's soccer team will be making their national tournament appearance at the NCCAA DI Women's Soccer National Championship at Austin-Tindall Soccer Complex in Kissimmee, Fla. They will be take on Columbia International University; Campbellsville University; and Ottawa University Arizona in pool play.
The pool play schedule is:
–Nov. 26 (Monday) — vs Columbia International at 11 am (CST)
–Nov. 27 (Tuesday) – vs Campbellsville at 11 am (CST)
–Nov. 29 (Thursday) — vs Ottawa at 11 am (CST)
Click here for more information about the tournament.
The Trolls won their spot in the national tournament by claiming the NCCAA Region Championship title in a 1-0 overtime victory against Trinity International University on Nov. 17.
---