Class of 2020 Receives Degrees in Virtual Conferral Ceremony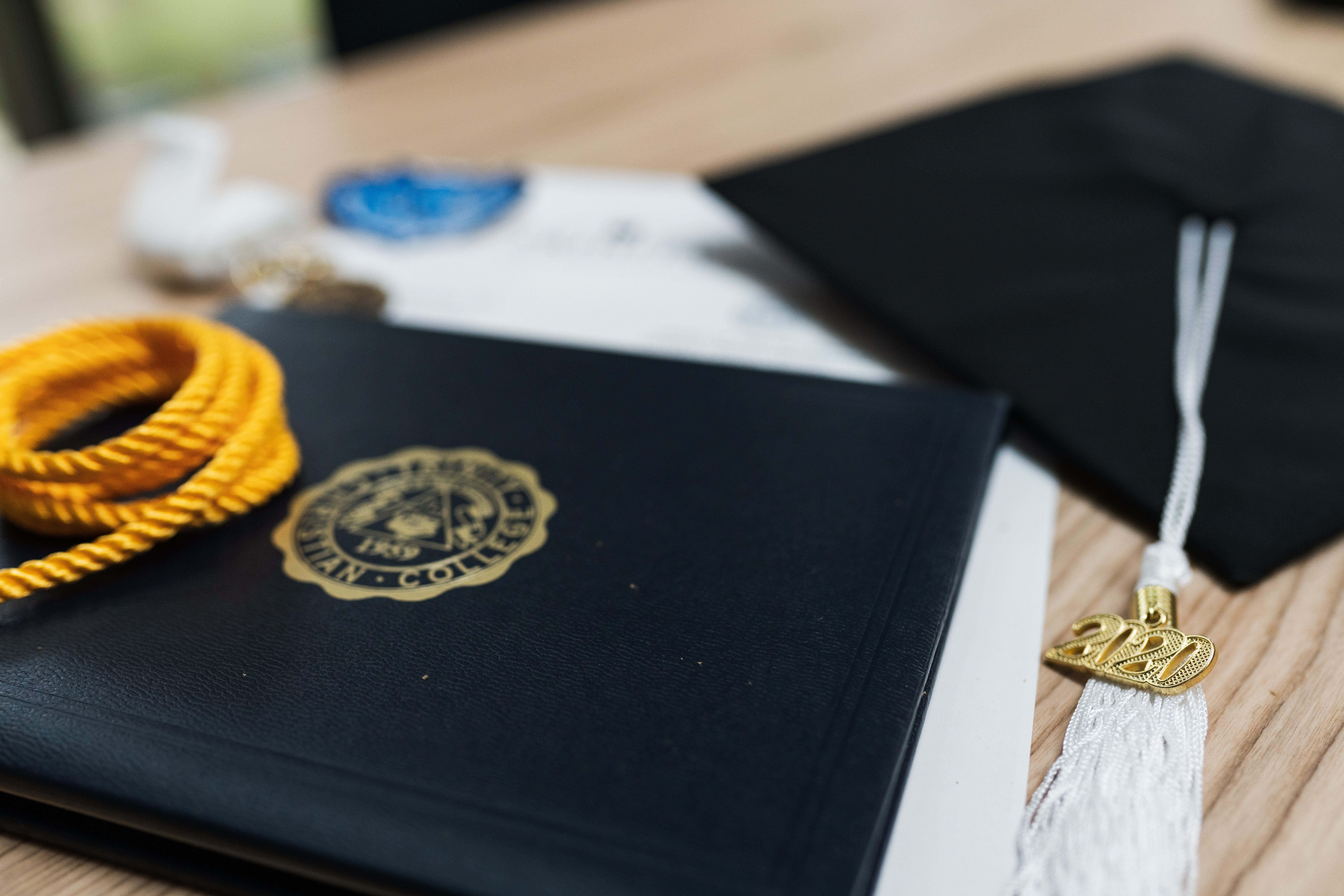 Congratulations to the Class of 2020! While the May graduation ceremony has been rescheduled for Dec. 19, graduates were recognized in a virtual degree conferral ceremony today.
The ceremony also recognized retiring faculty members Dr. Helen Van Wyck, Professor of Music, and Dr. Liz Rudenga, Professor of Education, as well as Dr. Yudha Thianto, Professor of Theology, as Trinity's Professor of the Year for 2020-21.
If you missed the ceremony, you can view it here.
We are proud to welcome all the members of the Class of 2020 to the worldwide family of Trinity alumni!
*denotes graduating with honors
Aaron Martin Alderden*
Bachelor of Arts
Nate Howard Alderman*
Bachelor of Science
Amal Hussein Alsayed*
Bachelor of Science
Stephanie  Alvarez
Bachelor of Arts
Christine Eloisa Arcos*
Bachelor of Arts
Graciela Noel Armstrong*
Bachelor of Science in Nursing
Maria R. Arriaga*
Bachelor of Science
Christopher Derrick Baker
Bachelor of Arts
Katelyn Elaine Baker*
Bachelor of Arts
Rachel Lea Bast*
Bachelor of Arts
Laura Lucille Bell
Master of Arts–Special Education-Behavior Intervention Specialist
Jose Alberto Beltran III
Bachelor of Arts
Desiree Latoya Billingslea
Bachelor of Science
Edward  Binion
Bachelor of Arts
Liam  Blake
Bachelor of Science
Megan Leigh Blok*
Bachelor of Arts
Sarah Andrea Boeringa*
Bachelor of Science in Nursing
Sommer Christine Brosio*
Bachelor of Science
Cassidy Morgan Buss*
Bachelor of Arts
Matthew  Butnariu
Bachelor of Arts
Alexandria  Calder
Bachelor of Science in Nursing
Erica Ann Cali*
Bachelor of Science
Jonathan Alexander Caratachea
Bachelor of Arts
Julissa  Carmona*
Bachelor of Arts
Juliana  Carrilho Santana*
Bachelor of Science and Bachelor of Arts
Lauren Janell Colbert*
Bachelor of Arts
Angela Michelle Collins*
Bachelor of Science
Carlos  Colotl
Bachelor of Science
Kevin  Courtney
Bachelor of Science
Adriana  Cuellar
Bachelor of Science
Margaret Eileen Cullinan*
Bachelor of Arts
Bethany Joy Dadisman*
Bachelor of Arts
Aaron Wayne DeBoer*
Bachelor of Arts
Alison Lynnae DeBoer*
Bachelor of Science in Nursing
Maria Joy DeBoer*
Bachelor of Arts
Laura Grace DeVries*
Bachelor of Science
Quanquisha G. Dudley*
Bachelor of Science
Lindsey Joyce Dykema*
Bachelor of Science in Nursing
Lydia  Dykstra*
Bachelor of Science
Nathan Robert Dykstra*
Bachelor of Arts
Brittan Danielle Edwards
Bachelor of Science in Nursing
Carmen Liliana Enriquez
Bachelor of Arts
Alicia Jean Enz*
Bachelor of Science and Bachelor of Arts
Nahara  Escalante
Bachelor of Social Work and Bachelor of Arts
Nicole Candice Faulkner*
Bachelor of Science in Nursing
Sean  Finley
Bachelor of Arts
Jonathan Andrew Fossell
Bachelor of Arts
Megan Elizabeth Fox
Bachelor of Science
Bailie  Fredlock
Bachelor of Arts
Deborah J. Fry*
Bachelor of Arts
Angela T. Garcia
Bachelor of Arts
Bianca Leigh Garrette
Bachelor of Science
Noah Michael Garrity
Bachelor of Arts
Cynthia  Gary Sanders*
Bachelor of Science
Alex James Gerhardt
Bachelor of Arts
Zachary  Gill
Bachelor of Science
Vinko  Glavan
Bachelor of Arts
Renee Simone Glover
Bachelor of Arts
Martin  Gonzalez*
Bachelor of Science
Sonia  Gracanin
Bachelor of Arts
Nicole Danielle Graham*
Bachelor of Arts
Joshua Douglas Groenendyk
Bachelor of Science
Elizabeth  Gutierrez
Bachelor of Science in Nursing
Denise Jeanette Hallstrom
Bachelor of Science in Nursing
Alyssa Grace Harms*
Bachelor of Science
Emmett Arden Harrison
Bachelor of Arts
Anthony  Hayes
Bachelor of Science in Nursing
Brooke Ellen Hedderman*
Bachelor of Science
Haley Ann Heeg
Bachelor of Science
Kailey Joelle Heppner*
Bachelor of Social Work
Samuel Paul Nieboer Herzog*
Bachelor of Arts
Kerry Lynn Hopp*
Bachelor of Social Work and Bachelor of Arts
Kristina Joy Huisenga*
Bachelor of Arts
Mariam  Ideis
Master of Arts–Counseling Psychology
Jamie Lynn Isabelli*
Bachelor of Science
Corrie Ana Jacobi
Bachelor of Science in Nursing
Sarah Elizabeth Jarosz*
Bachelor of Science in Nursing
Alexandria Faye Johnson*
Bachelor of Science
Kayla Jean Kamp*
Bachelor of Science in Nursing
Kennedy Dawn Kaptein*
Bachelor of Arts
Maribeth  Karnia
Bachelor of Science
Julia Ann Kasprzak*
Bachelor of Arts
Michaela Opal Kohlmeier*
Bachelor of Social Work
Daniel Edward Kott
Bachelor of Science
Andrew Kent Kowitz*
Bachelor of Arts
Jeremiah  Kruithof*
Bachelor of Arts
Kathleen  Krull*
Bachelor of Arts
Anna Grace Kuper
Bachelor of Arts
Kimberly Lynn Kusturin*
Bachelor of Arts
Anastasia Tracy Lambros
Bachelor of Science
Abigail KathrynMae Lammers*
Bachelor of Science and Bachelor of Arts
Daniel John Lawrence
Bachelor of Arts
Allyson  Lee
Bachelor of Science in Nursing
Tyler  LeGrand*
Bachelor of Science
Sarah Elizabeth LeMahieu*
Bachelor of Arts
Abigail Joy Leo*
Bachelor of Science in Nursing
Jarod Thomas Lindberg
Bachelor of Arts
John Paul Macayan*
Bachelor of Science
JenniferAnn  Magbata
Bachelor of Science in Nursing
Martha  Mahtani*
Bachelor of Arts
Antonio DeJesus Manjarrez*
Bachelor of Arts
Hope  Manke*
Bachelor of Arts
Bethany Elise Mattingly*
Bachelor of Arts
Michelle  Maus*
Bachelor of Arts
Constance Rose McCullah
Bachelor of Science in Nursing
Andrea Lynn Medina
Bachelor of Science
Michael Daniel Melody*
Bachelor of Arts
Andrew  Miller
Bachelor of Arts
Taylor J. Miller
Bachelor of Arts
Alya Yahya Muharram*
Bachelor of Science
Hailey Marie Mulder
Bachelor of Science in Nursing
Mariah  Nelesen*
Bachelor of Fine Arts and Bachelor of Arts
Abbigal Kay Nienhuis*
Bachelor of Science and Bachelor of Arts
Morgan Carmen Nowitzki
Bachelor of Arts
Miles Patrick O'Brien
Bachelor of Arts
Shannon  O'Doherty
Bachelor of Science
Samuel  Olea
Bachelor of Arts
Claudia Andrea Pareja*
Bachelor of Arts
Jessica Ann Pilota*
Bachelor of Science in Nursing
Jonathan  Poortinga
Bachelor of Science
Shaelyn Grace Postmus*
Bachelor of Arts
Catherine LaVonne Price*
Bachelor of Arts
Kelsey Jo Pujdak*
Bachelor of Arts
Kristen Marie Rakis
Master of Arts–Special Education-Behavior Intervention Specialist
Jonathan  Rietveld*
Bachelor of Science
John  Roberts
Bachelor of Science
Jessica  Robledo
Bachelor of Arts
Stephanie A. Rodriguez*
Bachelor of Arts
Ashley  Rogalske*
Bachelor of Arts
Frank James Romano
Bachelor of Science
Tate Michael Rozeveld*
Bachelor of Arts
Patrick Holger Rubien*
Bachelor of Arts
Michelle  Rubino
Bachelor of Science in Nursing
Sara Ahmed Saleh*
Bachelor of Arts
Mckenzi Jane Sall*
Bachelor of Social Work
Caitlin Elizabeth Santini*
Bachelor of Arts
Robert Allan Schaaf, Jr.*
Bachelor of Science
Melinda Beth Scheltens*
Bachelor of Arts
Allison  Schuldt*
Bachelor of Science
Kelsey Rose Schwartz
Bachelor of Arts
Michael Lee Senti
Bachelor of Science
Joshua William Shannon
Bachelor of Science
Davi Gatz Simoes
Bachelor of Science
Yolanda Maria Stephanie Sinaga*
Bachelor of Fine Arts
Jessica Sara Smith*
Bachelor of Science in Nursing
Kelsey Jeanne Smith*
Bachelor of Arts
Maria del Pilar Sotomayo
Bachelor of Science
Courtney Amber Sullivan*
Bachelor of Arts
Christopher Lee TenDolle
Bachelor of Science
Kelsie Ann Thornell*
Bachelor of Science in Nursing
Sydnie Marie Tiemens*
Bachelor of Arts
Alyse  Togher
Bachelor of Arts
Tamara  Tozzi
Master of Arts–Counseling Psychology
Alexis Pilapil Trujillo
Bachelor of Arts
Drew Anthony Van Buren
Bachelor of Science in Nursing
Danielle  Van Laten*
Bachelor of Science
Case J. Van Wingerden*
Bachelor of Science
Bethany Erin VanderPloeg*
Bachelor of Arts
Mikayla Faith VanLaan*
Bachelor of Science
Brantley James VanOverloop*
Bachelor of Science
Raven Christine Vargas
Bachelor of Arts
Debby  Vazquez*
Bachelor of Arts
Julie  Villarejo
Master of Arts–Counseling Psychology
Peter Henry Vos*
Bachelor of Arts
Kiersten Lois Wagner
Bachelor of Science in Nursing
Daniel Benjamin Walters*
Bachelor of Arts
Maryellen  White
Master of Arts–Counseling Psychology
Alyssa Jean Whyard
Bachelor of Science in Nursing
Carissa Kathryn Wisse*
Bachelor of Arts
Jessica Danielle Workman*
Bachelor of Science in Nursing
Joshua David York*
Bachelor of Science
Jessica  Zapata*
Bachelor of Arts
---