Commencement 2022 (In-Person & Live Stream)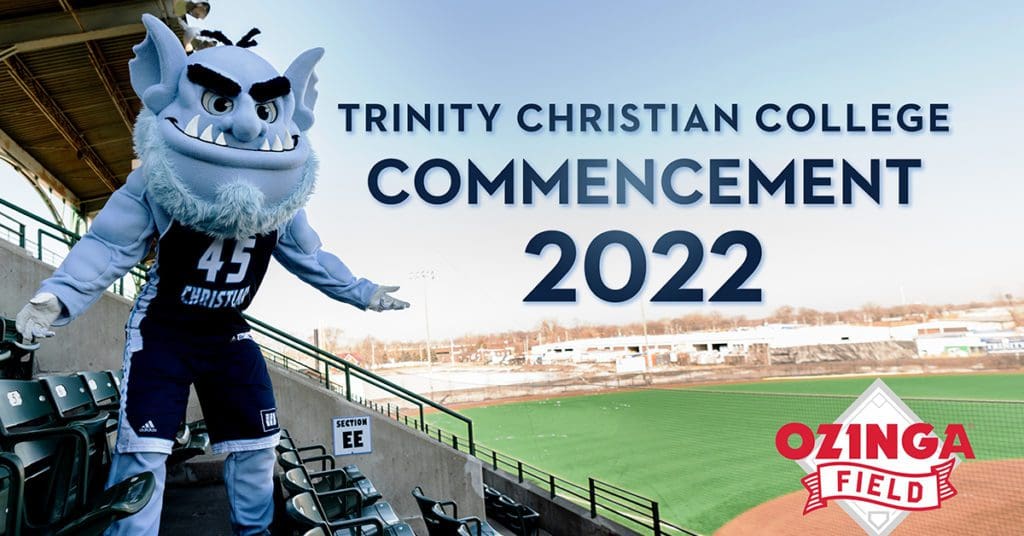 This year, we are excited to be honoring the graduates of Fall 2021 and Spring 2022 at one ceremony held off-campus at Ozinga Field at 14011 Kenton Ave. Crestwood, IL 60445.
Information on Official Photography
As a service to families of graduates, Tom Killoran Photography has taken photographs of all graduate during the ceremony. Trinity is providing two complimentary digital images to each of our graduates–one as they cross the stage, and one posed image with their diploma in front of the Trinity backdrop.
Images from the May 7 ceremony can be accessed here. Complimentary downloads can be accessed with the code trinity22
Schedule of Events for Commencement Day
1:00 p.m. Graduates Arrive to Ozinga Field
Traditional Undergraduates, Adult Undergraduates, and Graduate Programs, arrive at Ozinga Field for robing, instructions, and to line up for the processional. Please bring your cap, gown, medallion, and honors cord (if applicable). If you have not yet received a medallion or honors cord, one will be available for you (if applicable).
2:00 p.m. Commencement Ceremony, Ozinga Field. (Live Stream)
The ceremony will take place at Ozinga Field at 14011 Kenton Ave. Crestwood, IL 60445.
Due to stadium capacity, only ticketed guests will be permitted to attend. Guests without tickets should plan to view the ceremony from home via live stream.
All non-ticketed friends and family should plan to view the ceremony remotely via live stream. There will be no overflow viewing site on campus.
Commencement Program
Schedule of Events for Commencement Week
Commencement weekend is full of celebratory events for you, your family, and friends. We hope you can take advantage of these wonderful opportunities!
1:00 p.m. – 3:00 p.m. Nursing Pinning Ceremony, Ozinga Chapel Auditorium (Livestream)
Guests are welcome to attend according to current college health protocols.
3:30 – 5:00 p.m. Social Work Senior Celebration, Vermeer Fireside Room
All graduating social work seniors and their families and friends are welcome to attend.
5:30 p.m. – 6:30 p.m. Baccalaureate Worship Service, Ozinga Chapel Auditorium (Livestream)
It has a strange name, but we're here to explain! Baccalaureate is a service of worship and celebration led by members of the graduating class. Contrasting the formalities of Commencement, the Baccalaureate service will be a time to slow down and give thanks for God's faithfulness with your community. Seating is not assigned—sit with your family, your friends, or whomever you want to worship with you! All faculty, staff, students, graduates, and their families are warmly invited to attend. The Baccalaureate cookout picnic dinner will follow immediately afterward.
6:30 p.m. – 8:30 p.m. Baccalaureate Picnic Dinner, Dining Hall
Due to the forecast of impending rain, we have moved this event indoors. We want your last evening on Trinity's campus to be a memorable experience! Graduates, their guests, and Trinity staff/faculty members are invited to gather for a complimentary picnic dinner hosted by the Student Life Division. No need to make dinner plans elsewhere! On the menu are pulled pork, brisket barbeque, and gluten-free options.  Enjoy a fun and relaxed time to hang out with your classmates, friends, and family—and the Troll will be around to take photos with you!
8:30 p.m. – 10:30 p.m. Class of 2022 Alumni Celebration and Welcome, Franklin's Public House
Graduates are invited to join members of Trinity's Alumni Board and Alumni Office for a social celebration to welcome them as the newest alumni. Live music, appetizers and soda are provided thanks to the generous support of alumni. Graduates can RSVP here by April 29.
Social Media for Commencement
Whether you are a #TrinityGrad2022 or celebrating a graduate, we invite you to join the commencement conversation on social media. Throughout the day, be sure to tag Trinity Christian College and use the hashtag #TrinityGrad2022 in your social media post.
Ticketing and Viewing Information
Each participating student will receive an allotment of ten (10) General Admission tickets to Ozinga Field (seating is not assigned). If you plan to bring a family member who needs wheelchair-accessible seating, please indicate this need when you claim your tickets so we can make arrangements for your guest.
Extra tickets for the stadium are not available. All non-ticketed friends and family should plan to view the ceremony remotely via live stream. There will be no overflow viewing site on campus.
The event will also be live streamed, so family and friends from afar can watch you graduate as well. Only ticketed guests will be admitted to the ballpark.
2 PM Ceremony:
Each student may claim up to TEN (10) General Admission guest tickets via our online ticketing service Eventbrite on Monday, April 25 at noon. The ticket invitation email will be sent to your Trinity email if you are a current student, or to the personal email you provided to the Alumni & Family Engagement Office if you are 2021 graduate. If you need to update your personal email address, you may do so at this link: https://www.trnty.edu/update/. Tickets may be printed or viewed on smart phones, and will be scanned at Ozinga Field's Main Gate.
Graduating students will be seated on the field for participation in the ceremony, and do not require a guest ticket.
Frequently Asked Questions