Virtual Degree Conferral Ceremony (Livestream & On-Demand)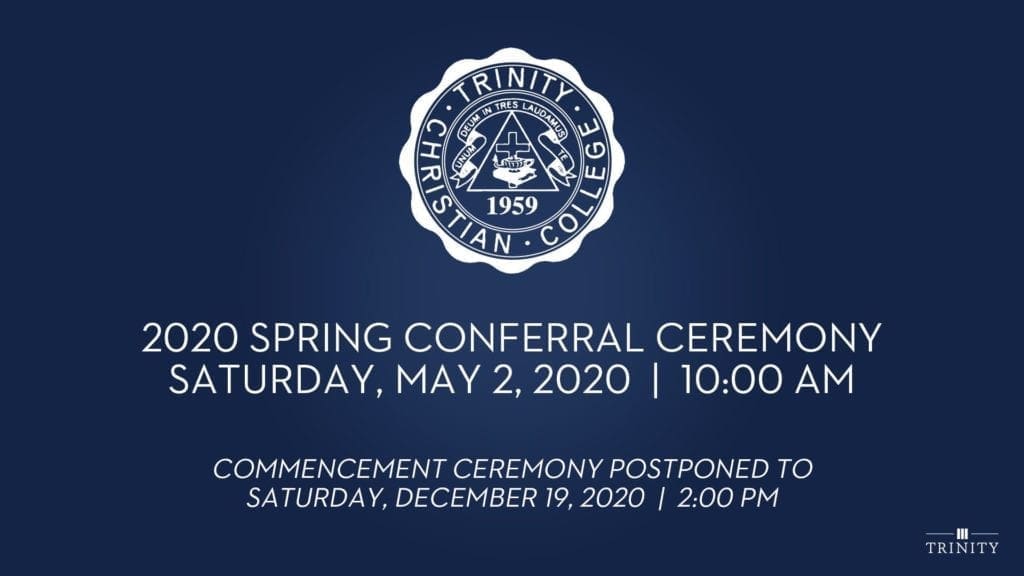 Congratulations to the Trinity Christian College Class of 2020 and your family and friends. You've done it!
Though we unfortunately cannot gather together on May 2 for an official commencement ceremony, we want to mark this momentous occasion! Please join us online this Saturday at 10 a.m. for a virtual degree conferral ceremony, where we will celebrate all our graduates and officially confer your degrees.
During this time, we will also recognize our retiring professors, Dr. Helen Van Wyck and Dr. Liz Rudenga, as well as Trinity's Professor of the Year for 2020-21.
We are pleased to present the on-demand Virtual Conferral Ceremony for your viewing:
Social Media for Commencement
Whether you are a #TrinityGrad2020 or celebrating a graduate, we invite you to join the  conversation on social media. Throughout the day, be sure to tag Trinity Christian College and use the hashtag #TrinityGrad2020 in your social media post.  If your account is private, please DM us the photo.
COVID-19 Updates
The COVID-19 web page provides our students, faculty, staff, and visitors with the latest information about the Coronavirus (COVID-19) situation in the Chicagoland area.  All communications in regarding to this health situation can be found there.