The safety and well being of our Trinity community is our highest priority.
This web page is intended to provide our students, faculty, staff, and visitors with the latest information about the Coronavirus (COVID-19) situation in the Chicagoland area, and measures implemented to reduce its spread. We are committed to the safety of the campus community.
Trinity has formed a COVID-19 Planning Group, encompassing staff from Student Life, Safety/Security, the Provost's Office, Marketing/Communication, Admissions, Athletics and Semester in Spain; and faculty from the Nursing and Biology Departments. This planning group is meeting regularly to review the evolving situation and current recommendations from government and public health agencies, including the U.S. Department of State and the Centers for Disease Control and Prevention (CDC). This group is working across campus to implement recommendations immediately (such as cleaning, hygiene education and other preventive action) in addition to the ongoing, regular planning for a variety of possible scenarios.
This planning group, working with members of Trinity leadership, maintains close contact with the Illinois Department of Public Health and the Cook County Health Department regarding preventive care and treatment recommendations as well.
The College also has a trained multi-disciplinary Emergency Response Team, and that team is ready to engage if needed in a wide range of emergencies, including a health crisis. Trinity is also well-connected to local partners in the Palos Heights community for emergency response.
What is novel coronavirus?
2019 Novel Coronavirus (COVID-19) is a virus (more specifically, a coronavirus) identified as the cause of an outbreak of respiratory illness first detected in Wuhan, China (source: CDC). Read more about 2019 novel coronavirus (COVID-19).
How is it transmitted?
Most often, spread from person-to-person happens among close contacts (about six feet). Person-to-person spread is thought to occur mainly via respiratory droplets produced when an infected person coughs or sneezes, similar to how influenza and other respiratory pathogens spread (source: CDC). Read more about how COVID-19 spreads.
What are the symptoms?
Commonly reported symptoms of COVID-19 infection include fever, cough, shortness of breath, and pneumonia. While the exact incubation period for this coronavirus has not yet been determined, it is believed that most infected people will develop symptoms two to 14 days after they were exposed (source: Maryland Department of Health).
What should you do if you have symptoms?
If you feel sick with fever, cough, or difficulty breathing, you should seek medical care right away from a healthcare provider. Call ahead to let the healthcare provider know your symptoms and recent travel history. Please avoid contact with others until you have been evaluated by a healthcare provider.
What measures can you take to minimize risk of exposure? There is currently no vaccine to prevent COVID-19 infection. The best way to prevent infection is to avoid being exposed to this virus. The World Health Organization (WHO) provides recommendations to reduce exposure to and transmission of a range of illnesses. Read WHO advice for the public.
Don't forget to protect yourself from another common virus, the flu (influenza). Everyone six months of age and older should get a flu vaccine every season with rare exceptions. Vaccination is particularly important for people who are at high risk of serious complications from influenza. See People at High Risk of Developing Flu-Related Complications for a full list of age and health factors that confer increased risk. To be clear, the influenza virus is a different virus from COVID-19, and getting your flu shot will not protect you from COVID-19. But both viruses are spread in the same fashion, and there is currently a vaccine available to help prevent the spread of the flu. At this time in the United States, your risk of getting the flu is much greater than your risk of contracting COVID-19.
Travel restrictions and advisories may change frequently. Please be aware of travel restrictions to and from China issued by the U.S. government, as well as policies and guidelines affecting Trinity students, faculty, and staff.
Stay home if you are sick
Avoid close contact with people who are sick
Cover your coughs and sneezes with a tissue and then throw the tissue in the trash, immediately
Wash your hands often with soap and water for a minimum of 20 seconds. If soap and water are not readily available, use an alcohol-based hand sanitizer that contains at least 60 percent alcohol
Avoid touching your eyes, nose, and mouth with unwashed hands
Clean and disinfect surfaces that are often touched
Take care of your health overall. Staying current on your vaccinations, including flu vaccine, eating well, getting adequate sleep, and exercising all help your body stay resilient
Consult the Centers for Disease Control and Prevention (CDC) travel website for any travel advisories and recommended steps to protect yourself if you plan to travel outside the United States
As a Christian institution committed to treating all individuals as image-bearers of Jesus Christ, we stand in prayerful support for students, faculty, and staff whose home communities, families, or churches have been affected by the outbreak.
Avoid making assumptions about individuals who you believe may or may not have come into contact with someone who is carrying the virus. In some cases, public reactions to the virus have been sensationalized, and there have been individuals at institutions of higher education who reported encountering discrimination and harassment due to biased assumptions and overreactions. We treasure our international community members, our racial and ethnic diversity, and everyone who may be affected by this situation. We want to remind all members of our community to stand together in support, encouragement, and respect.
How to stay informed
Students or parents with specific concerns or questions related to student safety, health, or well-being should call Student Life at 708-239-4704 or email studentlife@trnty.edu.
Trinity will update this website as the situation evolves. Students should also continue to check email and text for updates should the situation change.
The World Health Organization, a division of the United Nations that specializes in international public health, offers these answers to frequently asked questions about the novel coronavirus.
Are hand dryers effective in killing the new coronavirus?
No. Hand dryers are not effective in killing the COVID-19. To protect yourself against the new coronavirus, you should frequently clean your hands with an alcohol-based hand rub or wash them with soap and water for at least 20 seconds. Once your hands are cleaned, you should dry them thoroughly by using paper towels or a warm air dryer.
Can an ultraviolet disinfection lamp kill the new coronavirus?
UV lamps should not be used to sterilize hands or other areas of skin, as UV radiation can cause skin irritation.
How effective are thermal scanners in detecting people infected with the new coronavirus?
Thermal scanners are effective in detecting people who have developed a fever (i.e. have a higher than normal body temperature) because of infection with the new coronavirus.
However, they cannot detect people who are infected but are not yet sick with fever. This is because it takes between 2 and 10 days before people who are infected become sick and develop a fever.
Is it safe to receive a letter or a package from china?
Yes, it is safe. People receiving packages from China are not at risk of contracting the new coronavirus. From previous analysis, we know coronaviruses do not survive long on objects, such as letters or packages.
Can pets at home spread the new coronavirus (covid-19)?
At present, there is no evidence that companion animals/pets such as dogs or cats can be infected with the new coronavirus. However, it is always a good idea to wash your hands with soap and water after contact with pets. This protects you against various common bacteria such as E. coli and Salmonella that can pass between pets and humans.
Does the new coronavirus affect older people, or are younger people also susceptible?
People of all ages can be infected by the new coronavirus (COVID-19). Older people, and people with pre-existing medical conditions (such as asthma, diabetes, and heart disease) appear to be more vulnerable to becoming severely ill with the virus.
WHO advises people of all ages to take steps to protect themselves from the virus, for example by following good hand hygiene and good respiratory hygiene.
Are antibiotics effective in preventing and treating the new coronavirus?
No, antibiotics do not work against viruses, only bacteria.
The new coronavirus (COVID-19) is a virus and, therefore, antibiotics should not be used as a means of prevention or treatment.
However, if you are hospitalized for the COVID-19, you may receive antibiotics because bacterial co-infection is possible.
Are there any specific medicines to prevent or treat the new coronavirus?
To date, there is no specific medicine recommended to prevent or treat the new coronavirus (COVID-19).
However, those infected with the virus should receive appropriate care to relieve and treat symptoms, and those with severe illness should receive optimized supportive care. Some specific treatments are under investigation, and will be tested through clinical trials. WHO is helping to accelerate research and development efforts with a range or partners.
Students or parents with specific concerns or questions related to student safety, health, or well-being should call Student Life at 708-239-4704 or email studentlife@trnty.edu.
Trinity will update this website as the situation evolves. Students should also continue to check email and text for updates should the situation change.
The world needs Trinity students—as well as our dedicated faculty, alumni, donors, and partners. And Trinity's work in Pignon, Haiti, demonstrates how the College gets everyone ready to make a difference throughout our world.
This three-year pilot project brings together those who share a vision to empower the people of Haiti. It encompasses a diverse group, including Trinity's Honors Field Research Team and its faculty advisors, Many Hands for Haiti (MH4H) and Ozinga Inc. In the first year of the program, a 15 member team spent two weeks in Pignon conducting research.  "This is true interdisciplinary, problem-solving research," said Provost Aaron Kuecker, Ph.D.
The Honors Research Team plans to return to Haiti on May 5. Before then, the team will meet with their counterparts who conducted research last year, and hold working sessions with leaders from MH4H.
The second year of the program will expand on last year's efforts, according to Dr. Craig Mattson, Ph.D., professor of communication arts, and Dr. Lenore Knight Johnson, Ph.D., assistant professor of sociology, co-directors of the Honors Program.
"We are looking to build upon the exploratory work of the first team, which served as our pilot group but also developed important directions for the research," said Knight Johnson. "As project stakeholders, we draw from the insight and interests of our partners. What is MH4H needing in terms of exploration into its work? At the same time, we are an outside research team meant to offer an objective perspective on the strengths and growth areas of the organization. We hope as we continue to grow this partnership, we can find ways to strengthen the good work of all three institutions – Ozinga, MH4H, and Trinity."
The seeds of the partnership were planted in Fall 2016 when several Trinity students expressed interest in a humanitarian trip to Haiti. Kuecker reached out to Tim Brand, executive director of MH4H, an organization with years of experience in Haiti, and Aaron Ozinga '03, president of Ozinga Materials & Logistics Inc., who has also been involved with helping the people of Haiti for years.
In its first year, Mattson and Knight Johnson led a team of 13 students and recent graduates on the trip to Pignon. Among the specific projects, the team focused on "The First 1,000 Days," which helps mothers understand the importance of quality care, nutrition, and medical needs of newborns and young children. Trinity's researchers conducted interviews with community members and staff members at MH4H to discern people's attitudes towards the First 1,000 Days program.
"This experience represents a true liberal arts education," said Josiah Rosario '18, who participated in the research.
According to Mattson, this project has been the richest experience of collaborating with students he has ever had. "Getting into the work of research with Honors students in a very open-ended situation, and flattening out the hierarchy between mentor and mentee, professor and student has been the most rewarding part of the experience," said Mattson. "Also, getting to know Haitian leaders and seeing their hopes for their country and kin."
In order to prepare for the trip last May, the Honors Field Research Team met twice a week during the spring semester to read about Haitian culture, understand America's intervention in Haiti, study Creole, develop a research framework, and consult with intercultural practitioners. In the fall, Trinity hosted a Haiti Honors Stakeholders Conversation in the Grand Lobby in Ozinga Chapel, where those who participated shared their experiences and insights. As Ozinga said during the panel discussion: "We have the responsibility to reconcile the broken world around us."
WARNING!
This troll stencil is not for the faint of heart. You will likely fail. Carve at your own risk!
Scared yet?  You have been warned!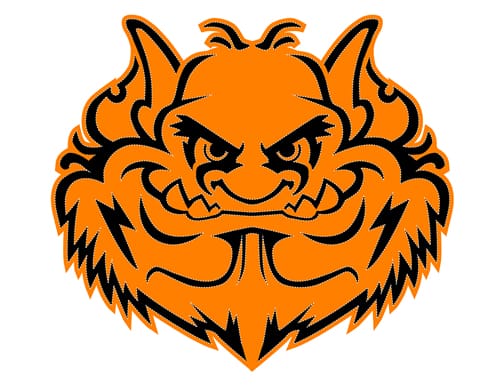 Download this troll stencil template and test your pumpkin carving skills. This is for high-level carvers looking for a challenge.
Here are some pointers from the pumpkin carver who dared to take on this challenge:
Use a sturdy carving kit for this stencil.
Reserve 3.5+ hours to carving.
Make sure your pumpkin is at least 9.75" tall.
Print your template.
Fill-in the back of the print-out with pencil.
Begin with carving out the top of the pumpkin.
Scoop-out the seeds and hair but be sure to leave most of the meat.
Tape the stencil with painters' tape on all sides. The edges will crumple some.
Use a pen to trace the outline and press firmly. When approaching a crumpled edge, carefully pull apart the crumpled paper without distributing the tape and continue tracing.
Peel-off the tape and remove the template. You should see a faint outline of the troll. Use a pen and trace over the faint outline to get a cleaner image of the troll on the pumpkin.
Carve-out the eyes first and work your way to the edges from there.
When finished with the carving, remove the top and carefully scoop-away any loose pieces. Use scissors to remove any dangling hair.
Use two, 4″ flashlights in your pumpkin to get the most shine.
Happy carving! ?