16th Annual Student-Directed One-Act Plays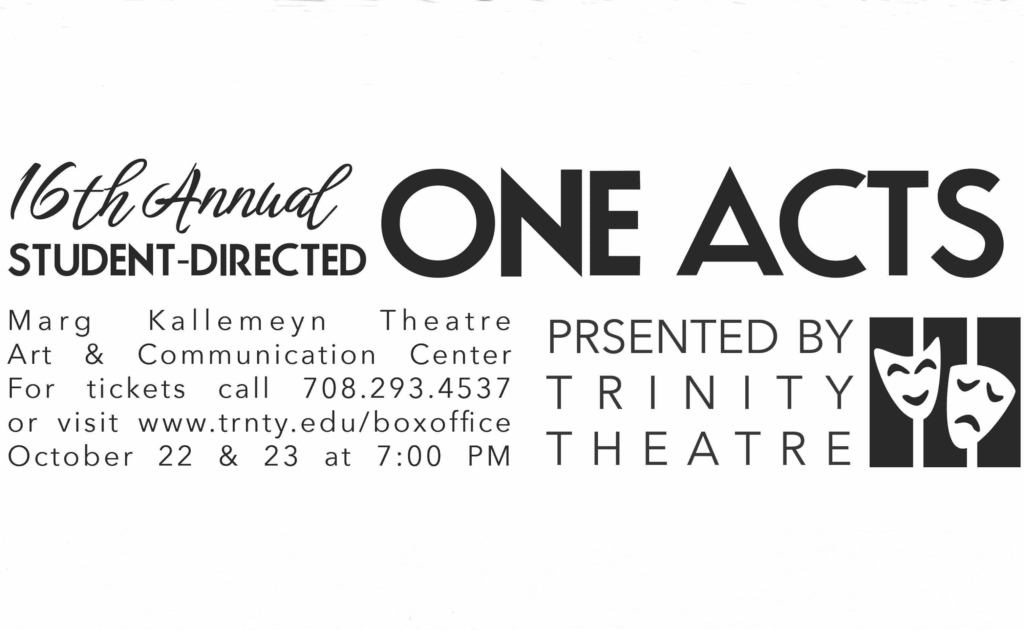 Trinity Theatre will be presenting three student-directed one-act plays for the fall semester on Oct. 22 and 23.
Please join us for an evening of three short plays directed by Trinity seniors. Plays include Dorothy and the Wizard of Oz by Steve and Kathy Hotchner, Visitor from Forest Hills by Neil Simon, and One Lane Bridge by Stephen Gregg.
Content Warning: Please be advised that the play One Lane Bridge deals with themes of death and fear.
Tickets are $10.00 Click here to learn more and reserve your seat!
Directors: 
Evie Dykehouse; Ally Eggert; Ryan Van Gilst
Stage Manager:
Kara Hanser
Assistant Director:
Lily Bruxvoort
Cast:
Amy Meyrick – Dorothy; Tyren Brown – Scarecrow; Joseph Gibson – Cowardly Lion; MJ Huizenga – Tin Man; Olivia DeJong – Glinda; Abby Tillema – Wicked Witch; Evan Contreras – Wizard of Oz
Michael Moore – Eli; Kaitlynne Laverell – Samantha; Ryan Van Gilst – Male Narrator; Elizabeth Peterson – Narrator 1; Bianca Sotelo – Narrator 2
Steven Polcyn – Roy; Adriana Klein – Norma; Mariel Martin – Mimsy; MJ Huizenga – Borden