Third Annual Wellness Retreat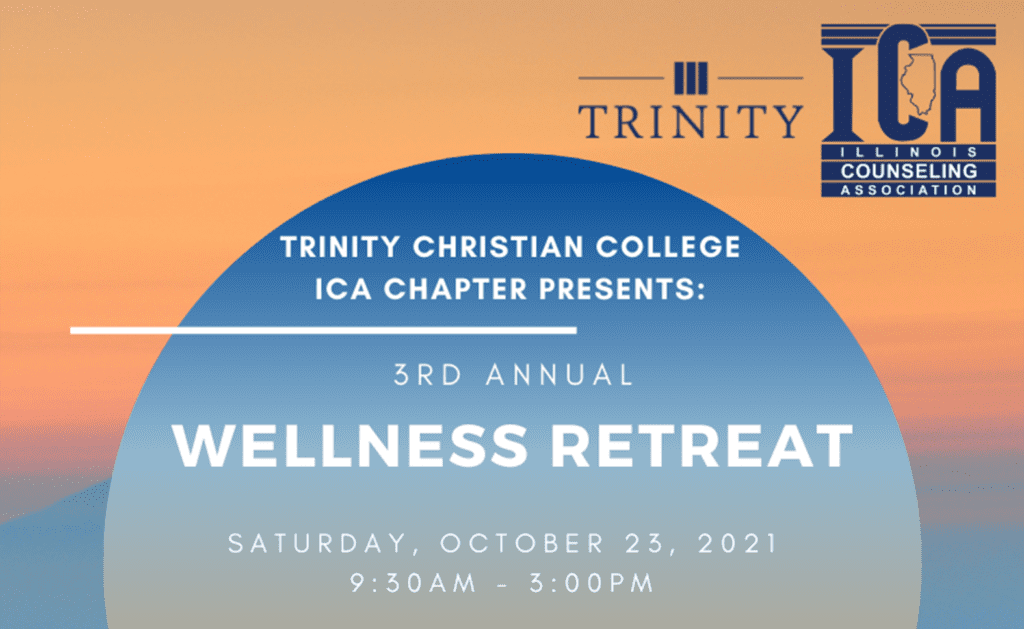 The Illinois Counseling Association's Trinity Chapter is hosting the Third Annual Wellness Retreat on Saturday, Oct. 23 from 9:30 am to 3 pm.
At the retreat, participants will have the opportunity to choose from a variety of workshops featuring physical, emotional, social, spiritual, and other areas of personal wellness.
Each workshop is designed to aid in improving life balance and understanding in each area of life. Workshops are led by faculty, students, and other area professionals.
Tickets are $20. Trinity students are invited to attend the event for free.
Lunch is included in the price of admission. Vegetarian options will be available.
Registration begins at 9:30 am upstairs in the Classroom Building. Workshops begin at 10:00 am and end at 2:30 pm.
Participants are invited to gather for Meditation and a Raffle Prize drawing to wrap up the day.
This year's Wellness Retreat will also include vendors offering a variety of services and products to aid participants on their wellness journeys.
Proceeds help support the philanthropic efforts of the Trinity Christian College Chapter of the Illinois Counseling Association.
Trinity Christian College is graciously supporting the efforts of our local ICA Chapter by sponsoring this event.
Have questions about the event or are interested in becoming a presenter or vendor?
Contact Dr. Deb Majewski (Faculty Advisor) or Tabitha Jirsa (Chapter President). They can be reached, by email, at:
Dr. Deb Majewski – debra.majewski@trnty.edu
Tabitha Jirsa – tabitha.jirsa@trnty.edu
Click here to learn more and register.
*CDC guidelines will be followed.