Trinity Tuesday a Success!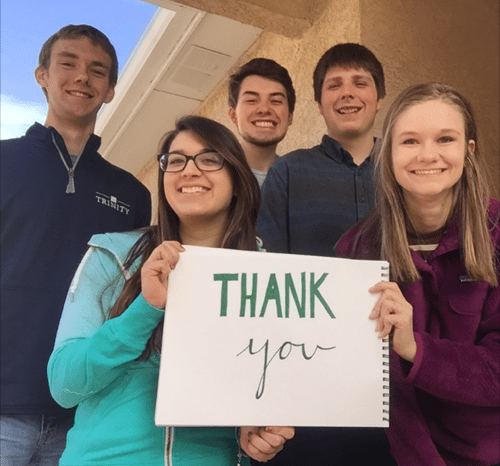 Trinity Tuesday set an ambitious goal—collect 300 donations in 24 hours on March 7. Thanks to the generous giving of alumni, staff, faculty, parents, students and friends, that goal was met and surpassed!
By the end of the Trinity Tuesday campaign, 448 donors participated in raising $55,740 for the College.
"I was so thankful for all the fellow alumni and staff who stepped up to make this day a great success," said Rick VanDyken '83, vice president for advancement. "The commitment of this group of supporters is an encouragement for the entire campus community."
Among the highlights of Trinity Tuesday:
Of the 448 donors, 305 were alumni
46 were first-time givers.
The class of 2014 had the highest number of donors per class year
Donors hailed from more than half of the 50 states and represented three countries: United States, Canada, and Indonesia
Thanks again to everyone who participated. And if you missed your chance this year, don't worry—Trinity Tuesday is now an annual event! Next year's Trinity Tuesday will be Tuesday, March 6, 2018.
To learn more about Trinity Tuesday, click here.
---