Trinity Announces New Majors, Minors for Fall 2017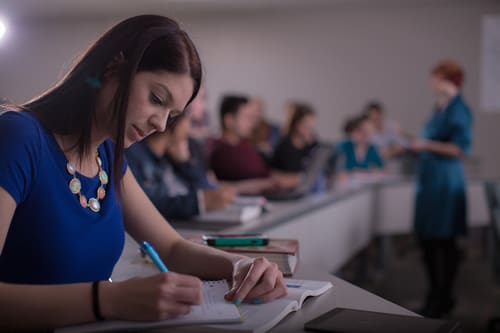 At Trinity Christian College, it is part of our mission to strive to offer the highest quality of instruction to prepare students for excellence in further study and careers beyond the College. To further that mission, Trinity has recently announced several new majors for Fall 2017, including writing and web design; music and worship; and recreation and sport management.
The College has also expanded and revamped the number of theology and ministry majors into six Bachelor of Arts degrees: theology; historical and systematic theology; biblical studies; Christian ministry; youth ministry; and cross-cultural ministries.
These new majors join three other previously announced degree programs for Fall 2017: health communication; art therapy; and human resource management.
"We are convinced that these new majors, most of which are multi-disciplinary, will prepare students to be highly skilled, creative, and wise — traits that are essential for fruitful and meaningful work that supports the good of neighborhoods, communities, and the broader public," said Provost Aaron J. Kuecker, Ph.D.
Along with the new majors, Trinity has also announced several exciting updates to our graduate and Adult Studies programs.
Writing and Web Design
The writing and web design Bachelor of Arts degree program draws on courses in visual design from the Art Department, in web technologies from the Computer Science Department, and on writing from the English and Communication Arts Departments.
"We believe that expert writing combined with design skills and technological know-how about the web will open multiple vocational opportunities for graduates: in professional careers, business, non-profit organizations, civic life, and more," said Dr. Karen Dieleman, Ph.D.,professor of English and chair of the English department. "The writing and web design major could even be paired with a second major to strengthen students' graduating profile."
Music and Worship
By earning a B.A. degree in music and worship, students will receive training in music and in theology, along with courses in communication arts, ministry, and philosophy. Students will fulfill their studies of music and worship through advanced coursework in worship leadership, a senior capstone project, and an internship.
This interdisciplinary program provides students with a strong foundation in both music and theology while intentionally connecting those fields to each other and to the broader framework of a Christian liberal arts education. Students completing the music and worship major will be equipped to serve with excellence from a Christian perspective in the ministry of local churches with a particular emphasis on worship planning and leadership.
Recreation and Sport Management
This Bachelor of Science degree is geared towards students who would like to become recreation directors, managers or administrators in the areas of recreation, park districts, YMCAs, Boys and Girls Clubs, private, and other sport-related organizations.
According to the Bureau of Labor Statistics, there will be a 29 percent increase in coaching and scouting jobs through 2020, a 19 percent increase in recreation workers through 2020, and a 44 percent increase in event planning.
The recreation and sport management degree will encompass courses in physical education; business; accounting, communication art; and computer science. "This degree will prepare students to be strong, diverse, and Christian leaders in the world of recreation and sport management," said Shari Jurgens, assistant professor of physical education and chair of the Physical Education Department.
Changes to Theology and Ministry Degrees
To better reflect the goals and mission of Trinity, the Theology and Church Ministry and Leadership Department has been renamed the Theology Department. The degree programs have also been renamed and expanded. Starting in Fall 2017, students will now be able to major in theology; historical and systematic theology; biblical studies; Christian ministry; youth ministry; or cross-cultural ministries, or combine degrees into a double major.
"These titles signal our wide disciplinary and vocational range," said Keith Starkenburg, Ph.D., professor of theology and department chair.
Updates to Graduate, Adult Studies Programs
The College is also rolling out dynamic changes to our graduate and Adult Studies programs.
Our Master of Arts in Special Education Behavior Intervention Specialist program continues to be unique, since it is the only master's program that offers both the Behavior Intervention Specialist endorsement and a BACB® approved course sequence and practicum. Previously, students who wished to enter the program needed to be licensed special education teachers. Starting fall 2017, there will now be multiple options for students to join the program who are not licensed teachers, including those who have one year of intervention experience and are interested in both the master's degree and the BACB® approved course sequence and practicum.
Our M.A. in Counseling Psychology program, which prepares graduates to pursue licensure as a professional counselor in Illinois, has moved from 48-credit hours to 60-credit hours. Adding the additional 12-credit hours anticipates a change in licensure requirements, as Illinois will increase the required degree credit hours to 60 in the next few years. The change also enables our graduates to receive licensure in other states, including the 38 states that have already moved to the 60-credit hour degree requirement for licensure.
Exclusively for Adult Studies students, Trinity's Business Department will now be offering a B.S. in business management program. Although the previous major offered to adult students was a general B.S. in business degree, our new major will focus on managerial and leadership skills, helping our adult students to grow as ethical and strategic leaders, and integrating their own knowledge and experiences with the principals of good management and leadership.
"We are very excited about the changes we are implementing," said Dr. Rhoda Mattson, academic dean for the Graduate and Adult Programs at Trinity. "They arise from our efforts to provide an excellent student experience that is responsive to recommendations from our students and alumni, accreditation standards and outcomes, and the changes in each field and profession."
To learn more about these new degrees and programs, and the other 70-plus programs that Trinity offers, visit www.trnty.edu
---