Hannah LeBeau Joins Softball Coaching Staff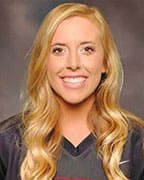 Head Softball Coach Jackie Manrique welcomes Hannah LeBeau to the softball coaching staff for the 2017-18 season. LeBeau will assist Manrique and the team in all aspects of the program, but will use her skill and knowledge in specifically working with the infield and hitting.
"I could not be more excited for Trinity softball to add Hannah to our coaching staff," said Coach Manrique. "Her dedication to our mission as a college and the values we hold as a program will benefit our team dramatically. I look forward to watching Hannah positively influence our athletes on and off the field."
LeBeau, a native of Keller, Texas, comes to Trinity after competing as a student-athlete for four years on the softball team at NCAA Division II Southern Nazarene University in Bethany, Oklahoma.  As a starting catcher or infield for the Crimson Storm, LeBeau ended her career with a .275 batting average and a .970 fielding percentage and earned multiple academic all-conference honors.
In addition to her playing experience, LeBeau served as a softball skills camp counselor at Southern Nazarene where she was involved in instruction of skills and game management. She also has experience working with youth as a counselor at a YMCA camp and a middle school summer camp.
LeBeau graduated in2017 from Southern Nazarene University with a bachelor's degree in graphic design.
---