Mayer Named to CARLI Board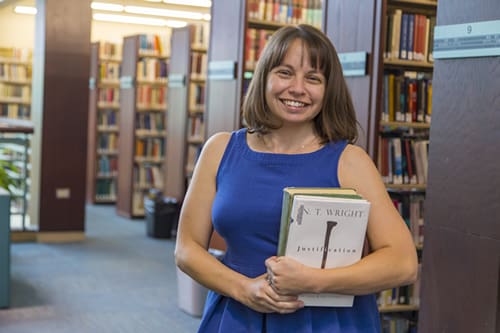 Trinity's own Cathy Mayer, Director of the Jennie Huizenga Memorial Library, has been appointed to the board of directors of CARLI, the Consortium of Academic and Research Libraries in Illinois. Mayer began her one-year term on July 1.
CARLI includes 134 member libraries across the state that are committed to meeting the information and research needs of 900,000 students and thousands of faculty and staff. CARLI's mission is to lead Illinois academic libraries to create and sustain a rich, supportive, and diverse knowledge environment that furthers teaching, learning, and research through the sharing of collections, expertise, and programs.
"It's an honor to be recognized by my peers and asked to serve," said Mayer. "I'm really excited to join the board."
As one of 12 voting board members, Mayer will attend four meetings at CARLI headquarters in Champaign, Ill., participate in working groups, and help advise on the strategic direction of the organization.
Mayer believes she is the first representative from Trinity to serve on CARLI's board, which includes appointed and elected representatives from public universities; private colleges, universities, and research libraries; and public community colleges.
---