Trinity Spotlight: IT Department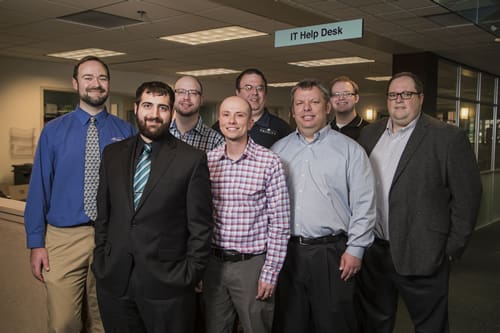 Whenever computers act up, devices won't connect, or email passwords get forgotten, Trinity's IT Department is ready to help!
Trinity's Information Technology Department exists to advance the mission of the college by providing superior information technology services to students, faculty, and staff. "Our department is responsible for creating a technology environment and experience that enhances learning in a Christian environment," said Joe Velderman, director of technology for the College.
While many people may be most familiar with the IT Department from the Helpdesk in the Jennie Huizenga Memorial Library, the team splits its responsibilities between two areas: the IT Systems Team and the IT Support Team. The IT Systems Team is responsible for the Trinity network (wide-area, local-area, and WiFi network), systems (servers & storage) infrastructure and enterprise applications (student information system, learning management system, fundraising and donor management, and general ledger). The IT Support Team is responsible for the end-user experience – which includes the IT Helpdesk, lab computer images, commercial software applications, and IT communication.
The IT Department also employs several student workers every semester. "That is a really great partnership where our IT Department is able to gain meaningful contributions from our student workers in day-to-day operation tasks, but also where our student workers are able to get some hands-on experience in IT," Velderman said.
IT staff work with all the different groups on campus. "For students, this means that we provide a technical infrastructure of hardware and software tools that allow them to seamlessly connect to technology resources that will promote learning," he said. "For faculty, it means that we provide technology tools that allow them to connect with students and foster deeper thought leadership. And, for staff, it means that we provide technology platforms that allow them to be efficient in their support of the mission of the College."
The IT Department also recognizes that Trinity is the temporary residential home for many of our students, and it strives to provide the same type of technology students are used to living with. "Our IT department seeks to enable that technology environment as much as possible–and this means that we provide avenues for students to connect their entertainment devices like television and movie streaming, gaming, and other activities to our WiFi network for entertainment purposes," Velderman said.
The IT Department is also tasked with the extremely important job of keeping a great deal of sensitive data safe. "The work that students complete at Trinity is an incredible investment, and we want to make sure that we maintain the integrity and security of that investment."
The IT Department isn't just passionate about technology, Velderman said. "More than the technology itself, our chief desire is to see end users succeed using technology. We have an internal saying in our IT department: 'It's all about customer service.' That holds true for every aspect of our job–without good customer service–users wouldn't want to use technology and would just go back to using pen and paper for everything.
IT staff members include:
Joe Velderman – Director of Technology
Kevin Jacobs – IT Systems Manager
Doug Van Wyngarden – IT Support Manager
Erick Matherly – Network Administrator
Matt Anema – Systems Administrator
James Kastrantas – Database Developer
Tim Germain – Database Developer
Jordan Roose – Helpdesk Coordinator
If you have a technology problem don't hesitate to reach out to IT. "More than anything, our team loves problem solving, especially when the problem does not involve technology to begin with," said Velderman. "If there is a challenge that a particular group or individual is facing, we love hearing about it, exploring it, and then developing a technology-driven solution to resolve that problem."
---