TAC Golf Outing Raises Nearly $50,000 for Student Athletes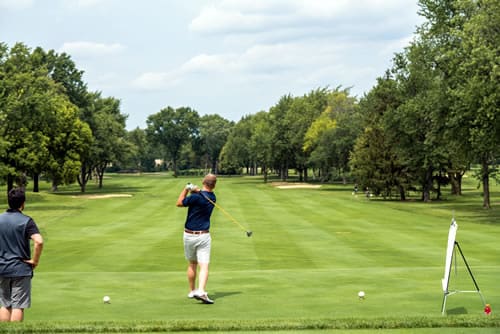 A beautiful late summer day, a manicured golf course, and 130 golfers combined to make the 31st annual Trinity Athletics Club Golf Classic a success. The event, one of the largest in recent history, raised nearly $50,000 in scholarships for Trinity student-athletes.
At the outing on August 14 at Calumet Country Club in Homewood, Illinois, friends and alumni of the College were greeted on the course by student-athletes, President Kurt and Leah Dykstra, and members of the Athletics and Advancement offices. The golfers had many opportunities to win prizes throughout the day, including hole-in-one chances for a car, courtesy of Oak Lawn Toyota, and for $10,000, courtesy of Legacy Insurance Group, as well as to participate in a chipping contest, sponsored by Service Sanitation.
"This event has been blessed over the years with tremendous support of the greater Trinity community, and this year was no different," said Dennis Harms '89, Associate Vice President for Advancement. "With a great turnout and increased corporate sponsorship, we were able to raise more money for scholarships."
The low foursome for the day consisted of John Sikkenga '06, Matt Postema '07, Jeff Ozinga '02, and Ryan Cialdella.
The Athletics Department would like to thank Ozinga Bros. and Providence Bank and Trust for their generous sponsorship of the event and to Assurance Agency as a food sponsor.
---