WorldView Speaker Josh Larsen '96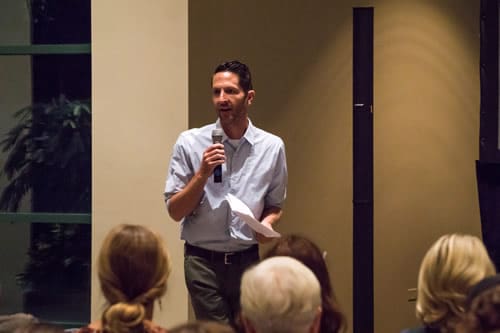 "Movies as Prayers of Anger and Reconciliation" was the topic of the second WorldView lecture of the 2017-18 year, where Josh Larsen '96 highlighted scenes from Spike Lee's Oscar-nominated 1989 film "Do the Right Thing."
Discussing the film he called Lee's masterpiece, Larsen said the movie is often seen as an expression of righteous social anger. "But it offers a prayerful hint of reconciliation," said Larsen, who is co-host of the radio show and podcast "Filmspotting" and film critic of the faith and culture magazine "Think Christian," and who recently published a book, "Movies Are Prayers."
Throughout the highly interactive presentation, Larsen showed several clips from the movie, which takes place during one sweltering day in Brooklyn, where conflicts between groups of different races ultimately explodes into violence. After scenes of death and rioting, the movie ends on a potentially more hopeful note. "I'm not saying it's a happy ending," Larsen said. "But it doesn't end with the riot. It ends with the possibility of reconciliation, not anger." Larsen referred to it as the Bedford-Stuyvesant version of Ephesians 2:14: "For he himself is our peace, who has made the two groups one and has destroyed the barrier, the dividing wall of hostility."
Along with the issues of anger and reconciliation in the film, the discussion spanned the choice of music in the soundtrack, Lee's camerawork, and the significance of one character's decision to wear a Dodger's Jackie Robinson jersey.
Larsen also addressed the Trinity community at Chapel on Sept. 20, where he talked about "Angry Prayers."
WorldView is Trinity's annual community and college series for film, word, current events and music, held at the college.
The next series of WorldView sessions will take place on Oct. 16 and Oct. 18 and commemorate the 500th year of the Reformation with the perspectives of Protestant and Catholic theologians.On Oct. 16, Dr. Suzanne McDonald, professor of systematic theology at Western Theological Seminary, will discuss "Does the Reformation Still Matter? (Really?!)." On Oct. 18, Dr. Eduardo J. Echeverria '73, professor of philosophy and systematic theology at Archdiocesan Seminary of Detroit and Sacred Heart Major Seminary Graduate School of Theology, will talk about "Is the Counter-Reformation Over? An Evangelical Catholic Perspective." Both lectures will take place in the Grand Lobby of Ozinga Chapel.
---