7000 Marks Opens in Seerveld Gallery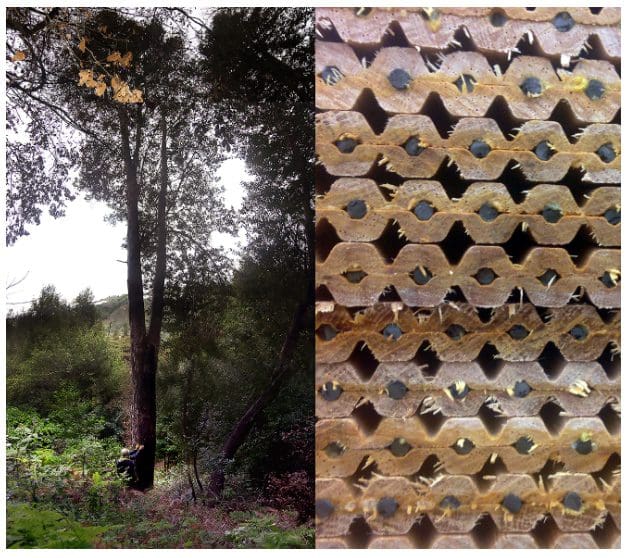 As part of Trinity's exhibits by professional artists, the College is pleased to welcome Sara Black & Amber Ginsburg's show 7000 Marks to the Seerveld Gallery.
The exhibit runs from March 1-28, with the artists' lecture on March 28 at 6 pm in the ArCC DeWitt Lobby, with a closing reception following at 7 pm.
In 7000 Marks, Sara Black & Amber Ginsburg have transformed a Sudden Oak Death-infected tanoak tree into 7,000 pencils. An outcome of global industrial trade, the pathogen Phytophthora ramorum (SOD) has traveled on lumber and nursery trees to the United States.
Trees infected with SOD are "quarantined" until processed into lumber and kiln dried. This tightening of boundaries is a move toward conservation, but echoes a rising tide of nationalism, xenophobia and boundary reinforcement on a global scale. The work contrasts Joseph Bueys' utopian project, 7000 Oaks, by problematizing tenets of conservation through the lens of immigration.
Artist Statement
Sara Black and Amber Ginsburg work together on projects that draw a material through-line, pointing to the complexity of ecological systems. Sara's enduring commitment to the material and history of wood and Amber's background in ceramics incline them to the language of craft, often employed as a metaphor for the relationship between human endeavoring and non-human forces. Their large-scale projects reach into time on a geologic scale and engage audiences to think forward in their habits and practices.
Sara is an Assistant Professor of Sculpture at the School of the Art Institute of Chicago and Amber is a Lecturer in the Department of Visual Arts at the University of Chicago. Their work has been exhibited nationally and internationally.
---