Annual Luncheon Recognizes Faculty and Staff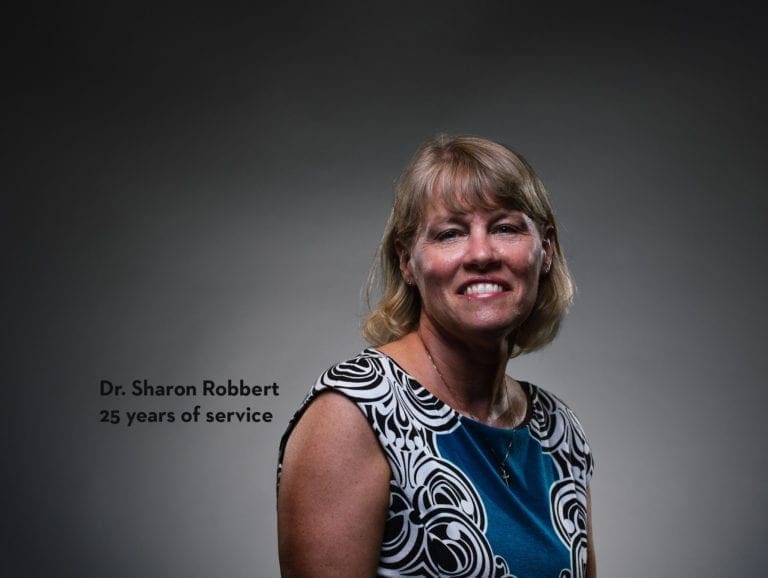 The 2019 Faculty and Staff Luncheon continued the annual tradition of honoring those who serve the College, including for milestone anniversaries.
"Those being recognized add up to 270 years of service to this great institution," said President Kurt D. Dykstra, who emceed the event in the Grand Lobby of Ozinga Chapel. "This is amazing and exciting to see."
Faculty and staff recognized for years of service include:
25 Years
Sharon Robbert, Professor of Mathematics & Department Chair
20 Years
Josh Lenarz, Head Coach-Women's Soccer
Aron Reppmann, Professor of Philosophy & Department Chair
15 Years
Bob Brickman, Head Coach—Track and Cross Country, Campus Safety Office Student Coordinator
Denise Coleman, Director of Financial Literacy Development
John Fry, Professor of History & Academic Dean
Mark Hanna, Associate Vice President for Student Life & Athletics; Athletics Director
Derrick Hassert, Professor of Psychology
Shari Jurgens, Assistant Professor of Physical Education & Department Chair
Dolores Juris, Executive Assistant to the Provost
Kathy Laning, Student Records Coordinator
Debbie Wiltjer, Bookstore Assistant
10 Years
Cini Bretzlaff-Holstein, Associate Professor of Social Work & Department Chair
Justin Huisman, Head Coach-Baseball
Anmarie Humenik, Financial Aid Specialist
Nadine Iwema, Student Account Representative
Becky Starkenburg, Vice President for Student Life
Keith Starkenburg, Professor of Theology
Mike Trochuck, Controller
Along with milestones, other recognitions included:
Catherine Yonker Award
Nicole St. Victor, Director of Multicultural Engagement, was named the recipient of this year's Catherine Yonker Award, which is given every year to two students and one faculty or staff member for contributions toward accomplishing Christian race relations, and cross-cultural understanding within the Trinity community.
Staff Member of the Year Award
Laura Dávalos, Director of the Office of Learning Services, was the recipient of the inaugural Staff Member of the Year Award.
---