Barz '21 Named Trinity's Lincoln Laureate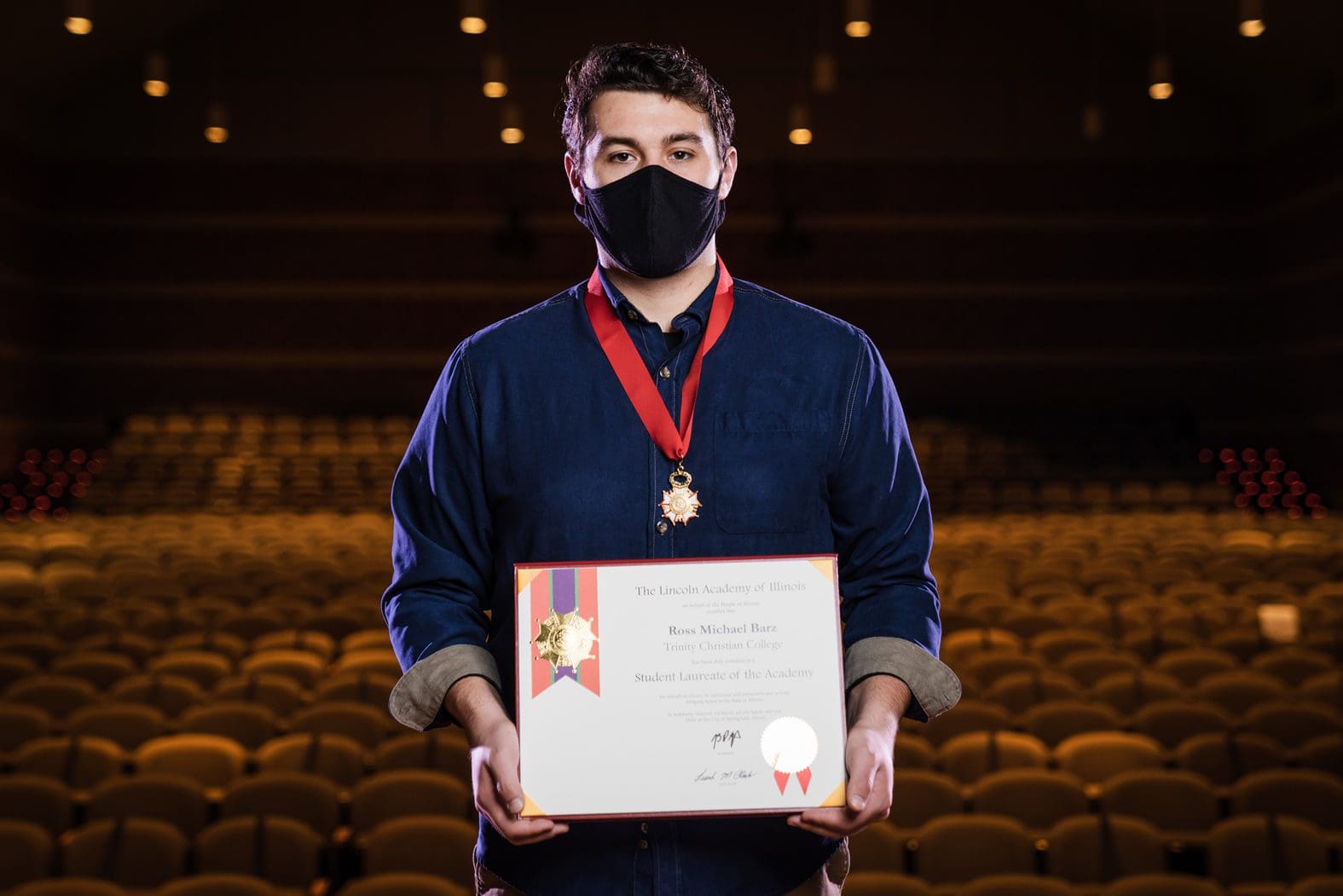 Trinity is pleased to announce that Ross Barz '21 has been named Trinity's 2020  Lincoln Laureate. Barz will be honored in a virtual ceremony by Illinois Gov. J.B. Pritzker.  
The annual Lincoln Academy Student Laureate Ceremony recognizes excellence in curricular and extracurricular activities by seniors from each of the state's four-year, degree-granting colleges and universities, and one student from the community colleges in Illinois. 
Barz, a biochemistry and molecular biology major, said he was grateful and appreciative when Professor of Communication Arts Craig Mattson, Ph.D., told him he was this year's recipient. "I knew it was a high honor," he said. "It means even more that it was created in honor of Abraham Lincoln."  
A native of Holland, Mich., Barz has taken on many roles at Trinity. He is serving his second year as President of the Trinity Student Government Association and is a two-time Thrive Student Intern. Barz also leads campus worship as a campus ministry leadership team member and is part of Trinity's track and field team. 
Along with his activities, he works as a direct support professional with Bethshan Association in Palos Heights, where he provides care and follows the behavior program for residents with intellectual disabilities. Barz is also a student intern with Applied Occupational Care, Inc., in Chicago, where his duties include developing articles for users of a daily COVID-19 symptom screening application. 
Trinity's nominating committee praised Barz's integrity and leadership. "His warm, affable presence is known by everyone. However, while warm and affable, Ross is also convicted and compassionate. He has promoted voter registration throughout campus. He works as a direct support professional at a local home for residents with intellectual disabilities. He promotes involvement and raises up new leaders. Ross' engagement in the classroom, his friendship toward his peers and his voice in the community demonstrate a commitment to the betterment of humanity that is simply outstanding." 
Barz plans to attend medical school after graduating in May. As part of his interest in medicine, he took part in the Global Medical Fellowship in Athens, Greece, in 2019. 
Trinity Christian College Lincoln Laureates 
2019—Indira Escalante 
2018 – Mallory Boyce 
2017 – R. Josiah Rosario 
2016 – Courtney Kalous 
2015 – Hallie Wisse 
2014 – David (Woody) Lucas 
2013 – Megan Anderson 
2012 – Adam Perez 
2011 – Alberto LaRosa 
2010 – Joseph Wydra 
2009 – Jon Vander Woude 
2008 – Caitlin Fillmore 
2007 – Elizabeth VanderSpek 
2006 – Allison Backous 
2005 – Erin Marshalek 
2004 – Rachel Van Oort 
2003 – Yvana Hansen 
2002 – Evan VanderZee 
2001 – Nate Bosch 
2000 – Laurie Johnson 
1999 – Hanna Vancer Zee 
1998 – Kristen Devine 
1997 – Heidi Boeck 
1996 – Julie Tinklenberg 
1995 – Keri Dyksterhouse 
1994 – Mark Mulder 
1993 – Kristen Hart 
1992 – Sarah Ver Velde 
1991 – Aron Reppmann 
1990 – Nathan Van Der Male 
1989 – Drew Sweetman 
1988 – Erik Hoekstra 
1987 – Kimberly Dykema 
1986 – Edward Wiener, Jr. 
---