Congratulations, December Graduates!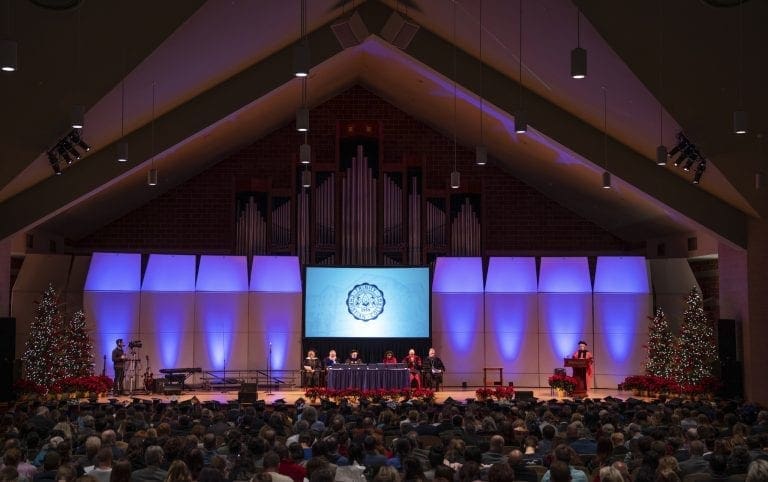 With pride and celebration, Trinity held its Fall Semester 2018 commencement ceremony on Dec. 15 in Ozinga Chapel Auditorium.
"Be more in the world than keeping your head down and doing your work," urged commencement speaker Felecia Thompson, adjunct professor of formation at Northern Seminary. "You are called to bring peace where you are. You will become the hands and feet of Jesus. You will become the source of truth."
She also encouraged graduates to stay connected to the College. "Don't forget the folks at Trinity that taught you. Come back and visit. I do," said Thompson, who has served the College in multiple capacities, including as a member of the board of trustees and director of the community partnership program.
The ceremony featured the presentation of diplomas to nearly 100 traditional and adult undergraduate program graduates, and those receiving Master of Arts in special education and counseling psychology.
Along with honoring graduates, Professor of Special Education Patricia Powell, Ph.D., received emeritus status.
The ceremony began with a greeting from President Kurt D. Dykstra. Powell provided the invocation. Provost Aaron Kuecker, Ph.D., gave the honors recognition and presented the graduates. Rev. Willis Van Groningen, Ph.D., Chaplain and Dean of Spiritual Formation, provided the benediction.
The Gospel Choir, led by Nicole St. Victor, Instructor of Music, offered the song of response, "Psalm 23 (I Am Not Alone)." Instructor of Music Minkyoo Shin, D.M., and Professor of Music Mark Peters, Ph.D., provided the processional and recessional.
The  complete ceremony:
---