Enter: New Campus Pastor Ben Snoek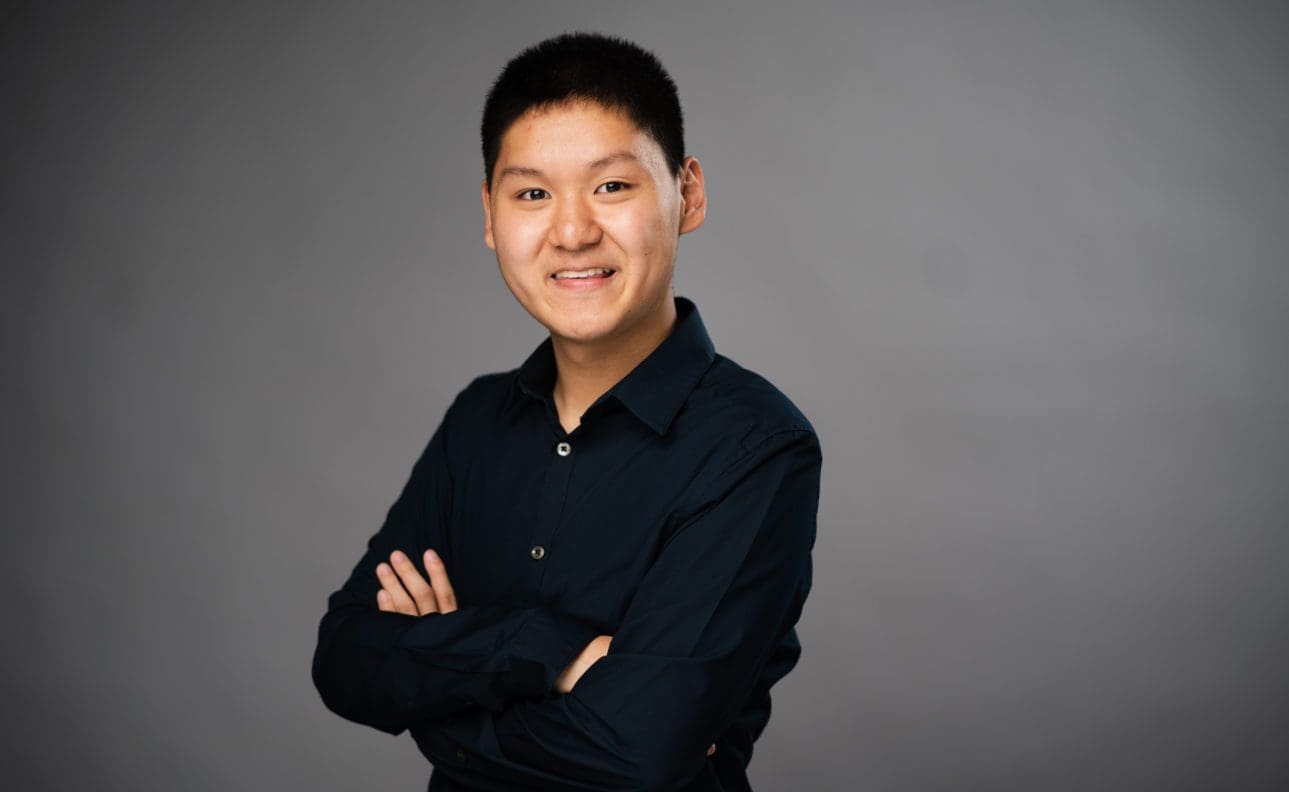 — By Patricia Yang '25
In the peaceful library loft corner, sitting at the tall round table with tall chairs, Rev. Ben Snoek, Trinity's new interim campus pastor, told his thoughts, hopes, and excitement about Trinity over the steady rushing of the water fountain below. "Pastor Ben," as he is already known throughout campus, joined the Trinity community in the Fall 2021 semester, following the retirement of long-time Chaplain and Dean of Spiritual Formation Rev. Willis (Bill) VanGroningen.
Having grown up in the Dutch Reformed community of Holland, Mich., Snoek knew he wanted to work within that circle; as an ordained pastor in the Christian Reformed Church in North America, Trinity's identity called to him. It was also Trinity's innovative side—the preference of innovation over tradition—that really drew him in. "Trinity is always trying something new," said Snoek. "Trinity always wants to have an attitude of saying 'yes' to things." He felt a match in values there.
Before joining Trinity, Snoek served at Asbury University, a small Christian liberal arts university in Kentucky as Assistant Chaplain for Worship, and then Director of University Chapel. Though he is still adjusting to Trinity's unique community culture, Snoek is beyond excited to jump in and work with faculty and staff. He also desires to connect with all students: "I feel it's so important to share my life with you," he said. "It's so easy for professional and administrative roles at colleges to kind of get buried down in the paperwork… it's one thing to talk about students, to talk about what they want, to talk about what's keeping them up at night—it's another to talk with them, about their hopes, their dreams, their aspirations. I can't really create systems and structures and programs that you need if I really don't know what's going on in your heart."
Snoek also related how surprised he was with Trinity's welcoming and warm atmosphere. "Christian colleges have a reputation for being kind and friendly people. Trinity feels different though," he explained. "The students are eager to collaborate with the faculty and staff and administration, the faculty and staff are willing to work with each other." Altogether, he surmised, it makes for a place where everyone genuinely cares about each other. Everyone is supportive of one another. "The staff and faculty seem to care a higher degree more about this school," said Snoek. "That's really special. I don't think we should take that for granted." He said he felt very welcomed and supported, like everyone here really wanted him to succeed. And he is grateful for that.
"I'm really excited to see where God might lead the Campus Ministries office," said Snoek. Now that Trinity is back in-person despite COVID's still-roaming presence, Snoek believes it is a good time to start dreaming again and trying new things. He is eager to re-launch in-person chapel after a year of online worship. "We have a really good opportunity here to try to be innovative, to be creative, to see where the Spirit might lead us."
At first, Snoek did not imagine he would ever be working in ministry. He considered other careers throughout high school—but always, in the back of his mind, he was thinking of ministry. "I just had a moment where I sort of felt that that was something God was calling me to do," he mused. "I just knew that ministry was something I should follow and pursue." God really surprised him with this call to ministry; he never expected to be where he is now. "When I came to college, my only picture of ministry was a senior pastor of a megachurch, so I thought, 'Oh, that must be what I want to do too.'" Yet God had different plans. After working here and there at both small rural and urban megachurches, Snoek was led to Palos Heights Ill., and Trinity.
Snoek earned a B.S. and M.A. from Indiana Wesleyan University and completed ordination studies at Calvin Theological Seminary. Alongside his work as a campus pastor, Snoek is also writing his dissertation for a Ph.D. in systematic and liturgical theology at Columbia International University. "It's just a fancy way of describing theology from the perspective of worship." He noted that there were quite a few books on how to lead worship in churches and seminaries, but that was about it. "There's really no research in what worship looks like in colleges," said Snoek. "My research is hoping to answer what that sort of stuff looks like." He loves studying and thinking about worship, yearning to dig deeper beyond musical styles or lights or the sermon. "Worship is a high-stakes activity: worship is where God encounters God's people, and God's people actually get to communicate with God."
Prior to working full time at Trinity, Snoek was a musician and string orchestra composer. He still publishes a bit on occasion. He also worked as a graphic designer in college and actively participated in music ministry, but currently, he is looking for a new hobby. "So, if anyone has recommendations," said Snoek, "they can send me an email."
Overall, Snoek is delighted and eager to work more with the Campus Ministries office and all of Trinity. He looks forward to all the spiritual growth and connections to make in the years to come.
Learn more about Snoek and get in contact with him through Trinity's website or follow him on Instagram.
---