Kimble and Brodnax Present Annual Black History Month Lecture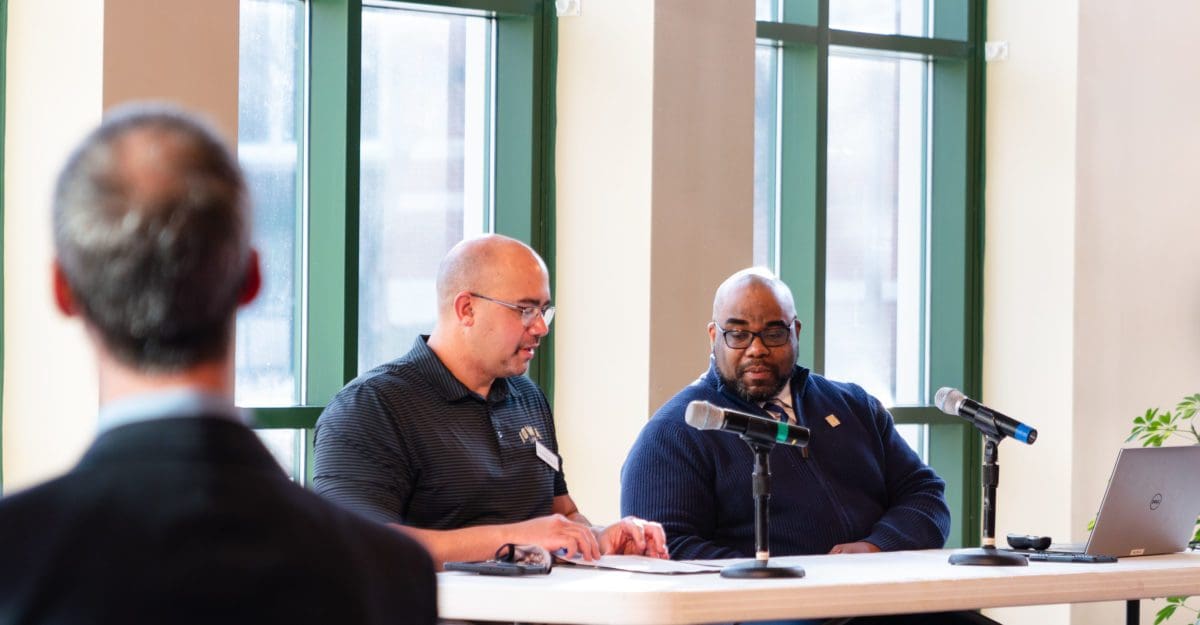 Attendees of this year's annual Black History Month lecture had the opportunity to experience an in-depth, wide-ranging exploration of "The Past, Present, and Future of Black History" featuring Associate Professor of History Lionel Kimble, Ph.D., of Chicago State University, and Professor of History David Brodnax, Sr., Ph.D., of Trinity.
In his opening comments, Kimble looked at the future of African American history. "By and large, it's very strong," he said. "I've trained as a social historian, and I'm more concerned about the stories we tell and how we communicate the history of African Americans. By and large, the number of young scholars coming in to the pipeline are doing a fantastic job." He pointed to scholars focusing on the area of black women's history and popular culture in particular.
Kimble is also excited about the use of the internet, social media channels such as TikTok and Instagram, podcasts and other tools that are providing access to the younger generation of scholars. "We have to meet young people where they are. A lot of folks have had negative experiences with history at the high school level. When they move to college, part of our challenge is when they come into our classes, how we best convey what we are trying to teach but also make it culturally and generationally relevant," he said. "And there are those of us taking very active role in helping young people see themselves as historical actors and actresses by presenting the story of history not just of great men and women but of ordinary men and women doing extraordinary things."
However, there are areas of concern, including how the pressures to "publish or perish" in academia are becoming even more difficult as access to journals is becoming more limited and in-person academic conferences have been cancelled during the COVID-19 pandemic.
During his comments, Brodnax focused on racist laws and court cases in Iowa during the 19th century, as well as the period during the 1860s and 1870s where the state became one of the most racially egalitarian. That includes the 1868 court case Clark v Board of School Directors, where the family of a black girl, Susan Clark, sued to be allowed to attend her local junior high school in Muscatine, Iowa. In that case, the Iowa Supreme Court ruled in favor of the Clark family, banning racial segregation in Iowa schools.
However, looking at the present day, many states are now considering or passing legislation that jeopardizes the ability of schools to teach about their history of racism. For example, last year, Iowa's governor signed into law House File 802, which provides requirements around racism or sexism and diversity and inclusion efforts at schools and government agencies.
Said Brodnax, "Now, if there's anybody who was troubled by the history of racism, of exclusion, of threats of violence against black children in schools and so forth, if this bothers you, if this makes you feel bad in some ways, if this makes you own your feelings, don't worry. The current Iowa state government has your back. And I say 'Don't worry' sarcastically."
He referred again to Susan Clark, where the school that originally banned her was renamed for her in 2019.  "But how does one explain to students at Susan Clark Junior High School, for whom the school was renamed, why it was named after her? Are they simply going to say she was the first black student, without saying what she went through and why it was so hard for her to go there?"
These types of laws, which claim to strive to spare students discomfort, implicitly focus on the needs of white students, Brodnax said. "These bills are not meant to protect black students who feel uncomfortable because our history is not being taught," he said. "The future of black history will be an unnecessary, exhausting, and expensive struggle to be able to teach and disseminate black history at all. But unfortunately, this is also the past of black history as well."
Kimble and Brodnax also shared their response to questions, including how to teach through listening, writing and teaching narratives from the actual historical experiences and voices of black people; how the studies of African American art and music reflect and stimulate change in society; and the recent Super Bowl halftime show featuring Dr. Dre, Kendrick Lamar, Snoop Dogg, 50 Cent, Eminem, and Mary J. Blige.
The Black History Month Lecture was sponsored by Trinity's History Department.
---