KPMG Partner Ten Pas '98 Offers Advice to Accounting Students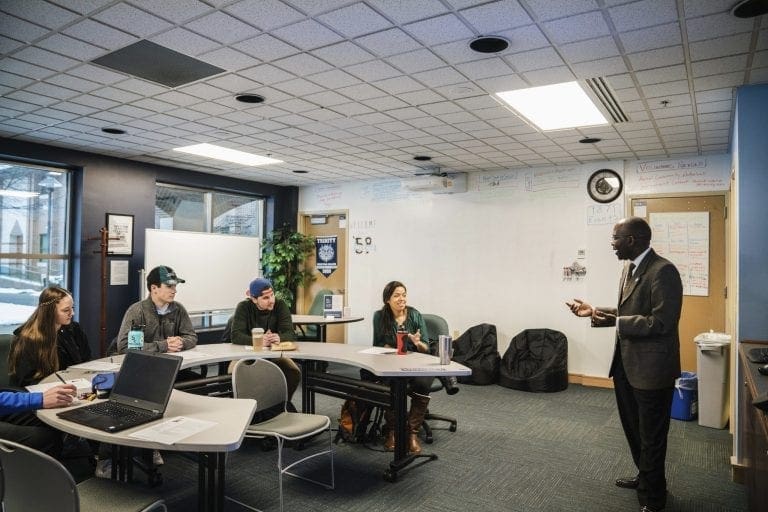 Take advantage of internship opportunities and polish your communication skills. That is some of the advice that Kyle Ten Pas '98, partner at KPMG, gave to accounting students in Assistant Professor of Accountancy Mike Chitavi's classes during a recent videoconference.
Throughout the discussion, Ten Pas, who is now an audit partner in the Des Moines office of the global accounting firm, offered practical tips, answered questions, provided encouragement, and reflected on his days at Trinity.
Students from several classes, including Principles of Accounting; Intermediate Accounting; and Taxes I, had the opportunity to attend the videoconference and ask questions.
A native of Waupun, Wis., Ten Pas took an accounting class in high school and continued on that path at Trinity. "I never second-guessed my career, he said." While a sophomore, he was offered a job at Ozinga, where he was able to gain experience in accounts payable, reconciling accounts, and other areas. "It was an incredible opportunity," he said. "Take advantage of these types of opportunities," he urged students. "And really work on your communication skills," he added
Ten Pas said the courses he took at Trinity helped prepare him for his future career. "From an educational perspective, I was prepared for everything I needed in my skill set."
Along with classes and internships, Ten Pas also talked about playing soccer for the College and being roommates with Josh Lenarz '98, currently Trinity's head women's soccer coach.
Ten Pas married a fellow Trinity graduate, Gina, who is originally from Pella, Iowa. After working in Chicago for several years, they moved to Iowa to be closer to her family.  While he is based in Des Moines, he said he enjoys the opportunity to travel for work "At KPMG, I get to work with people around the world and the country," he said.
Throughout his career, he has remained in the field of public accounting, with a particular focus on financial services companies. "I'm very passionate about public accounting," he said.
---