Medenblik Offers Chapel Meditation on Wrestling with Fear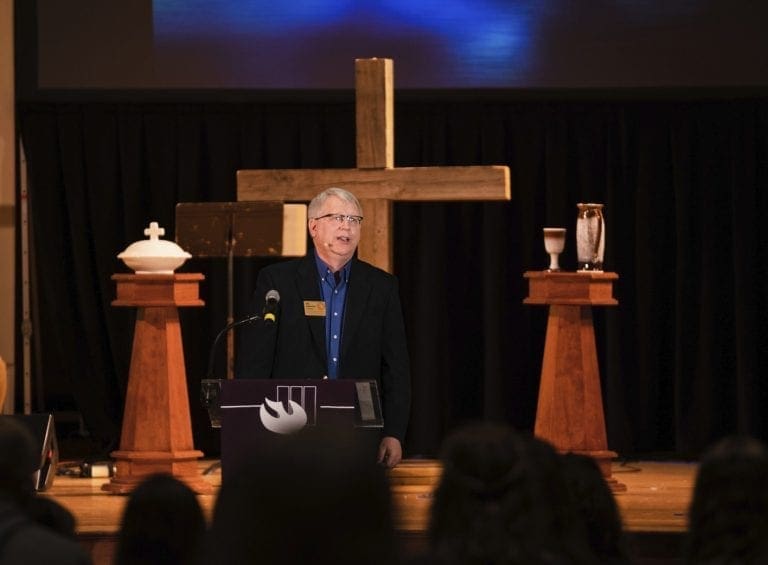 Everyone has wrestled with fear.
"We have all been there," Rev. Julius Medenblik '82, president of Calvin Theological Seminary, told those gathered for a recent Chapel. "No matter where you are from, we have all experienced fear at one point or another."
Medenblik recounted Numbers 13, where the Lord told Moses to send 12 men to explore the land of Canaan. While the Israelite spies found a land flowing with milk and honey, they also found strong people already there. Out of fear, 10 of the men reported that they would not be able to enter the Promised Land. Only Caleb and Joshua had faith that God would fulfill his promises. Hearing the negative report, the people wept and blamed Moses and Aaron for bringing them out of the Egypt only to die in the desert.
According to Medenblik, the Israelites forgot God's faithfulness to them and became afraid. "Kingdom vision sees beyond the moment to the promises of God," he said. "When we see and hear God clearly, we can see ourselves clearly and accept the grace, faith and love that equips us for life and living as God's witnesses in the land that he gives us."
To learn more about Medenblik, click here.
All are welcome to Chapel, which is held in Ozinga Chapel Auditorium on Wednesdays and Fridays at 10 am when classes are in session.
---