Nursing Students Adapt & Respond During COVID-19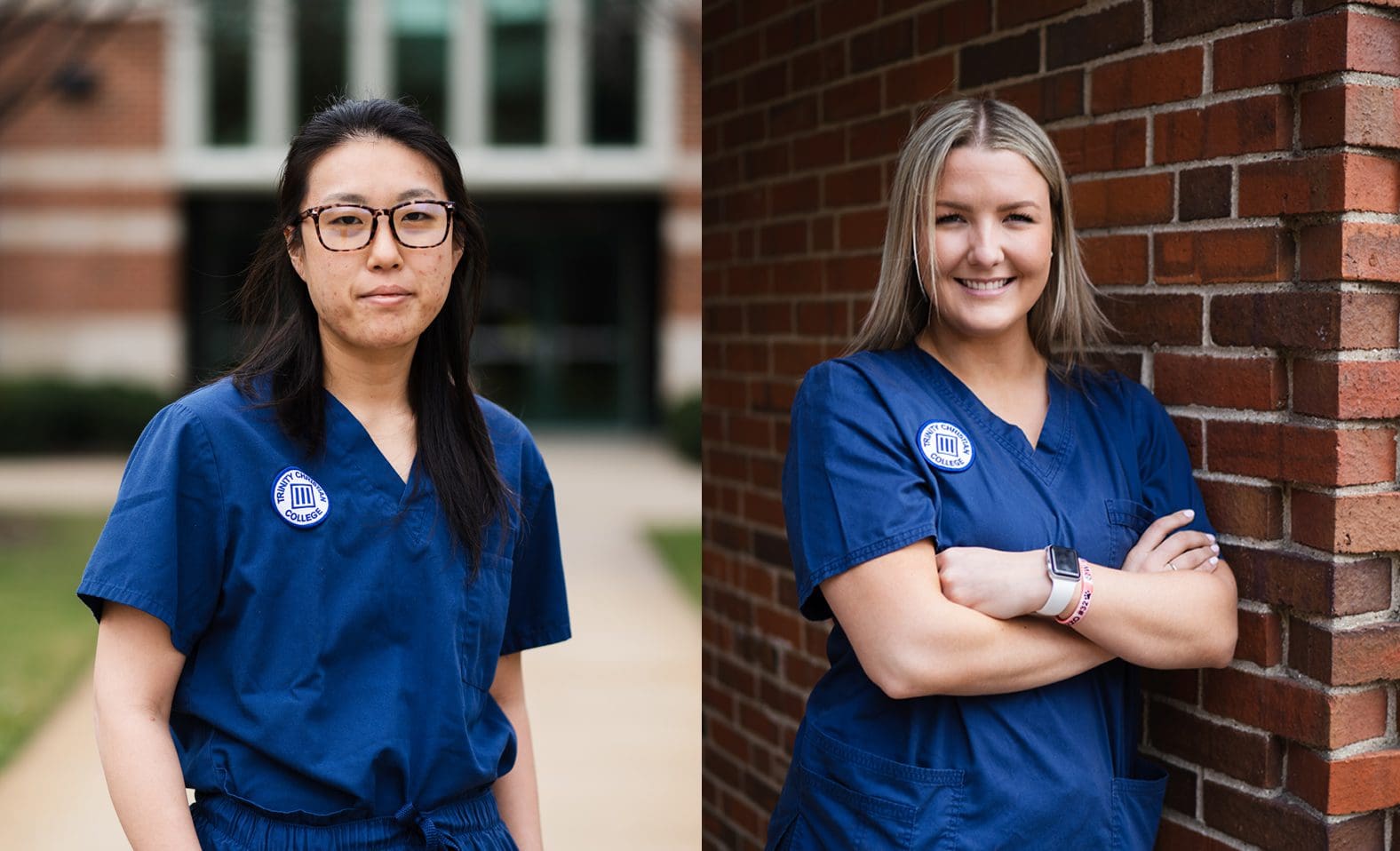 Photo: Nursing students Jamie Park '21 (left) & Anna Smagacz '21
–By Angie Fratto
The COVID-19 pandemic has affected life for most people, but maybe, most notably, those entering the medical field. It has been particularly difficult for higher education nursing departments across the country that were attempting to prepare their students for real-world experience.
Most programs in the United States shifted their focus to online learning in 2020, which meant in-person clinicals were no longer a viable option to train up the next generation of nurses. While Trinity made the tough, but necessary, decision to move to an online program in 2020, the faculty and staff in the Nursing Department worked tirelessly behind the scenes to find creative ways to ensure their students were still on the front lines, learning during a pandemic. This was not only online but in-person, hands on with patients, albeit while wearing full personal protective equipment (PPE).
Department Chair and Associate Professor of Nursing Tina Decker '06, DNP made it her mission to get the students the work they desired to be fully prepared for their upcoming transition into their nursing careers.
According to Jamie Park '21, she was amazed at the level of work involved to ensure each of the students was placed with in-person clinicals, a feat that she will be forever grateful for. "I know there was so much planning that went on behind the scenes and I can never thank Dr. Decker enough for all she did for each and every one of us," she said.
Park acknowledged that it was a tough moment when she realized that she would be going home in 2020 and moving to an online program. The struggles of school in an online environment were heightened at home for Park, yet she found great support in her fellow classmates. The small, tight-knit group of seniors kept in touch with each other by text, phone, and email, keeping each other motivated and cared for–something she knew firsthand would not happen many places.
Here at Trinity, Park feels known, at home, and like she has a place in the world. She said, "Trinity Nursing program is ranked number one for a reason. It's a challenging program for a reason, because it prepares you for the real world of nursing, and all the people here really, truly care for you."
Anna Smagacz '21 knows firsthand how strong the Trinity Nursing program is, as she started her journey to nursing at a different institution before transferring to Trinity. Her experience here has gone far beyond her expectations, and she said the nursing professors and staff always make her feel welcome, important, and part of something bigger than herself. She experienced the value of Trinity's whole person approach to nursing, looking at the mind, body and spirit and valuing every part of that person. This unique view was inspiring to Smagacz and helped her view the nursing profession through a new, more empathetic lens. "This level of care, this holistic care, is not something you see everywhere, and it's what makes Trinity stand out from other places."
Both students highly complimented the professors and support staff in the Nursing department at Trinity during this laborious time. "Dr. Sarah Gouwens and Prof. Tammy Boll created a great environment – fun, yet still learning the necessities and skills we need to do the job. They shared their personal stories and gave real world experience, not just textbook knowledge" said Park. She also shared that when dealing with late night shifts at hospitals, Boll was always available any time day or night to answer questions. "She always worked to ensure her students were nothing but successful in their nursing fields," said Park.
Another tangible way that the Nursing Department has worked to prepare students and establish the experience they need is through its participation in the American Association of Colleges of Nursing (AACN) campaign to help vaccinate the public against COVID-19.
"At Trinity, our Bachelor of Science in Nursing graduates are both clinically excellent and deeply caring," said Decker. "Trinity's Department of Nursing has taken the AACN Pledge and all clinical nursing majors will be participating in administering vaccinations within the community setting over the course of this semester."
Through the AACN initiative, nursing schools pledge their support to safely engage faculty, students, and other stakeholders in the work underway to administer the vaccine and educate citizens on protecting themselves against this public health threat.
The top-ranked BSN program in the state of Illinois, Trinity's graduates have achieved a perfect first-time pass rate on the NCLEX-RN exam for five of the past six years. Click here to learn more about Trinity's nursing program.
---