OPUS 2019—20 Years of Celebrating Christian Learning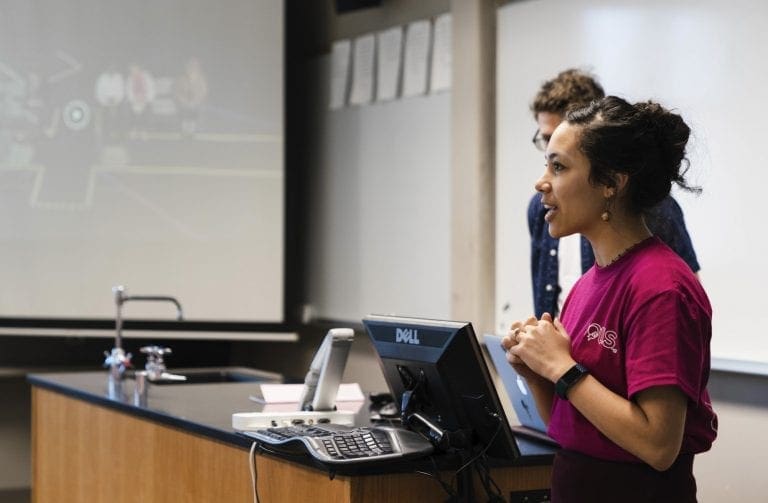 April 9 was a beautiful day for the 20th Annual OPUS celebration! The College also welcomed incoming freshmen and their parents as part of  the Third Annual Admitted Students Day.
As part of the rich tradition of OPUS, the day was filled with Christian scholarship, presentations, and performances. There were also games, a dunk tank, chalk drawings, snacks, and much more.
Congratulations to this year's winners!
Awards in Art & Design
Graphic Design:
1st Place– Yolanda Sinaga: "Vaporfly 4% Infographic"
2nd Place – Mariah Nelesen: "Unroll"
3rd Place –  John Michael Jones: "Gene's Refried Beans"
Printmaking/Photography:
1st Place – Claire Sukamto: "Facelift"
2nd Place – Jacob Boglio: "Doy Dags"
3rd Place – Emilianna Sweeting: "Faded"
Sculpture/3D:
1st Place – Deborah Fry: "Untitled"
2nd Place – Deborah Fry: "Jumble"
3rd Place – Dainius Soliunas: "Ever-Shifting Sun"
Drawing/Painting/Mixed Media:
1st Place – Alexandria Johnson: "My Safe Space, Untitled Inner Feelings, Untitled black & white, A Rainstorm"
2nd Place – Samantha Willis: "Normal vs Mental, Still Life"
3rd Place – Anne James: "Bart Simpson"
Honorable Mention – Rachel Bast: "Disappointed"
Honorable Mention – Gabrielle Lenting: "Headache"
Honorable Mention – Jacob Boglio: "Expanse"
Honorable Mention – Gabrielle Lenting: "Color Theory"
BEST IN SHOW  (Printmaking/Photography)
Claire Sukamto: "Incognito"
Awards in Literary Arts
Fiction:
1st Place – Leah Taylor
2nd Place – Leah Taylor
3rd Place – Emily Homman
Honorable Mention – Shinhye Hwang
Non-Fiction:
Poetry:
1st Place – Leah Taylor
2nd Place – Jessica Pilota
Awards in Music
Instrumental:
1st Place — Ranita Luhur, piano: "Selling Sundry Goods"
2nd Place — Jonathan Rietveld, trumpet: "Fantasie Brillante"
3rd Place — Emily Homman, bassoon: Sonata in F minor, movement 1
Vocal:
1st Place — Morgan Limback: "Stars and the Moon"
2nd Place — Aaron De Boer: "Love Leads to Battle"
3rd Place (tie) — Benjamin Friesen: "Extraordinary" and Ryan Van Gilst: "Lost in the Wilderness
Presentation Showdown Award (Best Presentation)
1st Place — Abigail Lammers, Casey Wiegers: "Tiny Killers on Campus: Viruses in Local Waterways"
2nd Place — Abigail Lammers, Amber Shoberg, Andrew Kowitz: "Writing in the Language of God: Editing Genomes at Trinity"
Runners up:
Abigail Lammers: "From Predators to Prey: Shark Misconceptions, Threats, and Conservation Efforts"
Nicole Syverson: "Therapeutic Communication"
Peyton Carroll: "Creating a Wellness Program"
Golden Troll (department with highest proportion of presentations, both at OPUS and off-campus: Biology Department
---