Paluchniak Named Head Golf Coach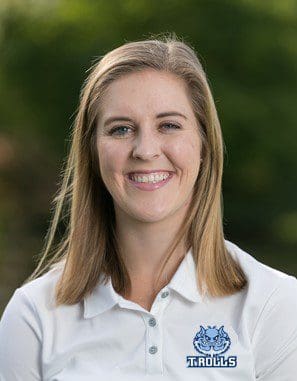 The Athletics Department at Trinity Christian College has named Allie Paluchniak '16 as the new head coach of the women's and men's golf programs.  Paluchniak comes to Trinity from Wheaton College where she served as the head coach for the women's golf team for the past two years while also providing coaching support to the men's golf team and to the women's basketball team.
"We are elated to name Allie as the new coach for our golf program and also to welcome her back home," stated Athletics Director Mark Hanna. "From her own experience as a former student-athlete and coach, Allie has a keen understanding of the unique life of an athlete. She has the leadership, character, and vision to grow our golf program and she will join a strong staff of coaches that are cultivating an environment where student-athletes flourish!"
In her two seasons as head women's golf coach at Wheaton, Paluchniak led the Thunder to a top three conference finish and coached a conference medalist and two additional all-conference golfers.  She handled all operational aspects of the program as well as hosted tournaments and events for the team.
Accepting the coaching position at Trinity, Paluchniak is returning to her alma mater where she received her bachelor's degree in exercise science in 2016 and was a student-athlete on the women's basketball team for three seasons.  After graduating, she completed a master's degree in physical education and athletic administration from the University of Mary in Bismarck, ND while also serving as a graduate assistant for their women's basketball program. In 2017, she was hired by Wheaton College to serve as their head women's golf coach and assistant women's basketball coach.
"I am beyond excited to come back to coach at Trinity," said Paluchniak. "I know first-hand what an incredible part of the college experience Trinity Athletics can play and I can't wait to get started working with our athletes! The golf teams have great potential and I look forward to partnering with the athletes as they grow in their faith, on the golf course, and in the classroom."
In addition to her head coaching responsibilities, Paluchniak will join the women's basketball coaching staff as an assistant. As a basketball assistant coach at Wheaton, she helped the team to a conference championship title, two NCAA III Tournament bids, and a Top 25 ranking. At the University of Mary, a NCAA II member, she was a part of a program that posted a couple of Top 25 victories and advanced to their conference tournament.
---